Note: Unlike Quick Launch Links, AICC URLs must be uploaded to a learning platform to work.
The steps to upload AICC URLs will vary, as every learning platform has its own process. For upload details, please reach out to your platform contacts for best practices or refer to the platform's documentation.
If your organization uses a learning platform that supports AICC URLs, you can generate those URLs for OpenSesame courses and upload them to your platform. (If you need AICC files, not URLs, see this article. And if you'll be using multiple course delivery methods, please review this article.)
The quickest way to generate AICC launch URLs is with an OpenSesame List. If you only need a URL for a single course, it can also be downloaded from the course's details page via the Deliver Course button.
First, log in to www.opensesame.com and choose Lists from the account menu:

Next, click the title of the List that collects your courses:

From your List, select any course(s) you want links for, or use the checkbox at top left to select all of them. As soon as any course is selected, a Deliver Courses button will appear. Click it when you're ready to proceed:

Please note that in order to successfully download a course's AICC URL you must have at least one active seat license for it. If you do not have a license you will receive an error message, such as the one shown below, and the relevant course(s) will be removed from the download: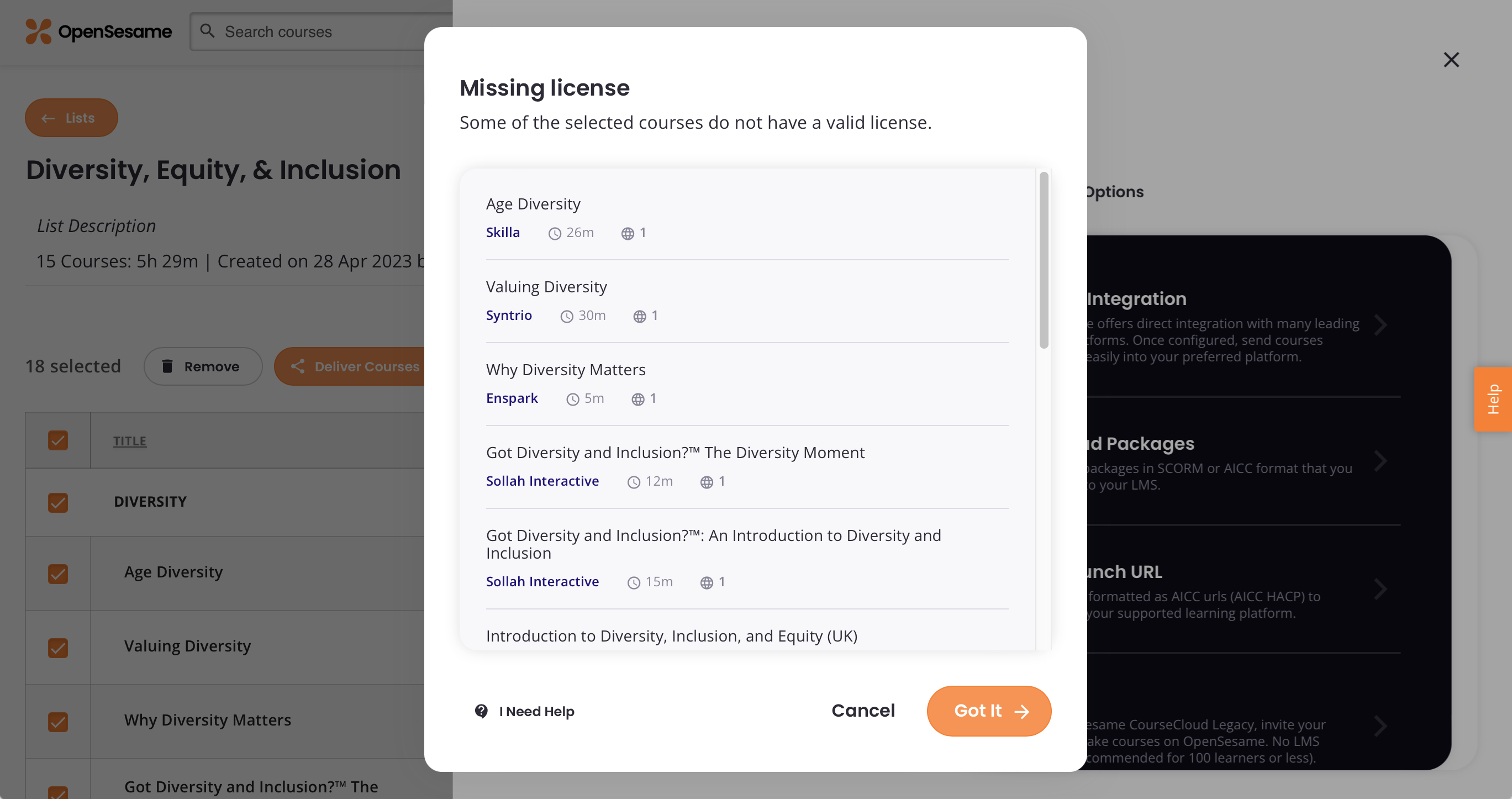 Note: If you see this message, believe that the course(s) should have licenses available, and your company has multiple OpenSesame accounts, please confirm you are logged in to the one with licenses. And if problems persist, contact us at support@opensesame.com—we'd be glad to assist!
If you have multiple license types for any of the selected courses, you will also be prompted to choose which license to use.
In the next screen that appears, select the AICC Launch URL delivery option: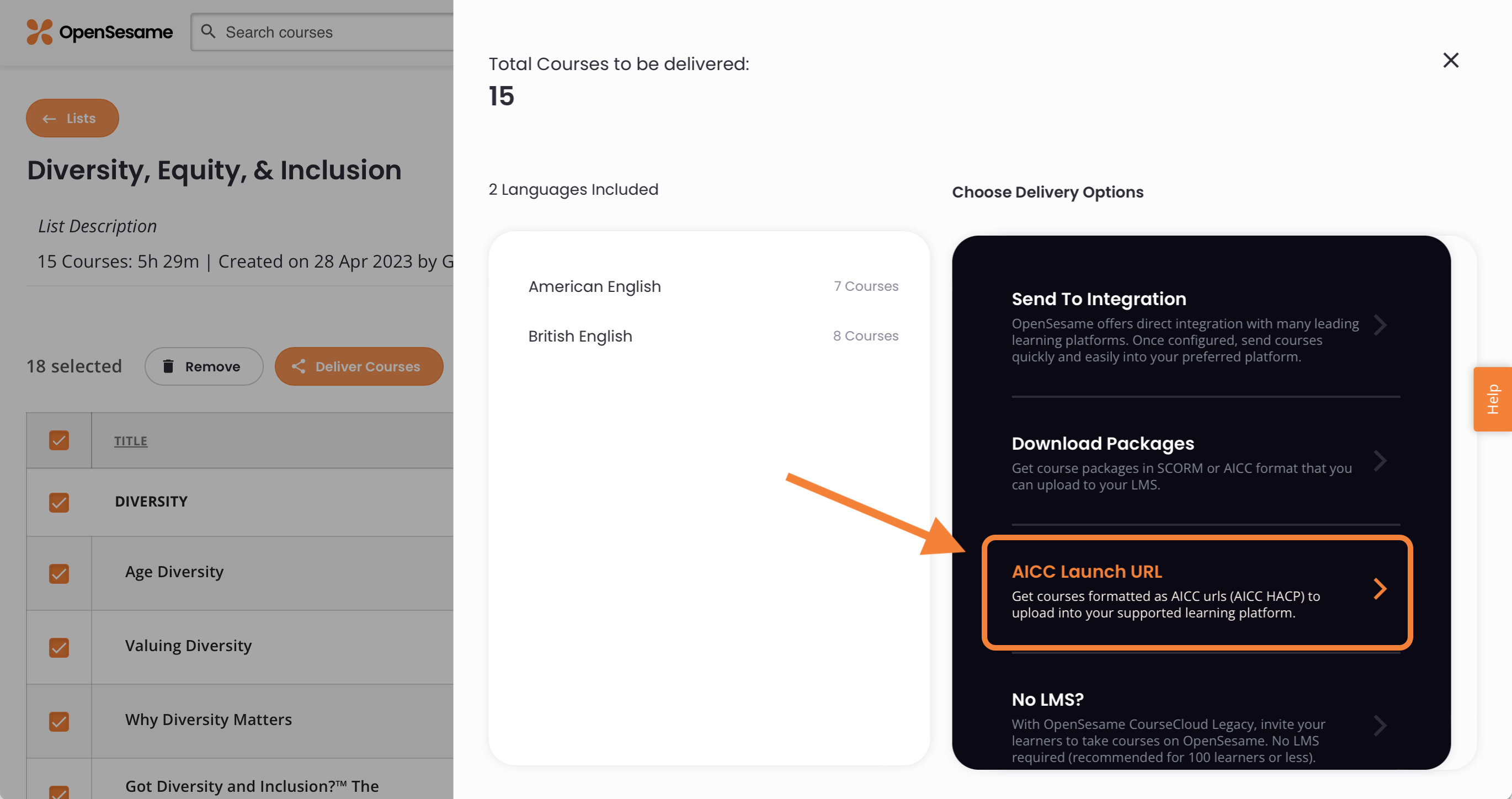 Note: Your account may show fewer delivery options, as some appear only after they've been configured.
Click the Download CSV button: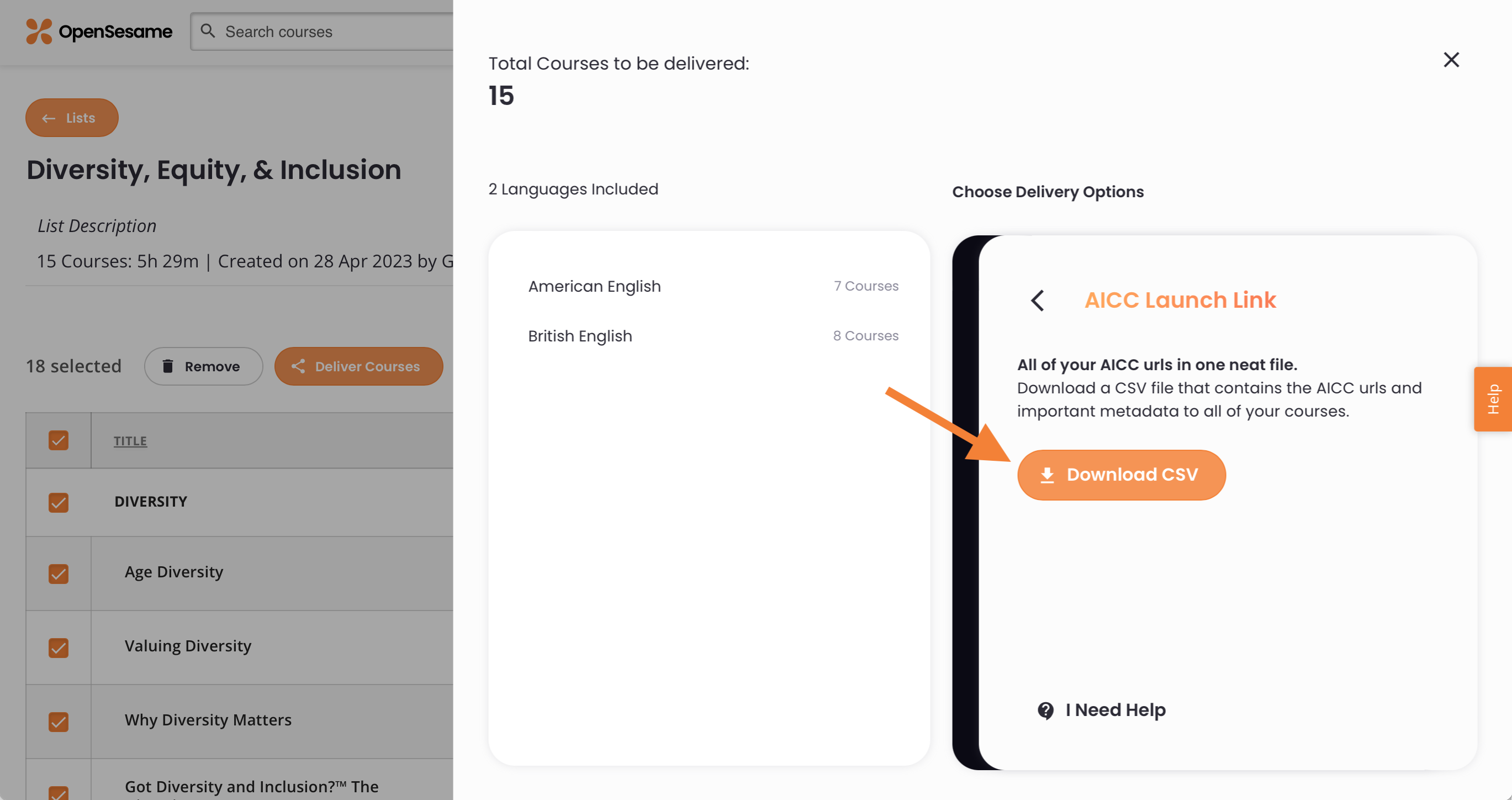 A confirmation message will appear and a spreadsheet file will download to your device:

Next, locate the file in your computer's downloads. Within this CSV file you will find the courses' AICC launch URLs (under a column titled "AICC Launch URL") alongside other useful metadata, such as the titles, publishers, descriptions, seat times, languages, features, categories, and image links. You can manually adjust the file as needed, using whichever spreadsheet program you prefer, for loading into your learning platform.
From here, the steps to upload AICC launch URLs and/or metadata to your learning platform will vary based on the platform. Many learning platforms support bulk uploads.
As there are hundreds of different learning platforms, we recommend that you reach out to your platform contacts for best practices as needed or refer to your platform's documentation.

If you experience problems with the file-download process, our Support team is here to help via email at support@opensesame.com or via live chat and phone. Feel free to reach us at (503) 808-1268, ext. 2, or at +44 203 744 5541 in Europe.