Some OpenSesame accounts have access to both the My Courses dashboard and the legacy Courses dashboard. Learners cannot see either one.
Each dashboard offers information about courses that have been delivered* from that account. The legacy Courses dashboard only appears for accounts that have delivered courses via a legacy OpenSesame integration or via CourseCloud Legacy.
To view either dashboard, first log in to your OpenSesame administrator account. If you access your OpenSesame account from within an LMS, log in to your LMS and open the OpenSesame integration from there. Otherwise, visit www.opensesame.com directly and click "My Account" at upper right to log in:
Once logged in, hover over the account name at top right and select Courses from the menu:

By default, you will land on the legacy Courses dashboard. It will look similar to this: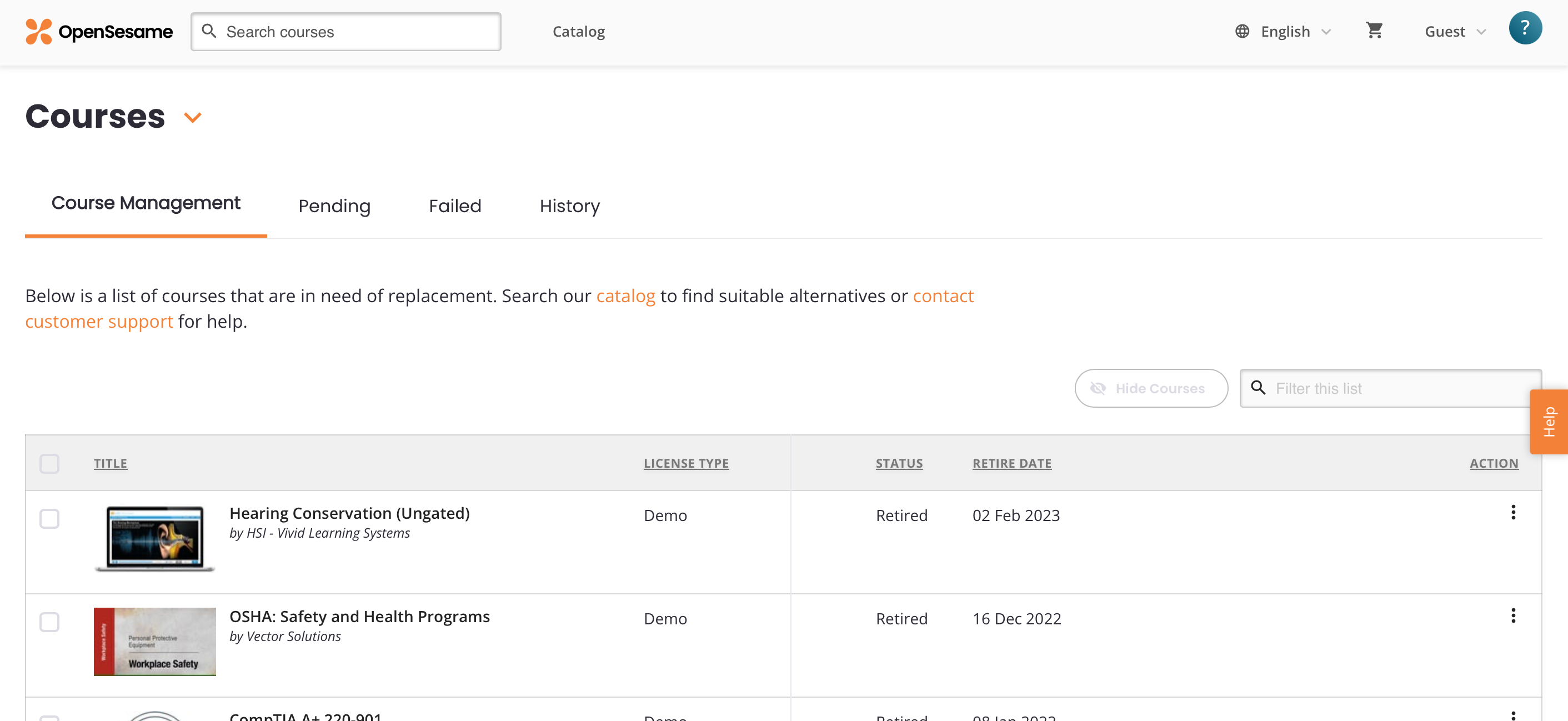 The current, My Courses dashboard will look similar to this:


To switch from one to the other, click the orange arrow that appears either next to the Courses title:


Or next to the My Courses title:


A small menu will appear with the account's dashboard options:
An orange checkmark will indicate the dashboard currently being viewed. Here is how that menu appears in the My Courses dashboard:


Simply select the option without the orange checkmark to switch dashboards.
If you expect to see multiple options under this menu and do not, please double-check which account you are logged in to. If problems persist, reach out to our Support team for assistance.

* Delivery actions include sending a course to an OpenSesame integration, downloading course packages to upload them to a Learning Management System (LMS) or similar learning platform, or sending invitations via CourseCloud Legacy. Certain accounts configured for Single Sign-On (SSO) can also access quick launch links, and copying such a link is a delivery action as well.
If you have further questions, our Support team is here to help via email at support@opensesame.com or via live chat and phone. Feel free to reach us at (503) 808-1268, ext. 2, or at +44 203 744 5541 in Europe.