Certain courses require that 3rd party and session cookies be enabled in order to run correctly. Here are the steps to enable these cookies in different browsers:
Chrome
On your computer, open Chrome.
At the top right, click and then "Settings".
At the bottom, click "Advanced".
Under "Privacy and security," click "Content settings".
Click "Cookies".
Turn "Allow sites to save and read cookie data" on.
Turn "Block third-party cookies" off.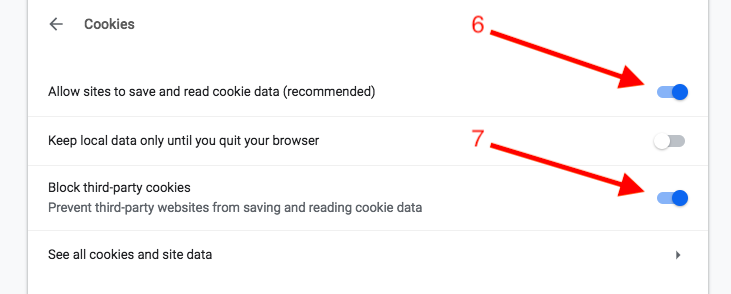 Internet Explorer
Select the gear in the upper-right corner of the screen, then select "Internet Options". If you have the Menu Bar enabled, you can select "Tools" > "Internet Options".
Click the "Privacy" tab.
Select the "Advanced" button.
Under "First-party Cookies" and "Third-party Cookies", select "Allow" and check "Always allow session cookies". Then select "OK" when done.
Safari
Open Safari and click on the Safari menu and select "Preferences"
Click on the Privacy tab.
Make sure "Prevent cross-site tracking" is unchecked.
Make sure "Block all cookies" is unchecked.