So you've followed the guide for the type of invitation you've received and have successfully launched a course. What else is there to know?
While course designs vary between publishers, all of them share a bar along the top:


This bar provides the official title of the course, its status (either "course in progress" or "course complete"), a button for contacting OpenSesame Support, and stars for rating the course.
As soon as a course is launched, your dashboard will update to show when you'd first opened it, as well as provide a "Resume Course" button:


Each publisher has their own completion requirements. Most will require learners to view all materials within a course and—if an evaluation is included—earn a passing score.
As soon as a course is complete, its entry will update to show when it was completed, any applicable score (if an evaluation was included), and a "Certificate" button:

In addition to the new certificate button in your dashboard, you'll automatically receive a completion certificate via email. The email will have the subject "Congratulations on completing your OpenSesame course" and look like this: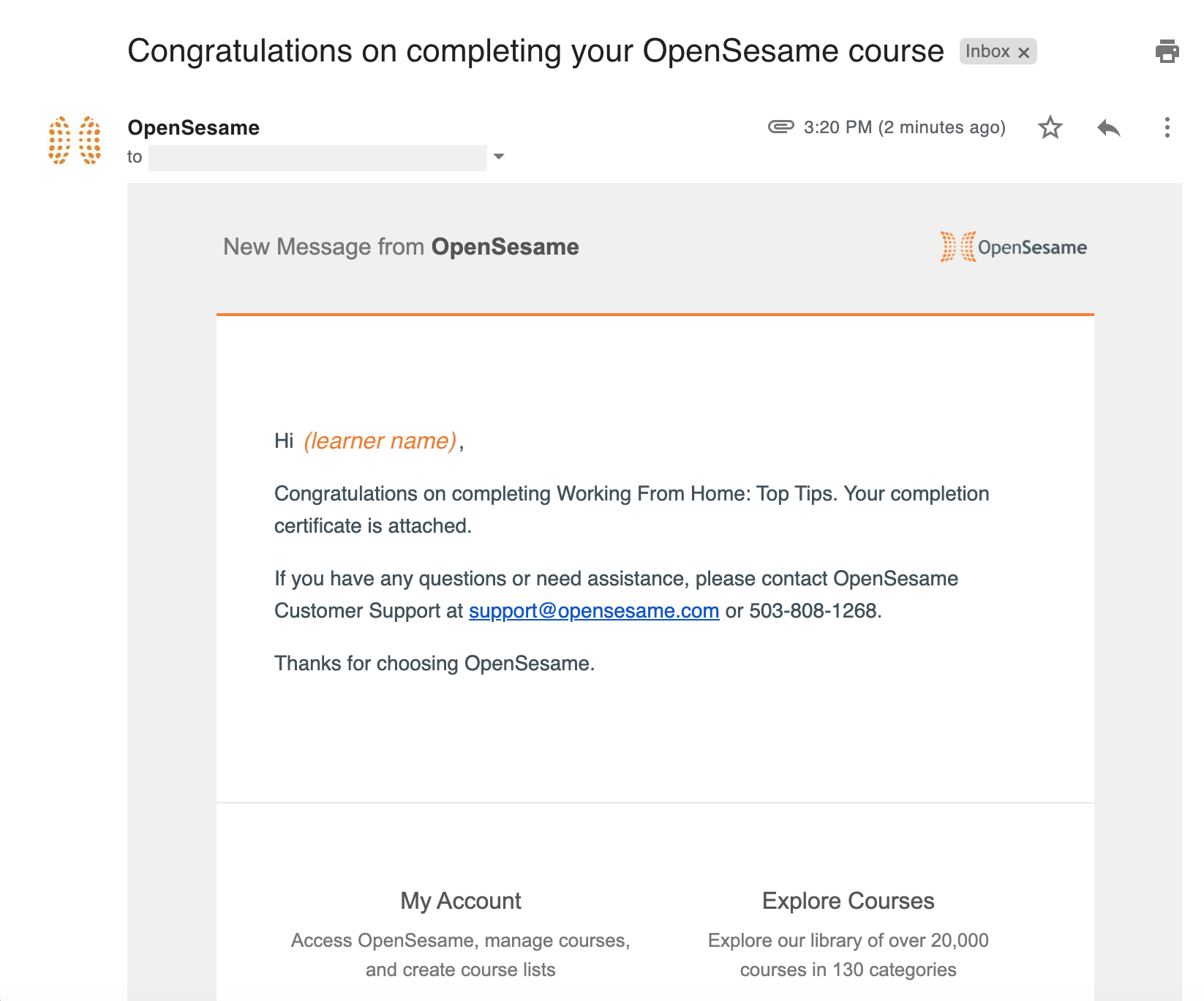 A PDF file will be attached and will look like this: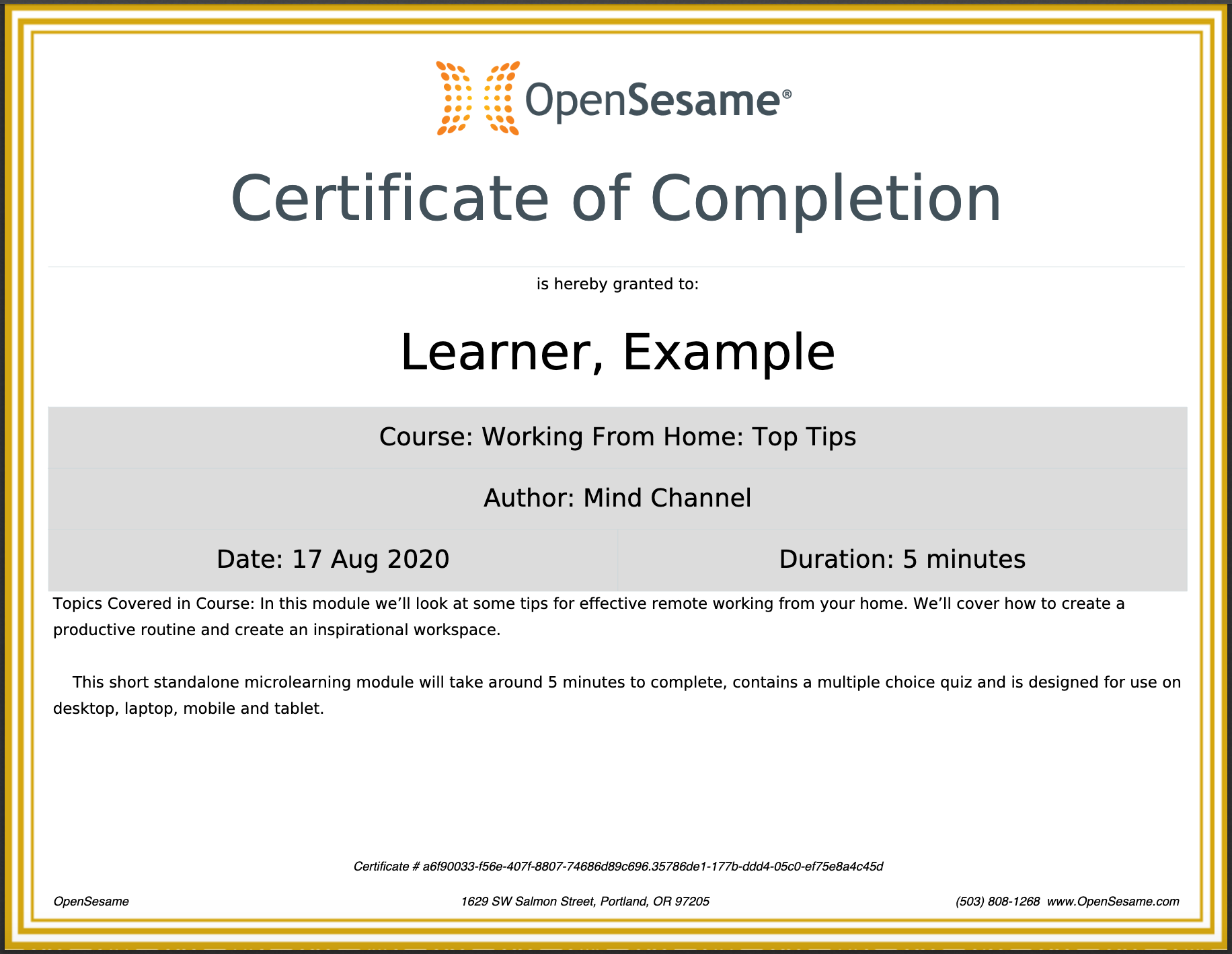 To relaunch a course after finishing it, click the "View Course" button in your dashboard. You will see this message informing you that it's already complete: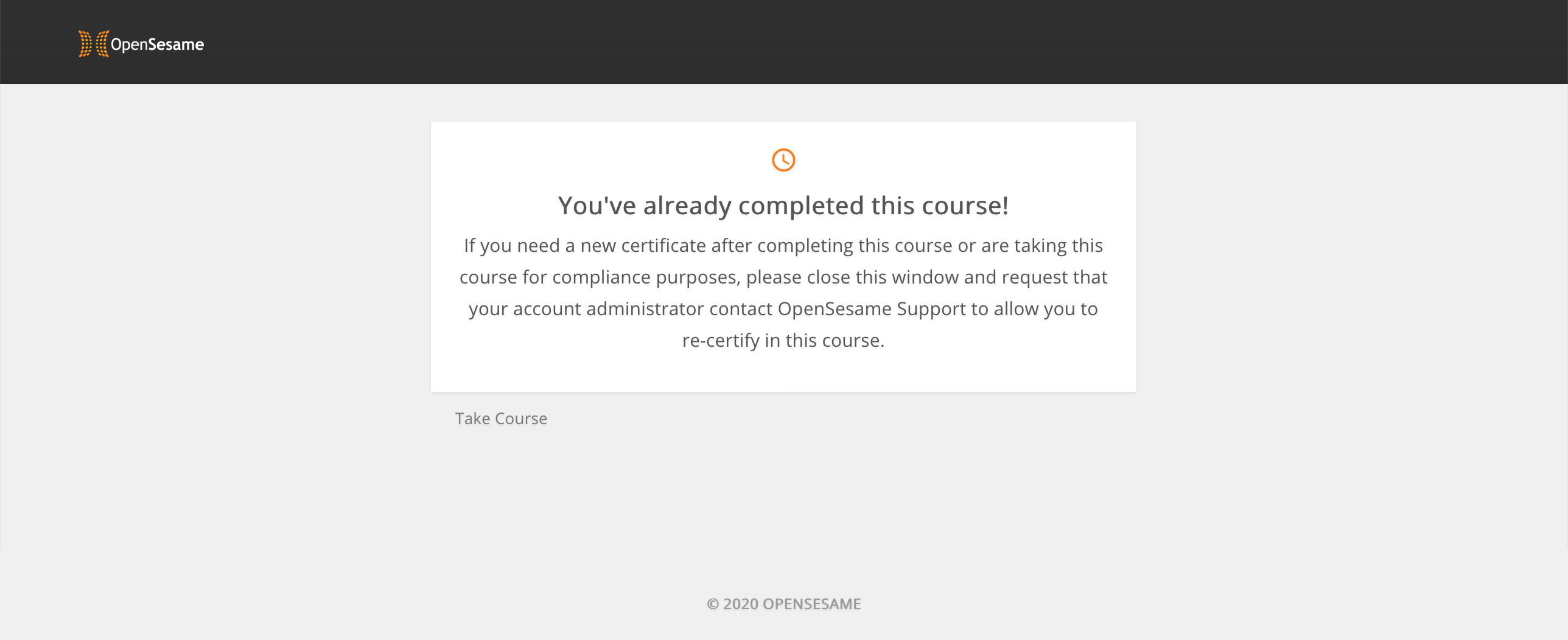 Note: As mentioned here, if you need a new certificate or are retaking a compliance course, please do not proceed. Instead have your training administrator contact OpenSesame Support. This is because CourseCloud Legacy allows one certificate per learner per course, and continuing will not issue you a new one.
To reopen the course from that screen, click the "Take Course" link underneath the white box. You will then be able to view the content again.
And in the top bar, note that the course's status, found under the title, will have updated from "course in progress" to "course complete":

Thank you for using OpenSesame! We hope you enjoy your training and are here to assist if you encounter any problems along the way.
If you have further questions, our Support team is here to help via email at support@opensesame.com or via live chat and phone. Feel free to reach us at (503) 808-1268, ext. 2, or at +44 203 744 5541 in Europe.