When hunting for the right course to suit your learners' needs, knowing how to quickly narrow down thousands of possibilities is a serious time-saver. What follows is a guide to our search tools, which will help you hone in on an ideal course.
In this article: 
If you would prefer a video, here is a walkthrough:
Beginning your search
From either your dashboard or the login screen, click the search bar at top left:

The first thing you'll notice is the "typeahead" feature, a box that automatically appears once the search bar is clicked: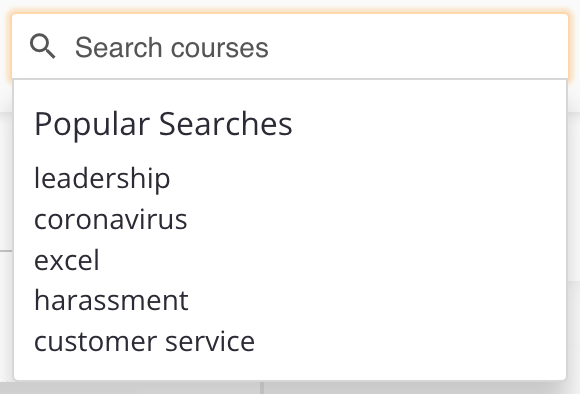 These initial recommendations are the most popular searches entered by OpenSesame users, and selecting one will bring you the relevant catalog results.
Entering any text will update the suggestions. General topics appear at the top, Curated Lists at center, and specific courses at the bottom. In the below example, "management" is used: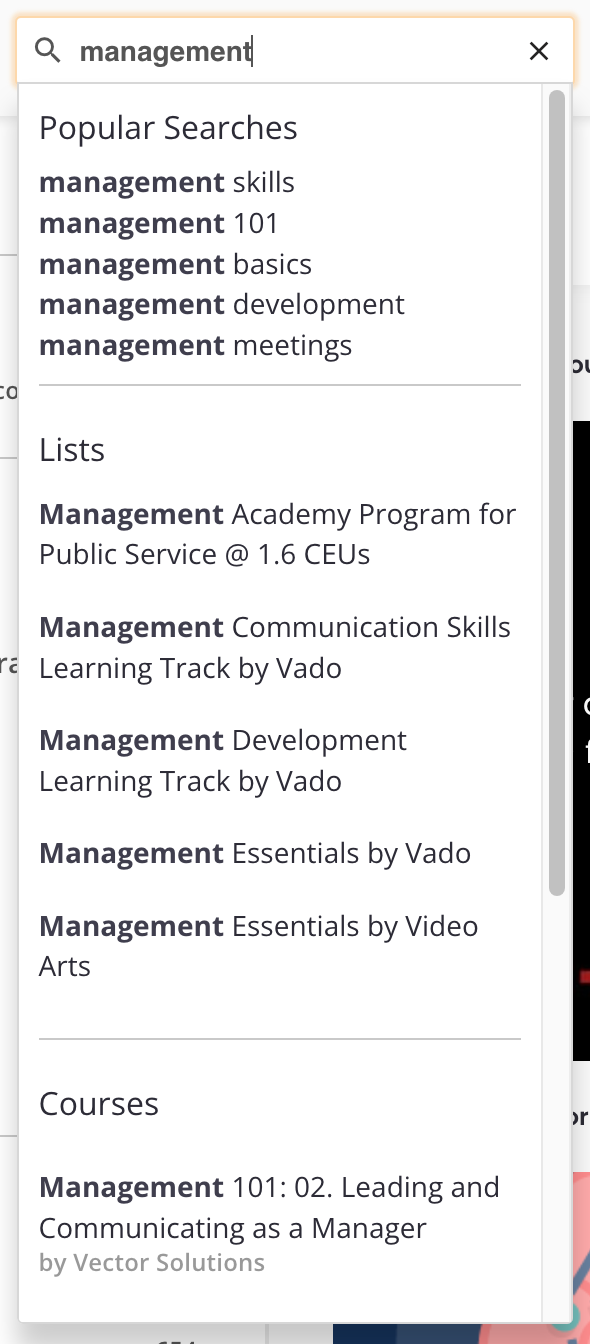 Note: For search terms with many suggestions, scroll down to see them all.
Any of these items are clickable. In this example, hitting the Enter key reaches a page of 9,441 initial results for "management":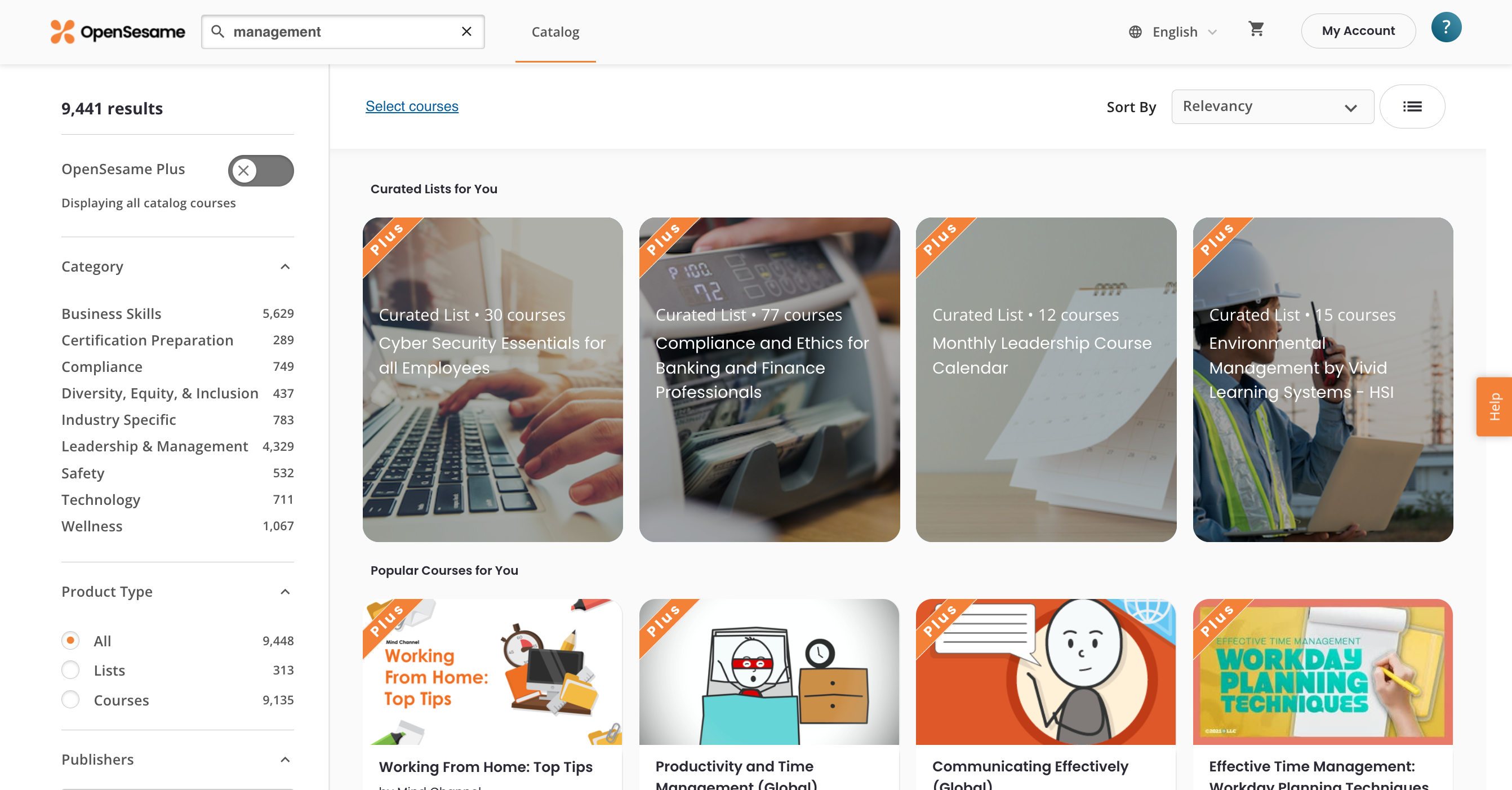 Viewing your results
The default view shows an illustrated card for each course, arranged in a grid:

A card will have a Plus banner in its top left corner if the course is included in the OpenSesame Plus subscription catalog. The course's image was selected by the publisher to represent its tone and content.
Below the image are the course's title and publisher name. Next, an icon represents the course's content style: Interactive, Book Summary, or Audio. A course might also have a label stating it is New, Updated, or Exclusive to OpenSesame.
A course's feedback rating appears at bottom, and its seat time represents how long its publisher estimates learners will need to complete it. Finally, the globe icon and number represent the course's available languages.
If you'd prefer a more condensed display for your results, use the icon in the upper right corner to switch from the grid view to a list view: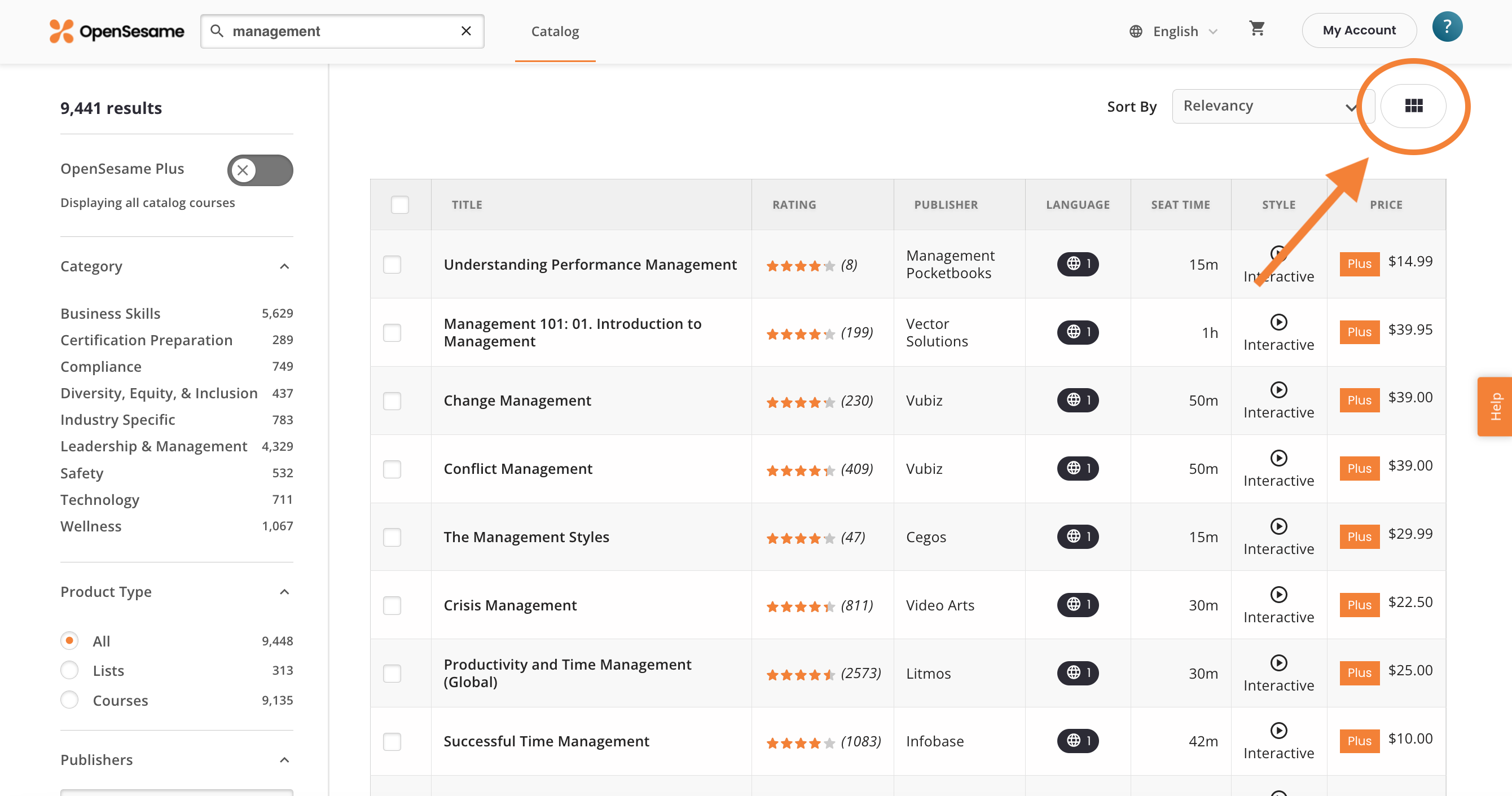 Next to that icon is the first sorting tool, where you can choose which factor to prioritize. The default is Relevancy, which uses our internal algorithms to suggest good matches. You can also choose to sort by price, rating, title (from A-Z or Z-A), when a course was originally added, or when it was last updated. Use the scroll bar to view all the available options: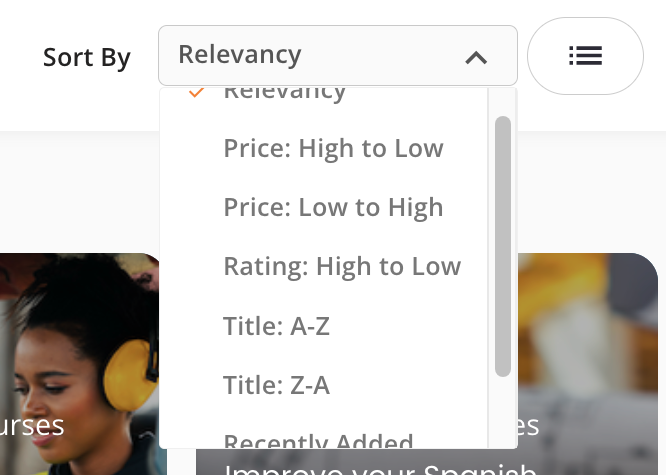 If you keep the default grid view and sort order, you will see three recommendation sections appear at the top of your results. The first suggests Curated Lists relevant to your topic. The next suggests popular courses, which takes things like ratings and usage into account, and the third displays new and recently updated courses. Underneath these you will find all other relevant results.
Even when a search has thousands of results you don't need to wait for them all to load, as only the top twenty-five will automatically appear. To continue browsing, scroll to the bottom of the initial batch and click the Load More button: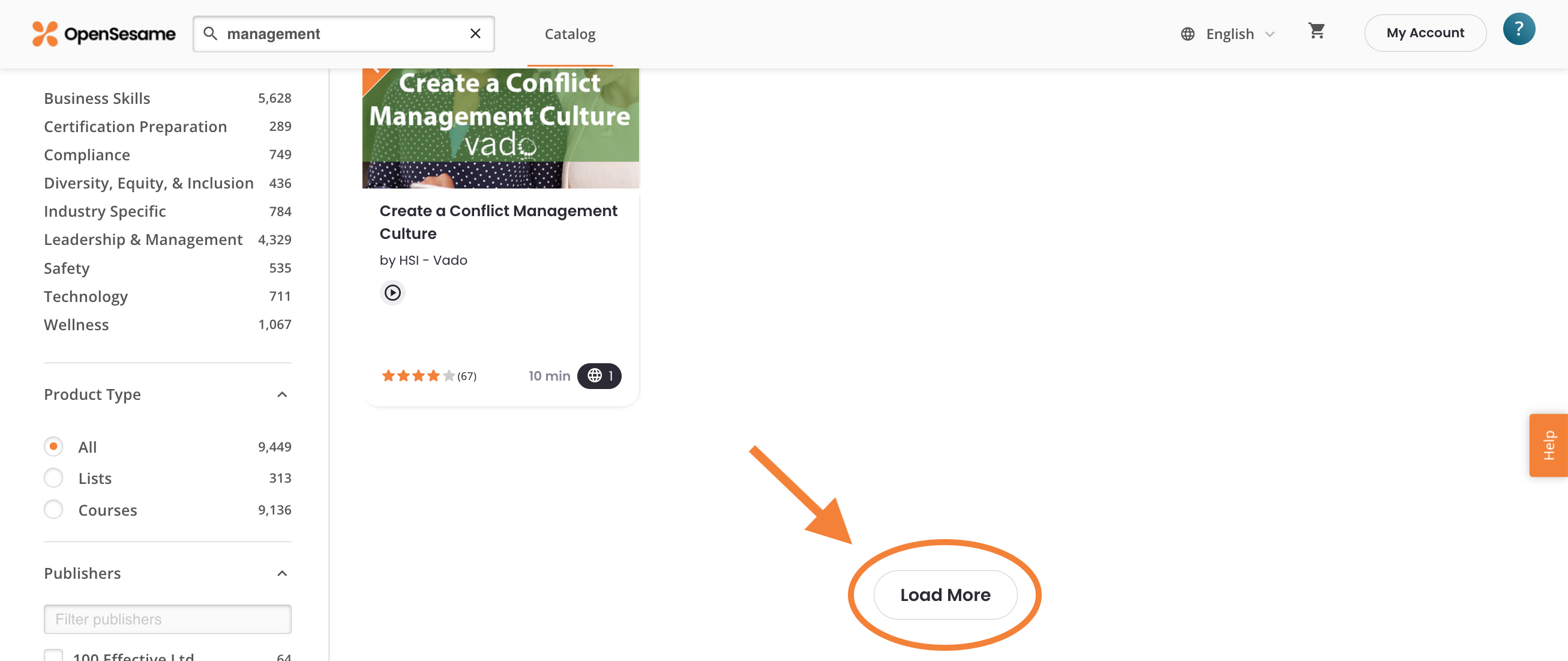 This will reveal the next twenty-five courses: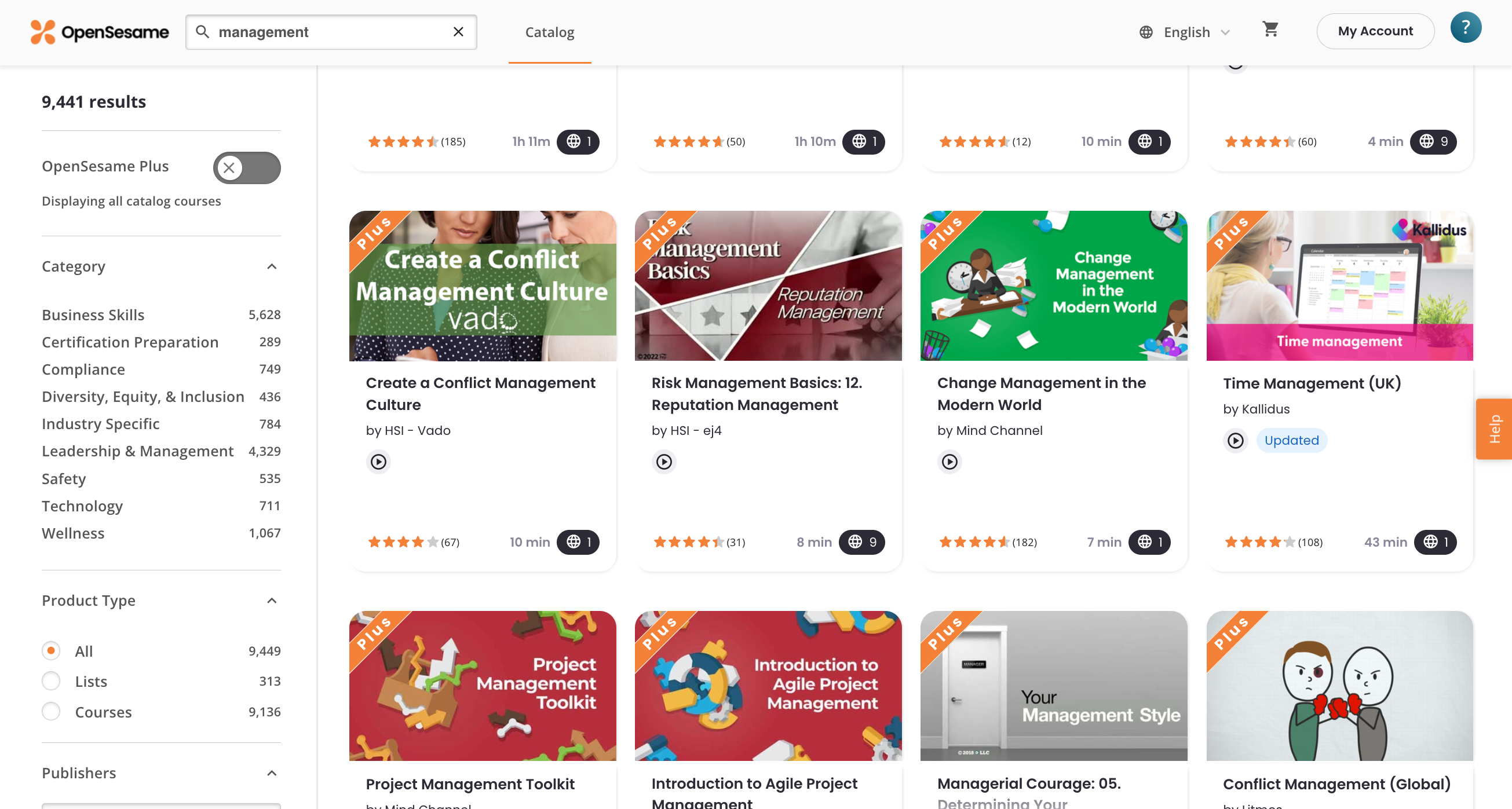 Our search filters offer the fastest way to narrow things down from here.
Filtering your results
Next, let's take a look at the options for narrowing down all these results. At left is the filter bar:

When you first load the catalog, these filter categories will start out expanded, so you can see more details about the available options. By using the arrows to the right of each filter, though, you can condense them: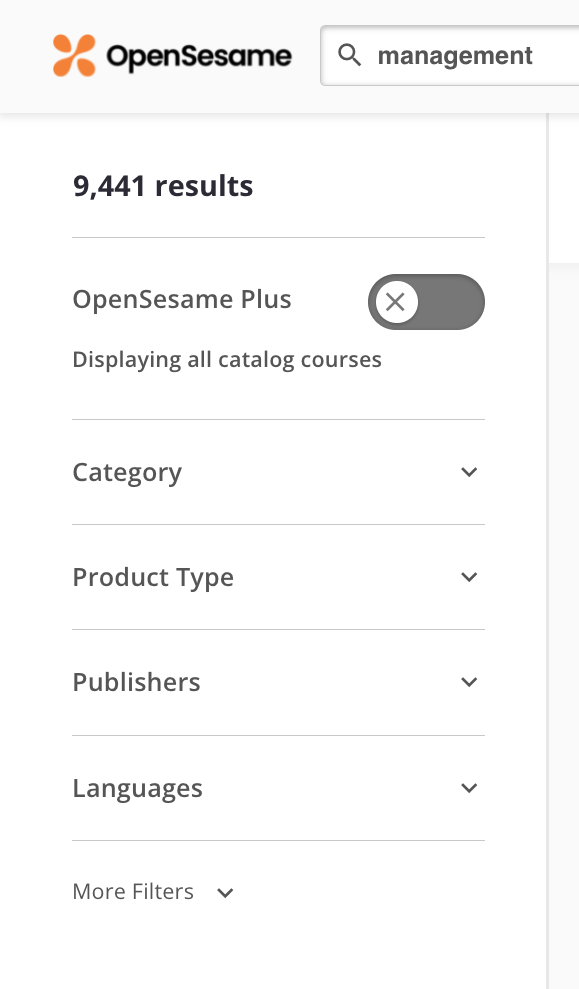 And here's how it looks if you click on More Filters at the bottom:

As you can see, there are a lot of options for granular searching! From the top:
The OpenSesame Plus toggle allows you to limit your results to courses included in our subscription catalog. In these examples, the toggle is off and results are not limited.
Category suggests common umbrellas for the topic you're looking for—the first two categories for "management" are "Business Skills" and "Certification Preparation," for example.
Product Type allows you to search for or exclude Curated Lists.
Publishers allows you to narrow the results to one or more course providers you know you like. Click the "OpenSesame Exclusive" toggle to show courses only available on OpenSesame.
Languages allows you to select one or more languages you want the content to be in. See below for more details on how this filter operates.
Style allows you to see only the content format(s) you prefer, such as interactive (the most common elearning style), book summaries, or audio-only.
Course Features will use "and" logic if you choose more than one. So if you select "Inline Activities" and "Post-Assessment," for example, you will narrow your results to only the courses that offer both.
Seat Time, Rating, and Price are familiar factors.
Accreditation Organizations is an especially useful filter if you are looking for courses that offer Continuing Education credit hours, such as from the Project Management Institute (PMI). 
Most of these filters assume an "and" when multiple are selected—such as, "I want Category X and Publisher Y and Course Feature Z"—and limit results to courses that match all requirements.
The Languages filter follows this same pattern.* We track three types of translation: course text, subtitles, and audio. The "Course Text" checkbox tracks the language used onscreen within a course.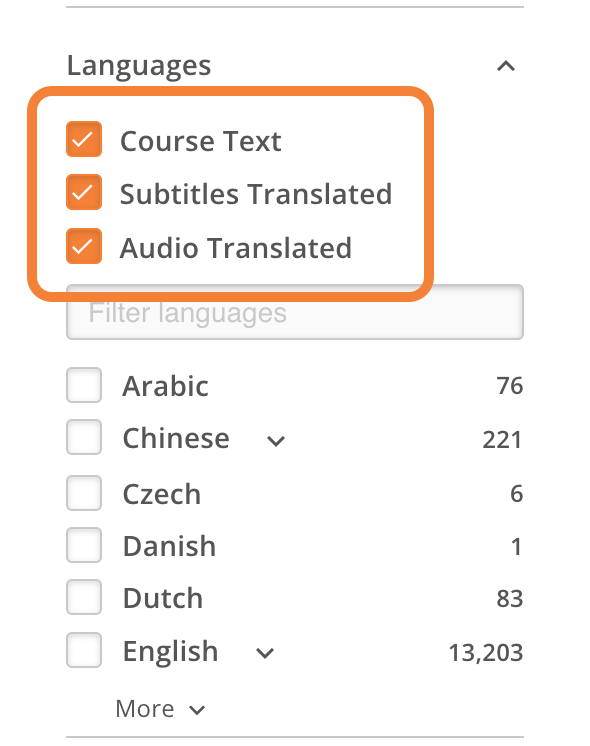 Here's how to use these filters:
To search only for courses that have onscreen language matching all your target language(s), leave the Course Text box checked and the other boxes unchecked.*
To search only for courses that offer subtitles in all your target language(s) but may not be fully translated, check the Subtitles Translated box and leave the other boxes unchecked.
To search only for courses that offer audio in all your target language(s) but may not be fully translated, check the Audio Translated box and leave the other boxes unchecked.
To search only for courses that offer both subtitles and audio in all your target language(s) but may not be fully translated, check both the Subtitles Translated and Audio Translated boxes and leave the Course Text box unchecked.
* Note: Whenever the Course Text box is checked, if your search includes three or more languages and there are no exact results available, you will see the best available results with the closest possible matches.
Depending on your results, you can also filter within a language. For example, it is possible to avoid British or Australian English if you only want courses with an American accent, or favor Canadian French over European French. If you see an arrow to the right of a language, expand it to see your options.
Putting it all together
Returning to the thousands of results for "management," let's say you decide to filter for courses accredited by the Project Management Institute (PMI), that are in English, that are longer than an hour, and that have a rating of four stars or higher. This brings the results from 9,441 down to 63, and here's how that looks once scrolled past the recommendation sections: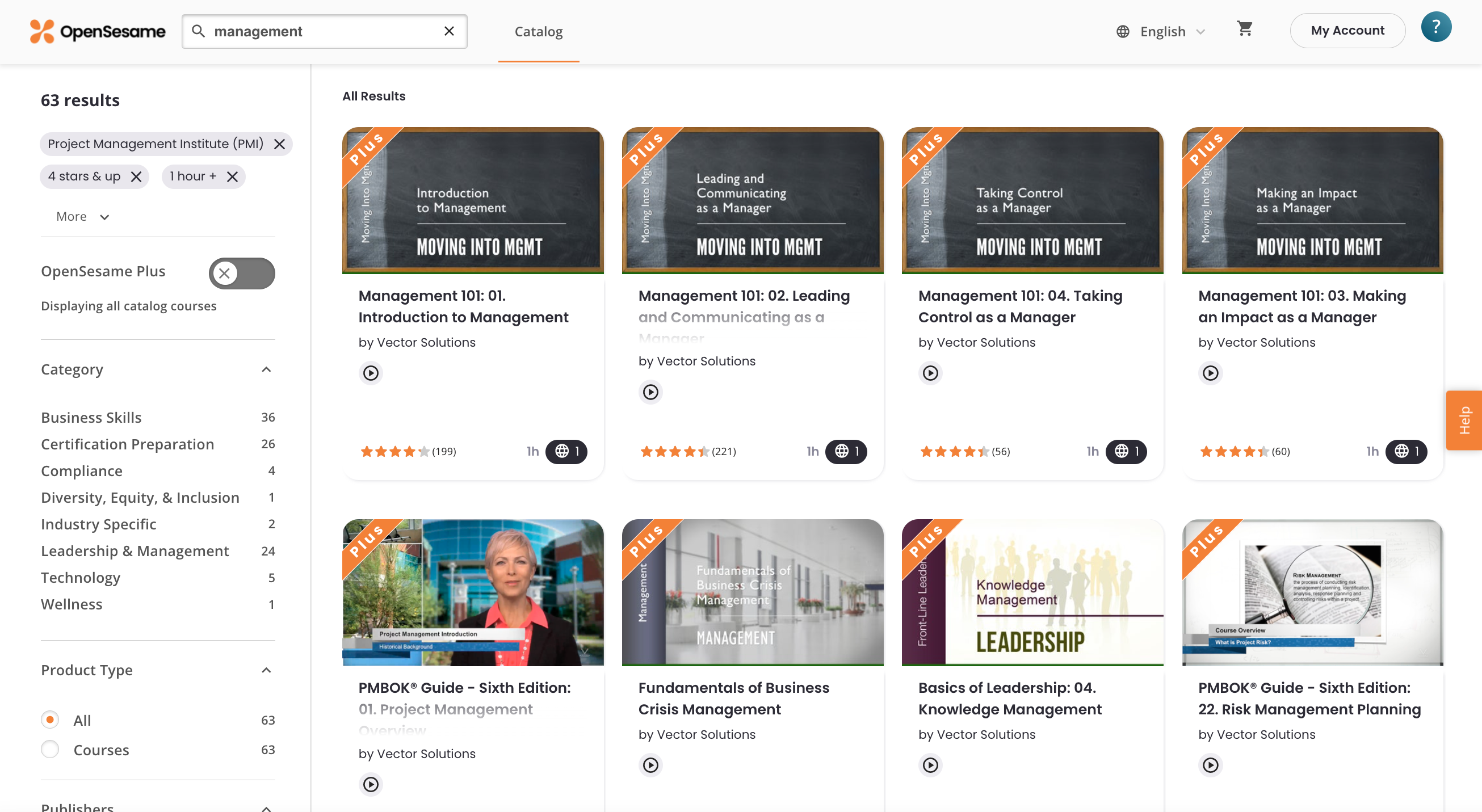 The active filters appear at top left: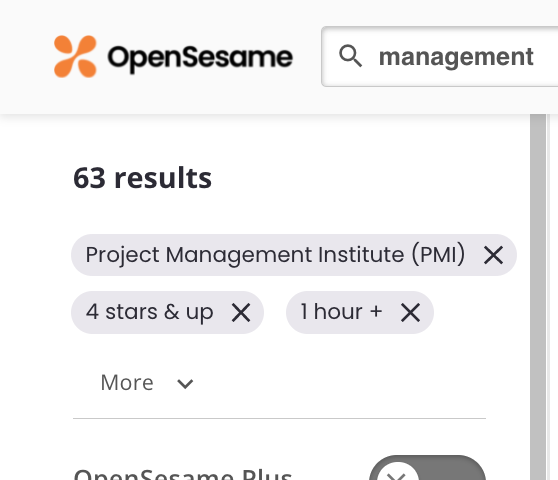 Clicking "More" reveals the language filter: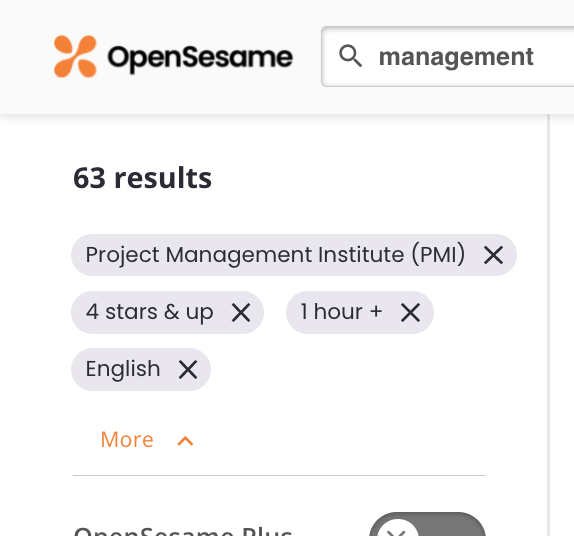 Click the "X" on any of these filter tags to remove it and immediately update your results. In this case, removing the seat-time filter increases the results to 305 potential matches: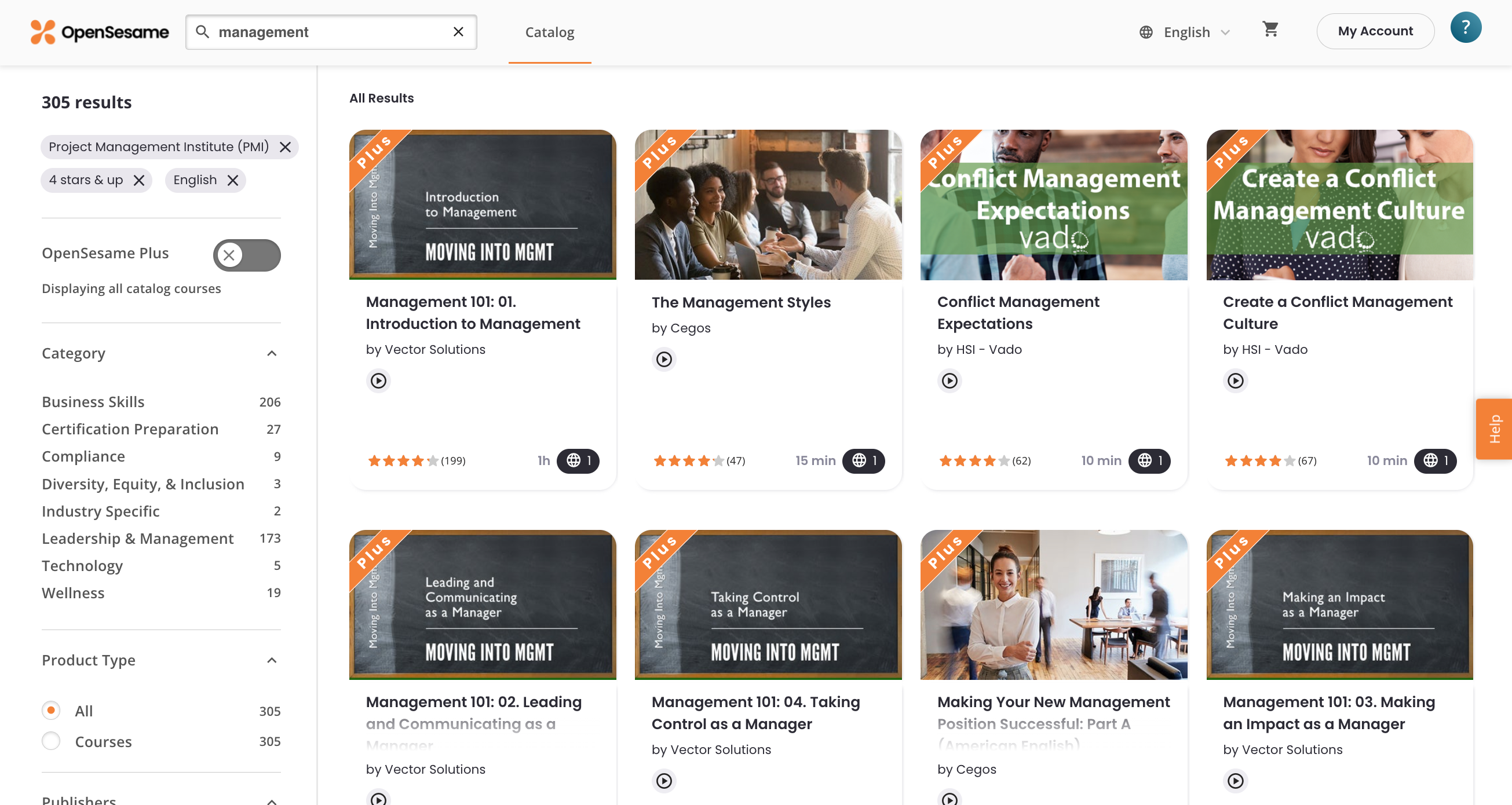 Finally, if you would prefer to use our internal algorithms to generate course suggestions for one or more topics rather than manually search, try our popular Smart Lists feature.
If you have further questions, our Support team is here to help via email at support@opensesame.com or via live chat and phone. Feel free to reach us at (503) 808-1268, ext. 2, or at +44 203 744 5541 in Europe.