With OpenSesame Lists, it's never been easier to create and maintain tailored collections of courses for yourself or your employees. Collect courses into a List for your own review or to share with colleagues and stakeholders for feedback.
You can quickly and easily add courses to a List from search results or course pages, and you can also group items within a List, such as by job role, department, employee level, or whichever description you prefer. If you'd rather use a List already created by one of our Curation specialists, Curated Lists can help save time.
If you prefer videos, here is a walkthrough on creating and organizing Lists:
Ready to start developing your learning plan within the OpenSesame platform?
First, log in to OpenSesame and create a List from the search results page. Reach it by entering any topic in the search bar at top left.
1. If you are adding a single course, hover your cursor over the course card and click the "Add to List" button that appears: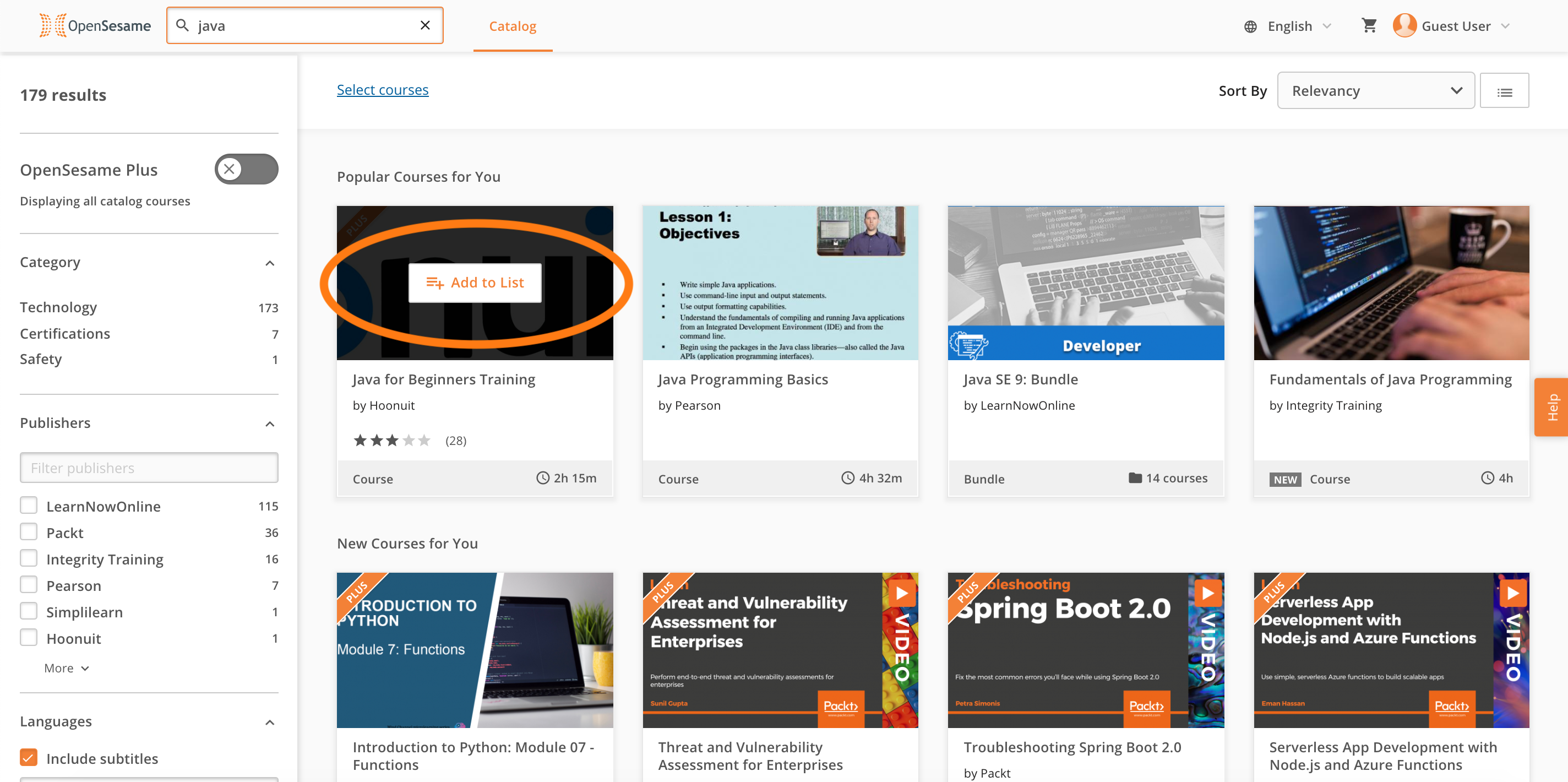 2. A dialogue box will come up where you can either create a new List or add your selection to an existing List. Here we create a new one: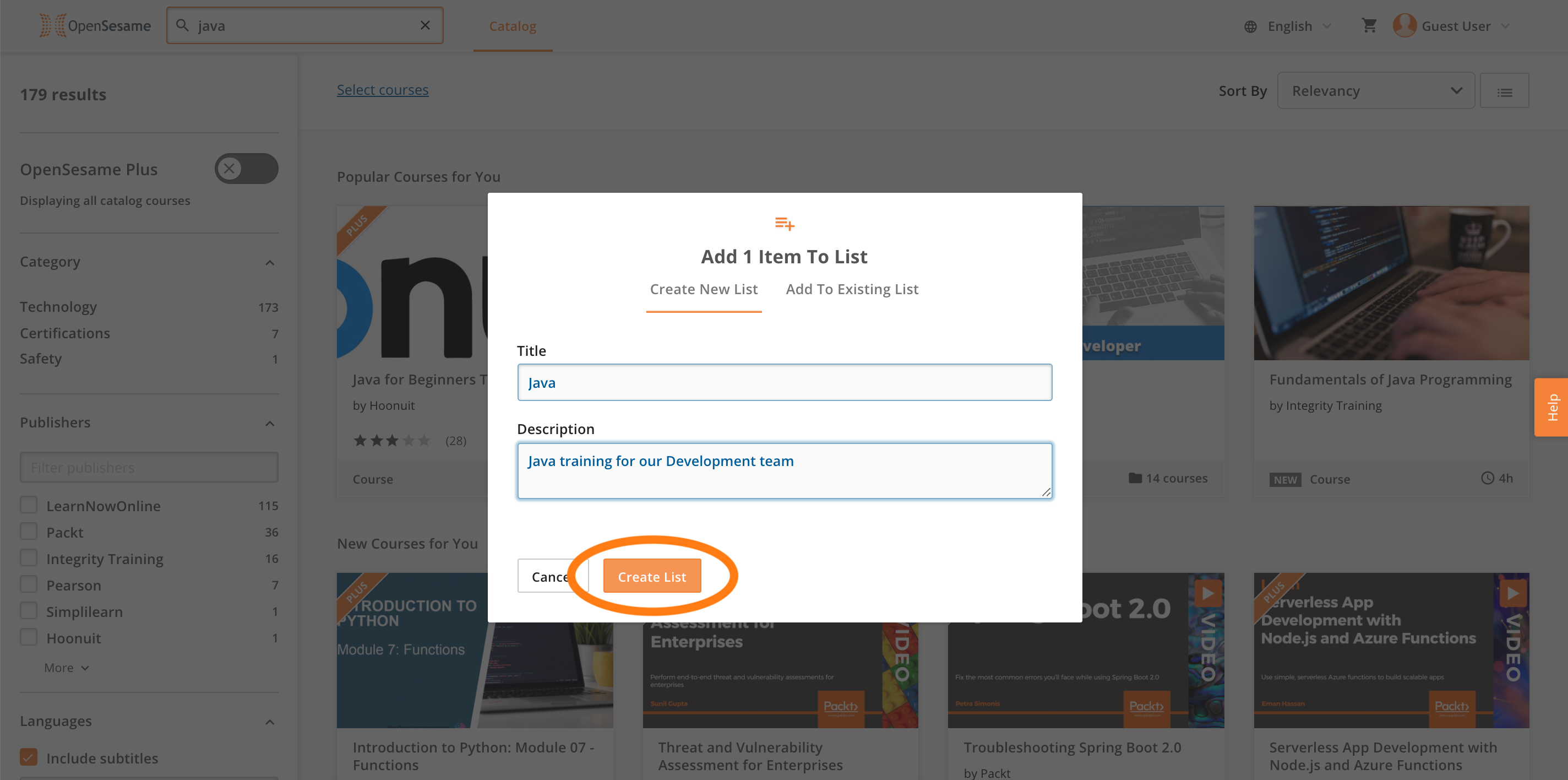 3. Done! A green confirmation box will appear at upper right, with an option to go straight to the new List: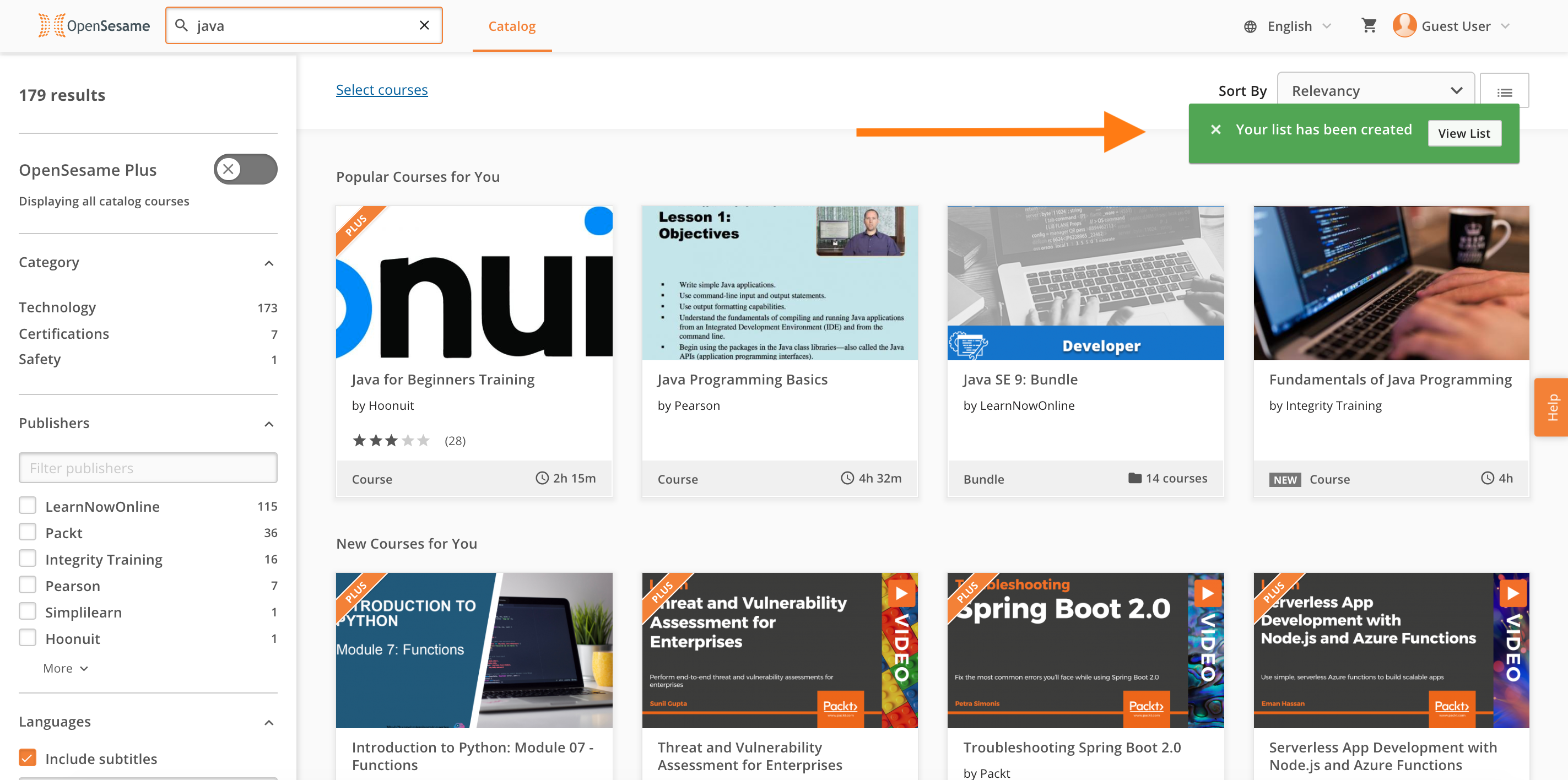 If you want to add more than one course at a time:
1. From the search results page, click the "Select courses" link at upper left:

2. Select the courses you want, then click the "Add to List" button at top: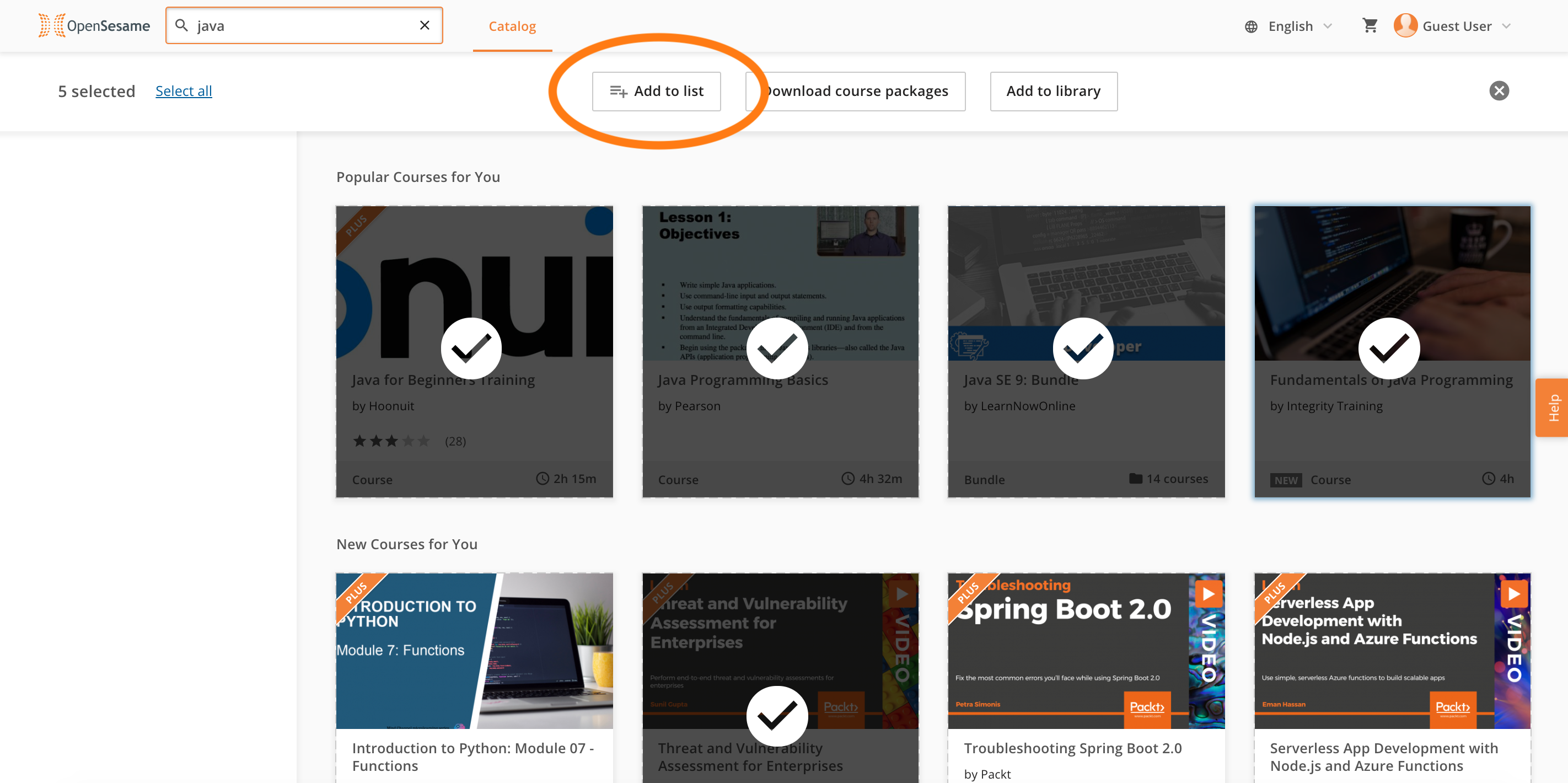 Note: The "Add to library" button seen at right will only appear if your account is set up for Pay-Per-Use (PPU) licenses.
3. In the dialogue box we use the "Add to Existing List" option this time. The most recently created List will always appear at the top of your List inventory, and if you have many different Lists, you can use the search bar to find older ones: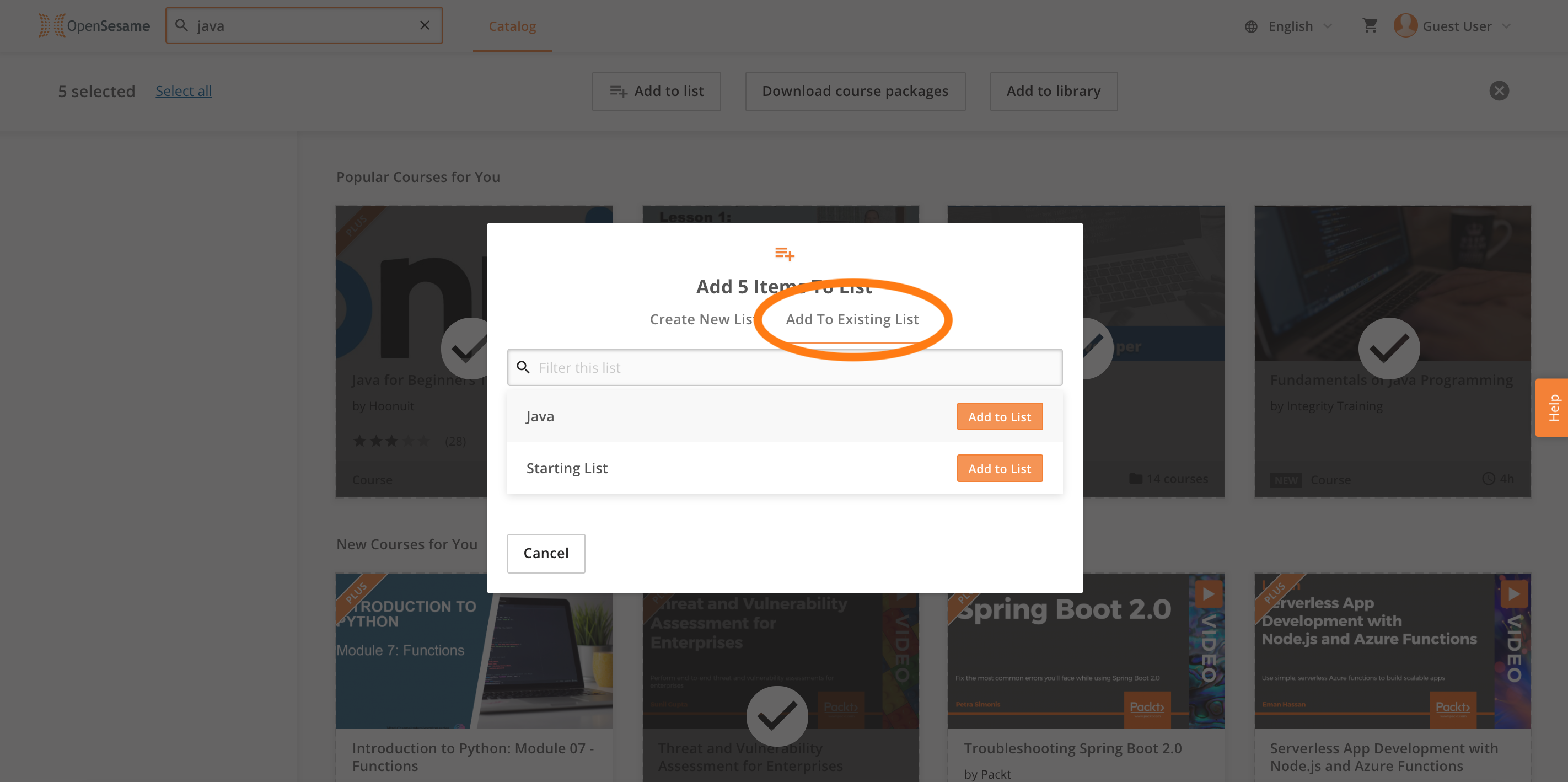 4. Clicking the orange "Add to List" button on your target List leads to the following confirmation:

5. Done! Click the "View List" button in the confirmation message to go straight to the updated List.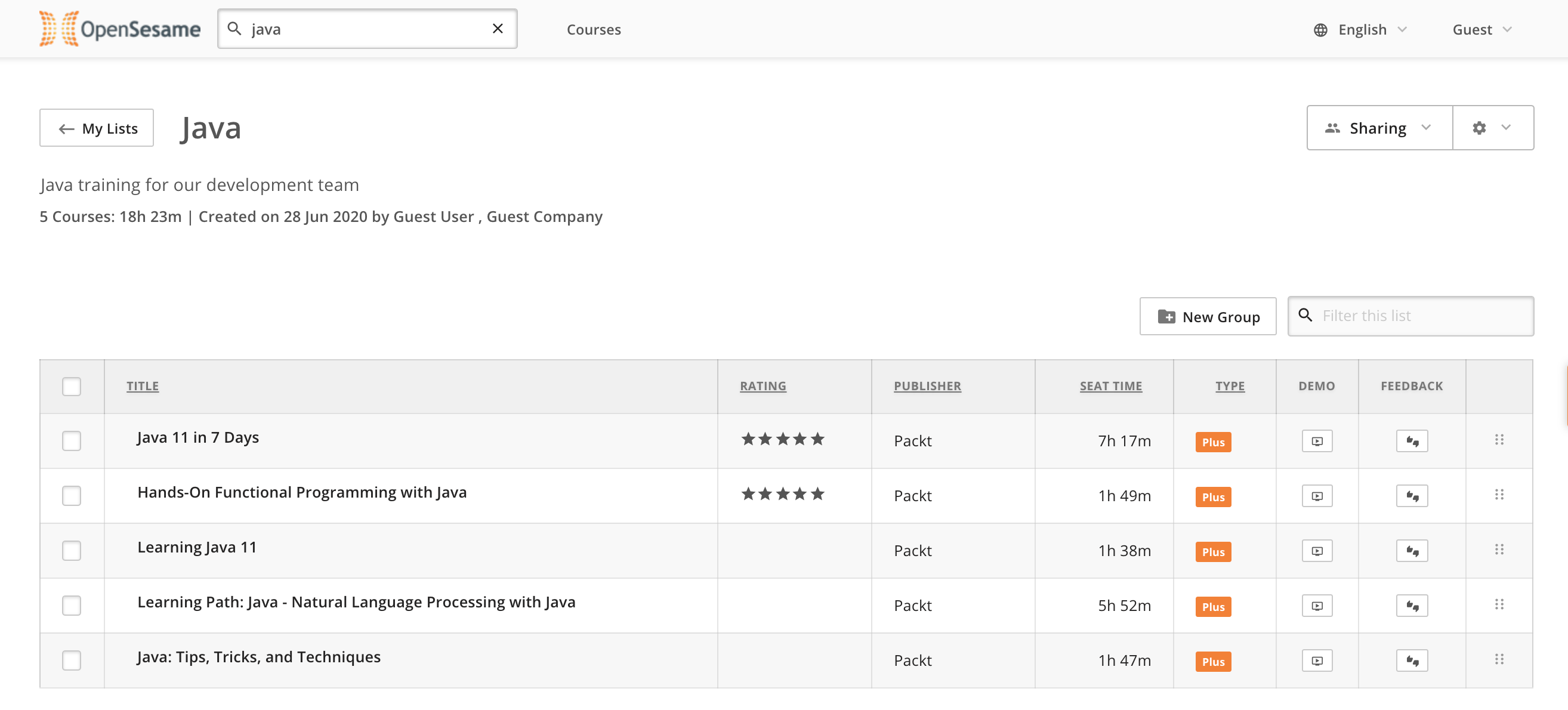 If you decide to visit the course's full profile page instead:
1. Click on any course title from the search results to view its details page. From there, click the "Add to List" icon at center: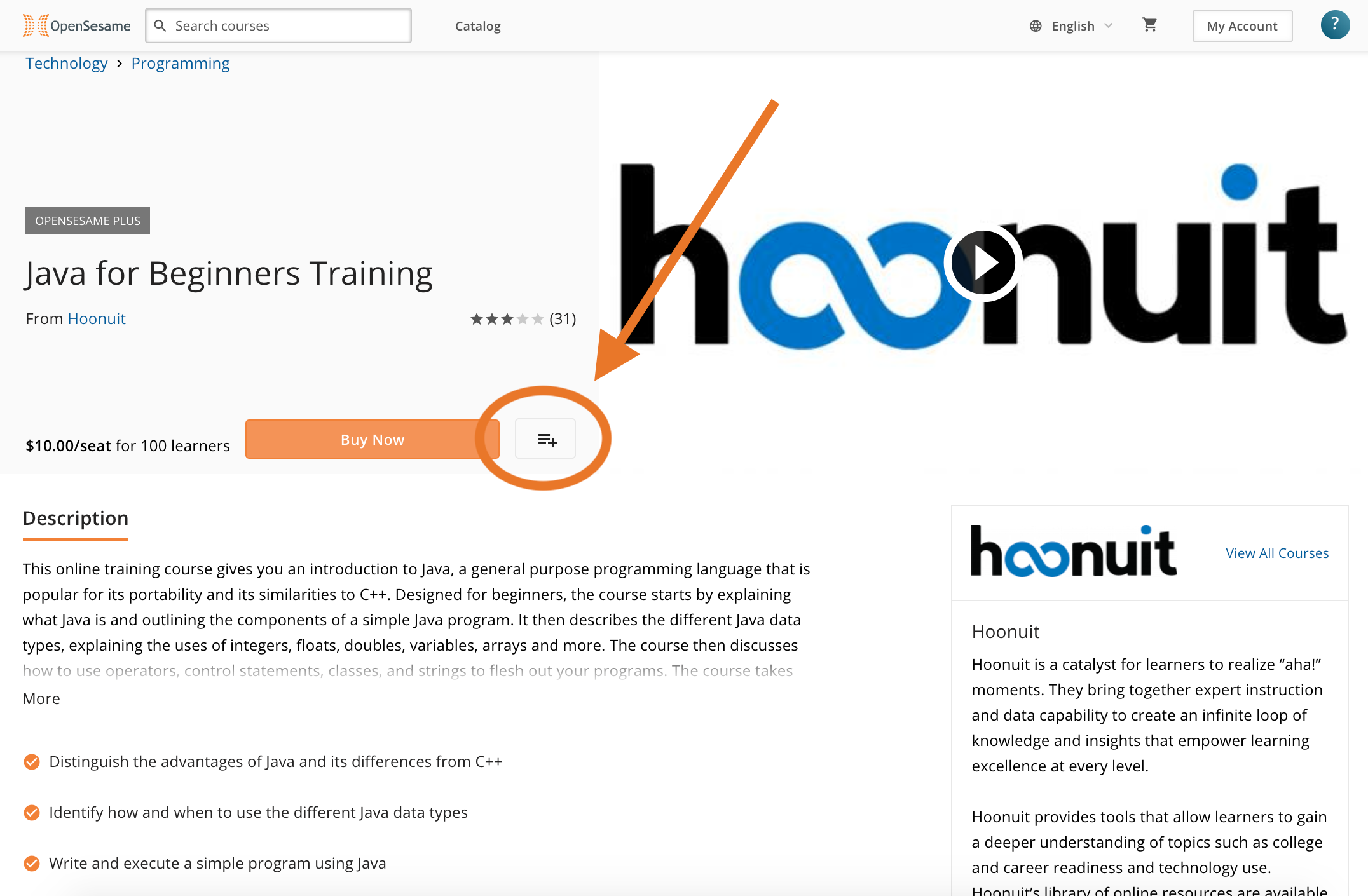 2. Create a new List or add to an existing one, and you're done!
Need to develop a learning plan for different audiences, but want to maintain it all in one List? Add groups!
If you have a set of courses in your List you'd like to group together, you can:
1. Select the courses you want to group by using the checkboxes at left:

2. Once your courses are selected, click the "New Group" button at upper right:

3. Enter a name for your group and click the small checkmark next to the name to save it:

4. Your courses are now categorized! Note that adding an initial group to a List will put any remaining courses into an "Ungrouped Courses" section underneath:
Need to rearrange courses already in your List?
Drag and drop courses between groups or rearrange their places within a List by clicking and holding the "drag" icon at the end of any row:

Looking for your Lists?
When logged in, find your Lists by hovering the cursor over your account name at upper right and selecting "Lists" from the dropdown that appears:

If you have further questions, our Support team is here to help via email at support@opensesame.com or via live chat and phone. Feel free to reach us at (503) 808-1268, ext. 2, or at +44 203 744 5541 in Europe.