First, head to your Lists when logged in to OpenSesame. You can find them by hovering your cursor over the account name at upper right and selecting "Lists":

From there, click the name of the List that has the courses you want to add:

Click the box to the immediate left of a course's title to select specific courses to download. If you'd like to select all courses, simply click the top box: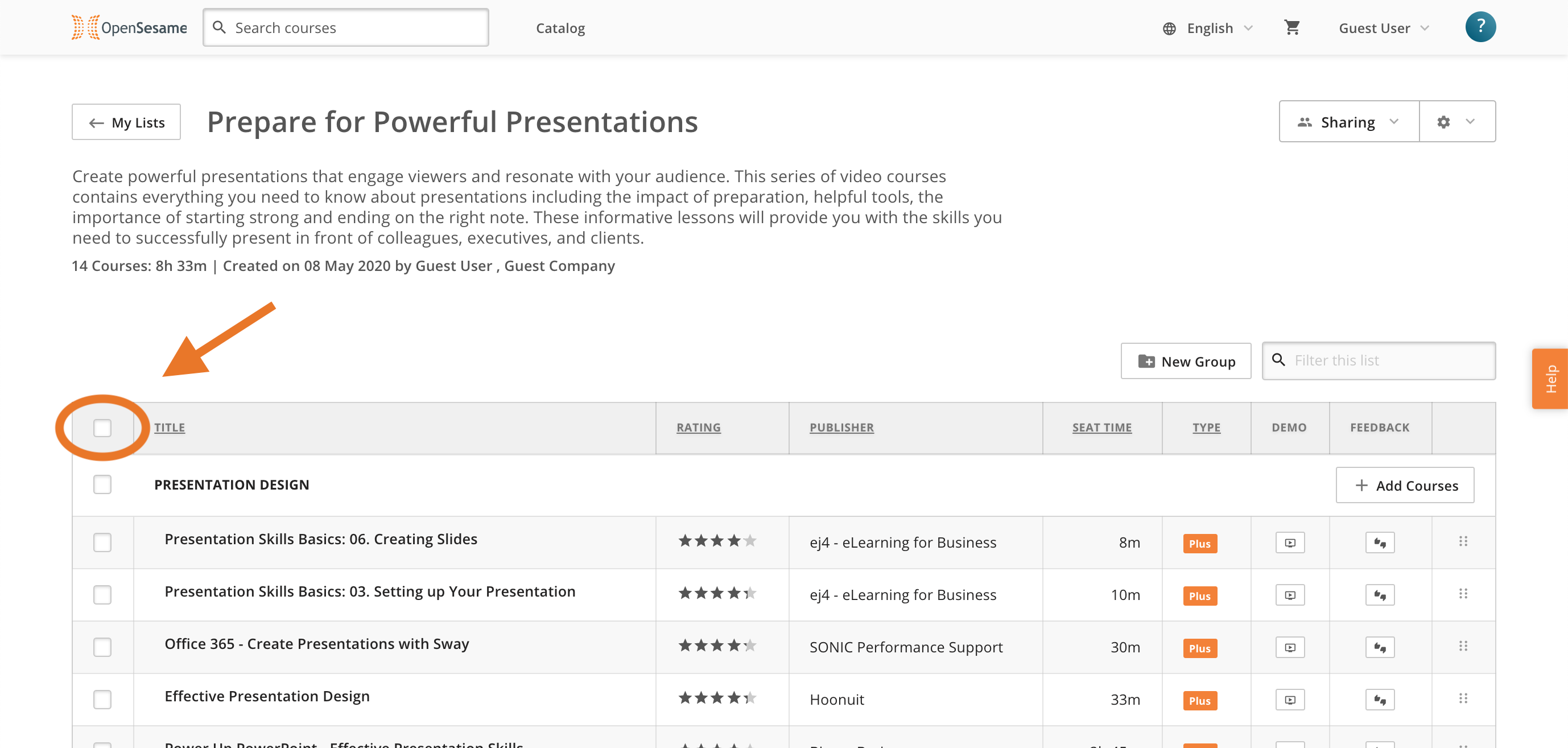 As soon as any course is selected, you'll see a few buttons appear:

Please note that you must add courses to your PPU library before you will be able to successfully download packages. (Packages will only be created for courses with an active license.)
To add any new courses to your PPU library, which will create licenses for them, select them and click the "Add to library" button.
Note: If you know that all of your desired courses are already in your PPU library, you can skip this step.
You'll briefly see a progress bar: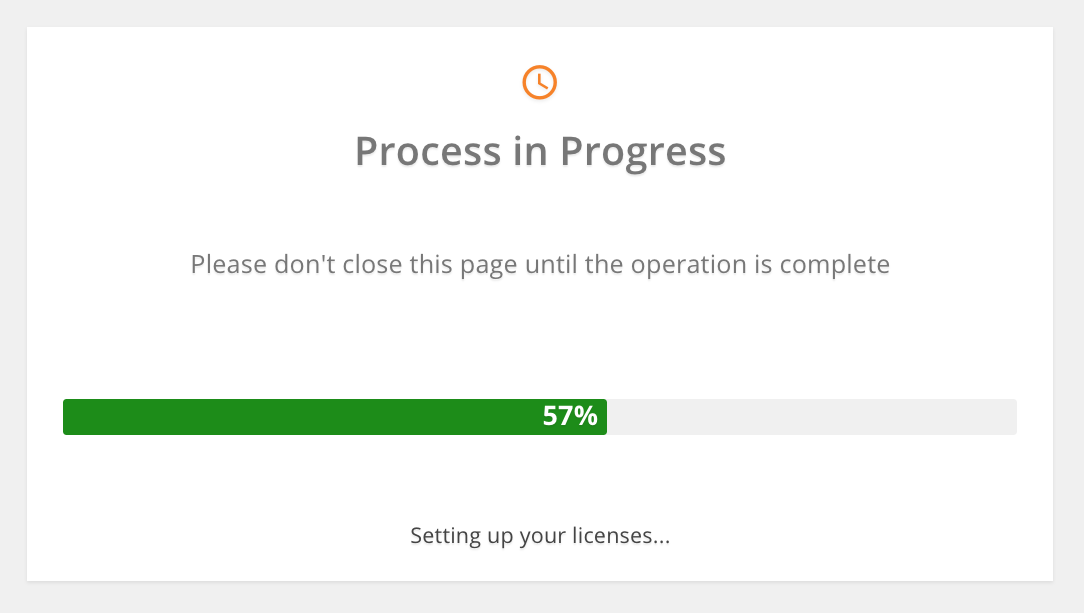 You should then be returned to your List and see a success message:

Once your courses have been added to your PPU library, select them again and click the "Deliver Courses" button:

To download course packages, select "Download Packages" from the next screen.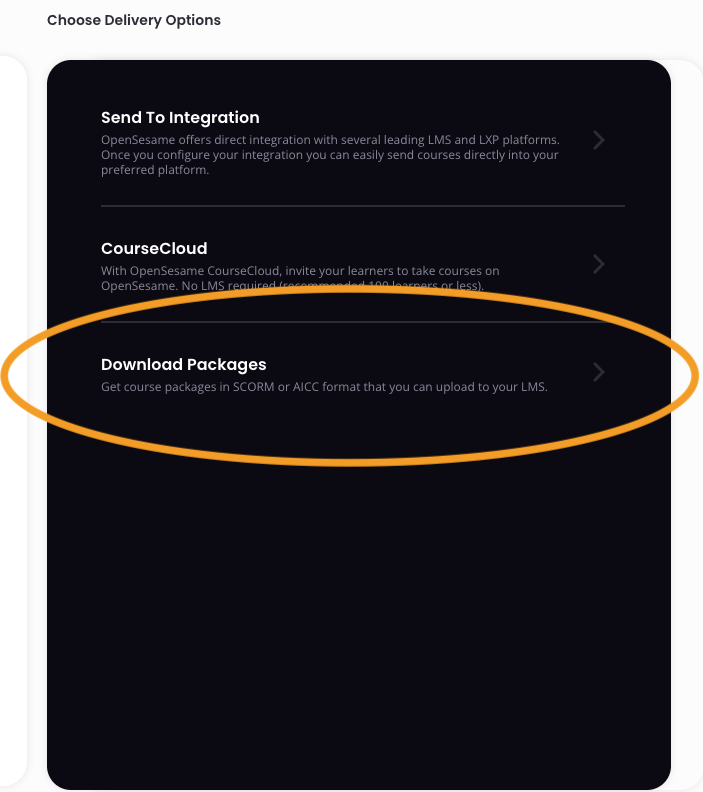 You'll then have to decide whether you would like to download SCORM or AICC packages. Not all package types work in every LMS, so if you're not sure which work best in your LMS, please reach out to your LMS Support Team directly for more information.
After you select you package type, click "Download Courses"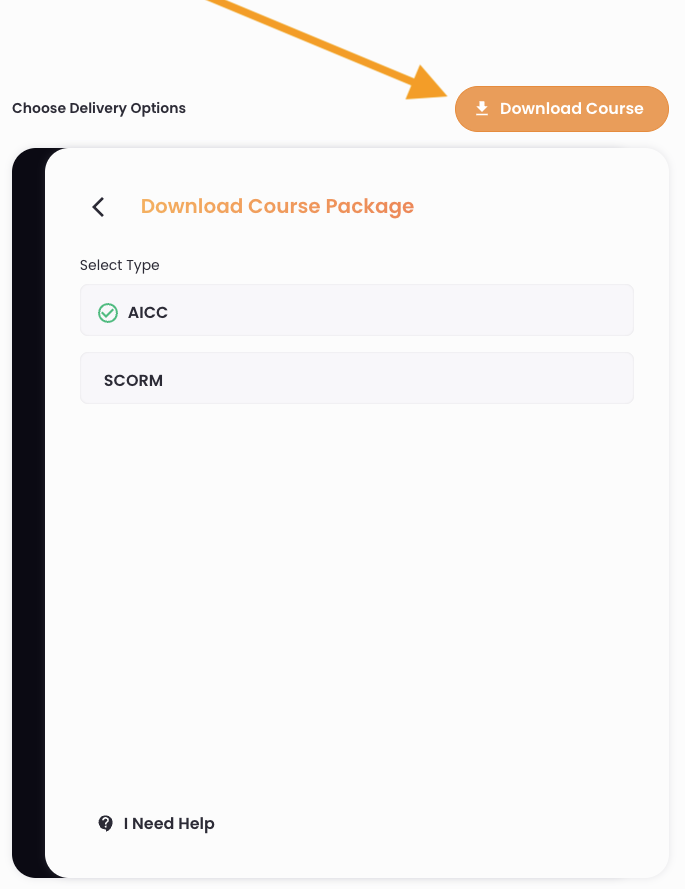 You will briefly see another progress bar until the file generation is complete. The resulting .zip file will include all of the course packages that were selected to download, titled by a unique identifier, a ReadMe file, and a .csv file of the metadata for each course.
Find the .zip file in your computer's downloads. It will be titled with the date of download, like this:

Please note that you cannot upload this .zip directly to your LMS. You must first unzip it one time to access the individual .zip file for each course.
When you unzip this download you will find the individual course .zips (each titled with a unique identifier, such as 1a26c1ac-05d1-6aa4-4d3d-5e405d46222e), a metadata report, and a text file with some general instructions about uploading this content to your LMS. Do not unzip the individual course .zips, as they must remain individually zipped in order to work.
From here we recommend that you work with your LMS contacts to identify the most effective way to upload course packages to your LMS. Most LMSes typically allow the uploading of a single course or the uploading of multiple courses in bulk.
If you have further questions, our Support team is here to help via email at support@opensesame.com or via live chat and phone. Feel free to reach us at (503) 808-1268, ext. 2, or at +44 203 744 5541 in Europe.