Note: If you use a Learning Management System with an embedded-catalog integration, please visit this dashboard while accessing OpenSesame through the LMS.
If your account is configured for Pay Per Use (PPU) licenses, you can manage those licenses and your PPU courses from the Pay Per Use Dashboard.
Access it by hovering over the account name and selecting "Dashboard":

Next, click the "Pay Per Use (PPU)" tab: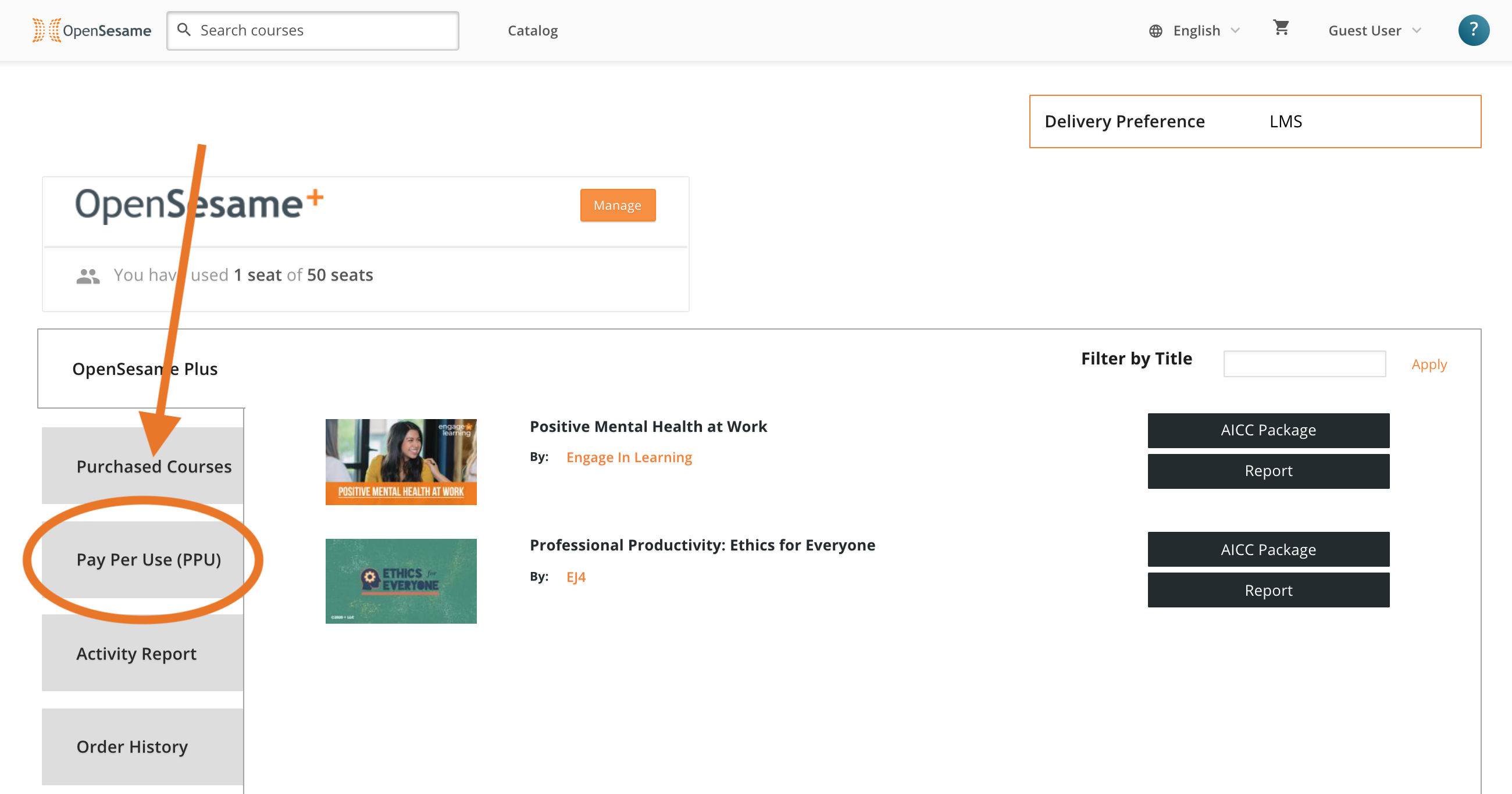 This will navigate to the PPU Overview tab. Its Monthly Spend chart will be blank until the very first PPU course is launched. Once that happens, the chart will display any monthly totals from the last year. Hover over a bar for a glance at what was spent that month: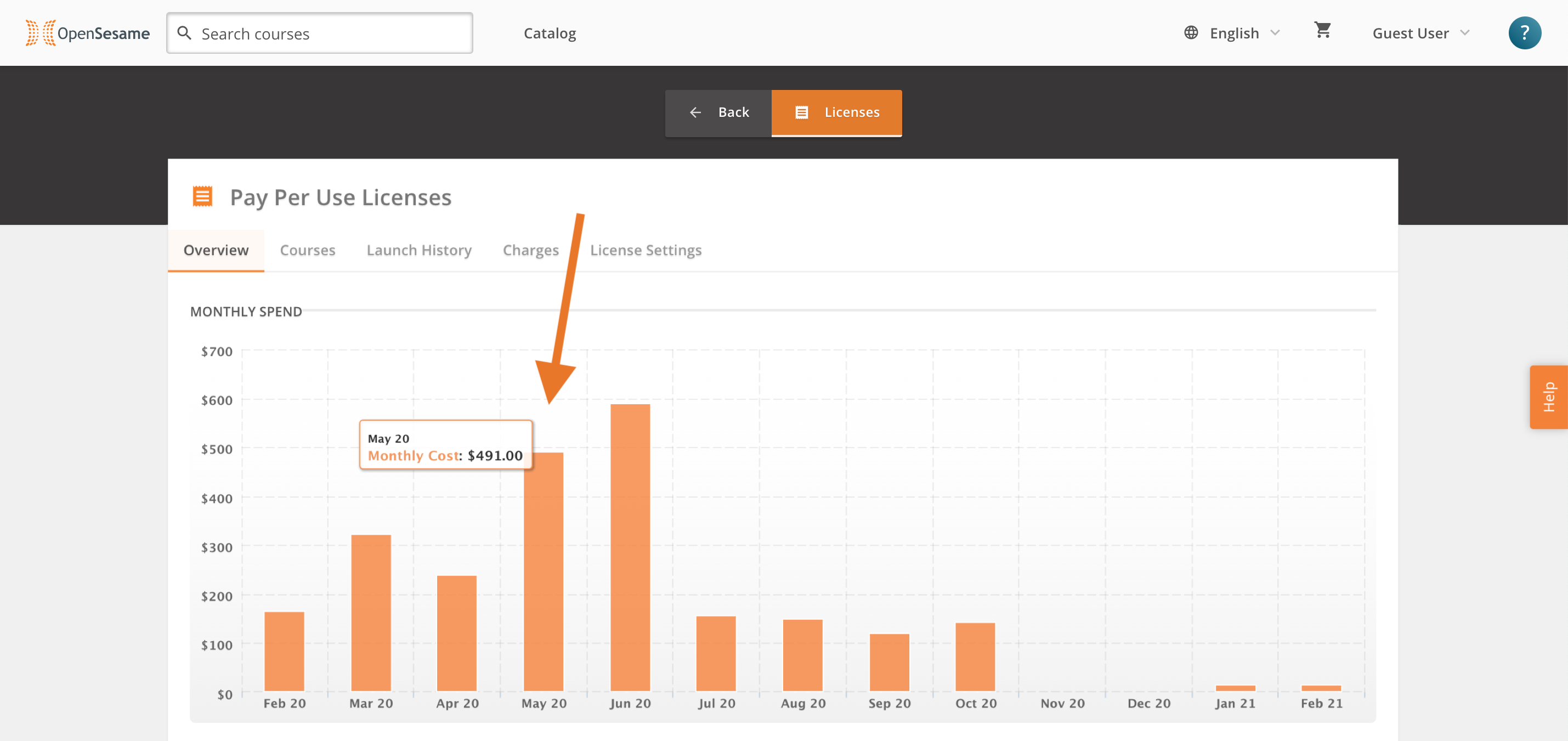 Click the Courses tab to view your PPU library, which holds all training added to your PPU account: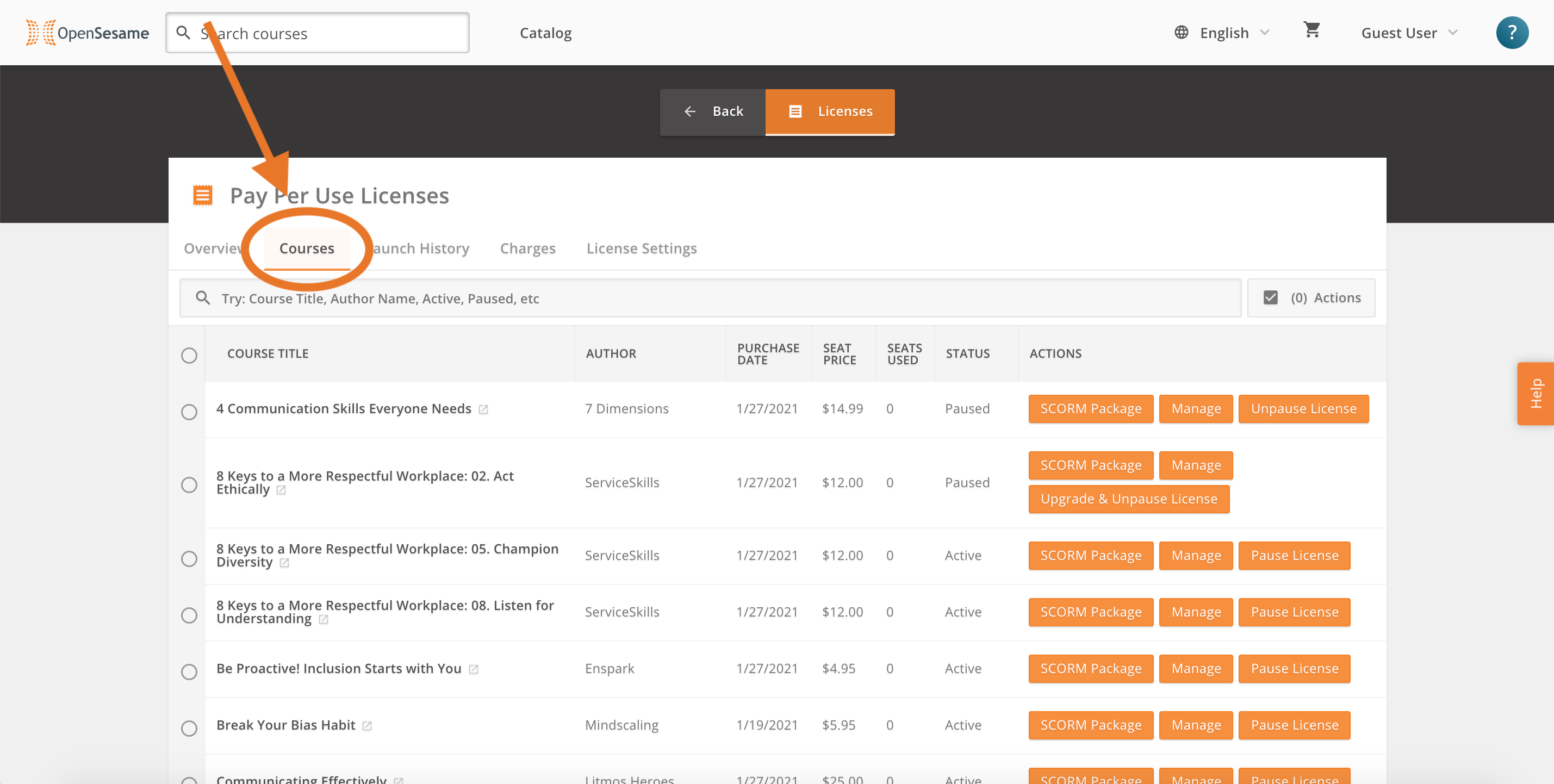 Its search bar allows you to quickly locate a specific course, all courses from a certain publisher, and more.
Courses can be upgraded, unpaused, and paused from this tab. Click a course's "Manage" button for a closer look at which learners have launched it and whether they have completed it.
If you have multiple paused licenses and want to unpause all of them at once, search for "Paused," click the dial at top left to select them all, and choose "Unpause Licenses" from the Actions menu at right. You can also select multiple specific courses, as seen here:

The Launch History tab offers a full report of your account's PPU course launch information. Click the button to download a CSV spreadsheet file:

The Charges tab shows monthly PPU totals, and each month can be clicked for a closer look. If there were no charges for a certain month, it will not appear here.
If you have many entries, quickly locate a specific month or monthly total by using the search bar: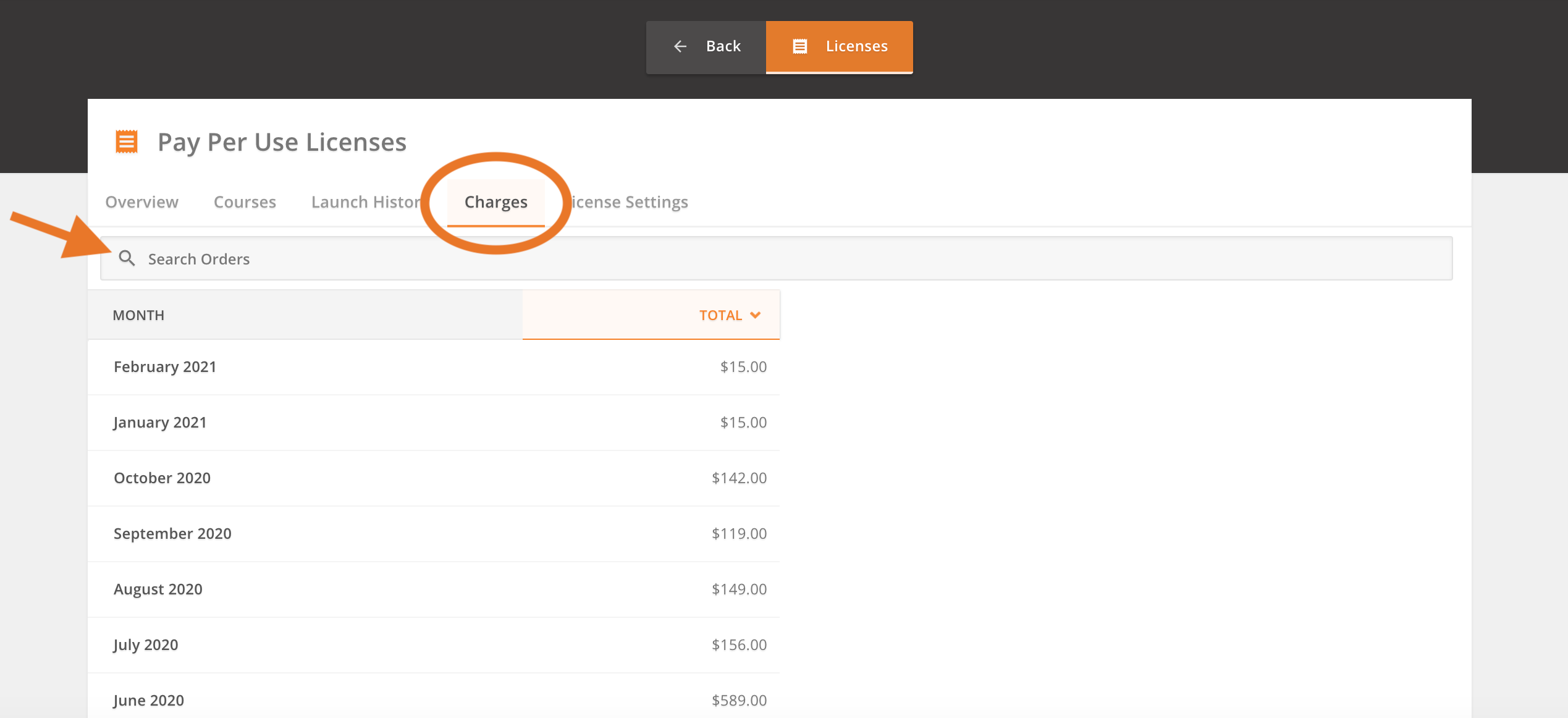 The License Settings tab allows you to set a Spend Limit on Pay Per Use charges as well as update that limit as budgets evolve.
If the limit is exceeded, or you update it to a new limit that's lower than the total already tracked, your Pay Per Use courses and all new PPU enrollments will be paused until the limit is manually adjusted or reset. (A Spend Limit will not automatically reset.) Any learner who launches their PPU courses before a Spend Limit is reached will continue to have access for the duration of their 12-month seat licenses.
Click the "Add Limit" button to get started:

Note: As described in this tab, if multiple learners launch new PPU courses at the same moment that the limit is reached, those charges may register before PPU courses and enrollments are paused.
In the window that appears, add a dollar amount, any additional notes, and click "Save":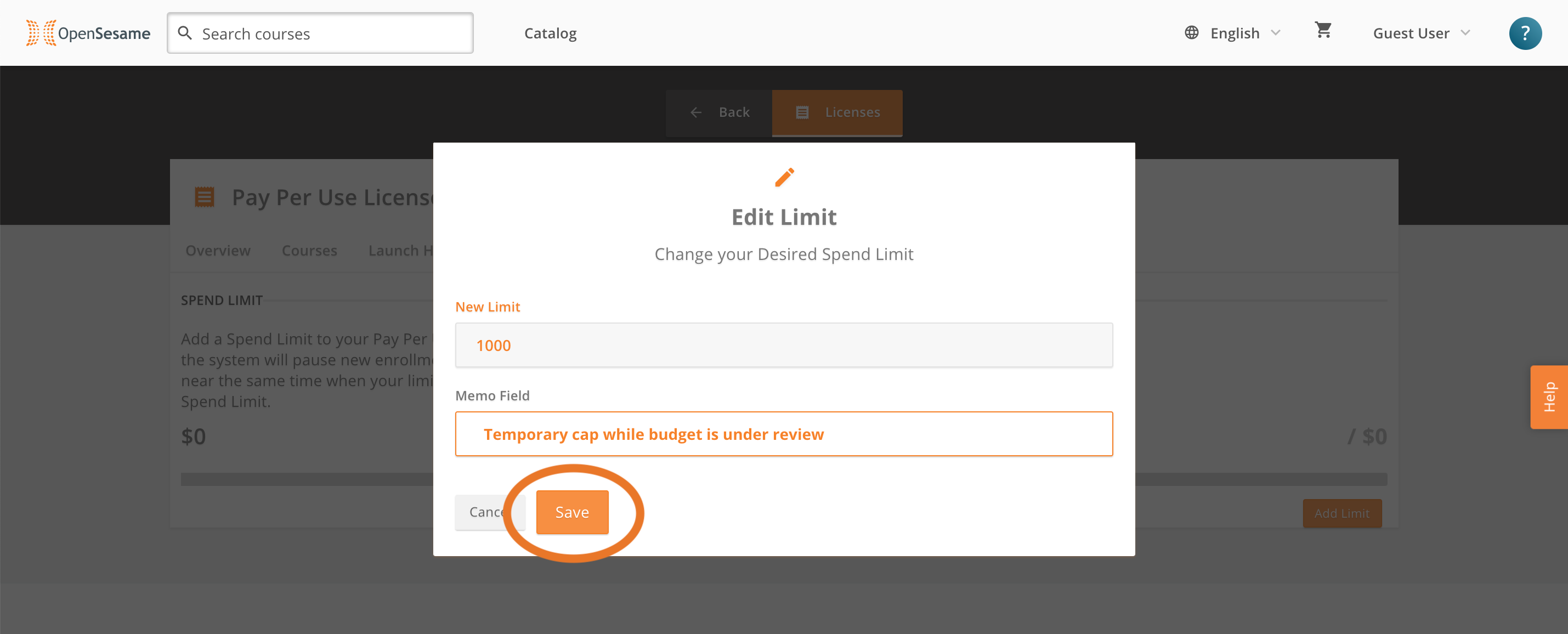 A confirmation message will appear at top right. New PPU charges will now be tallied toward the Spend Limit, and progress toward the limit will also appear in the Overview tab. The limit and its creation date will appear in the Change Log at bottom as well as any added notes: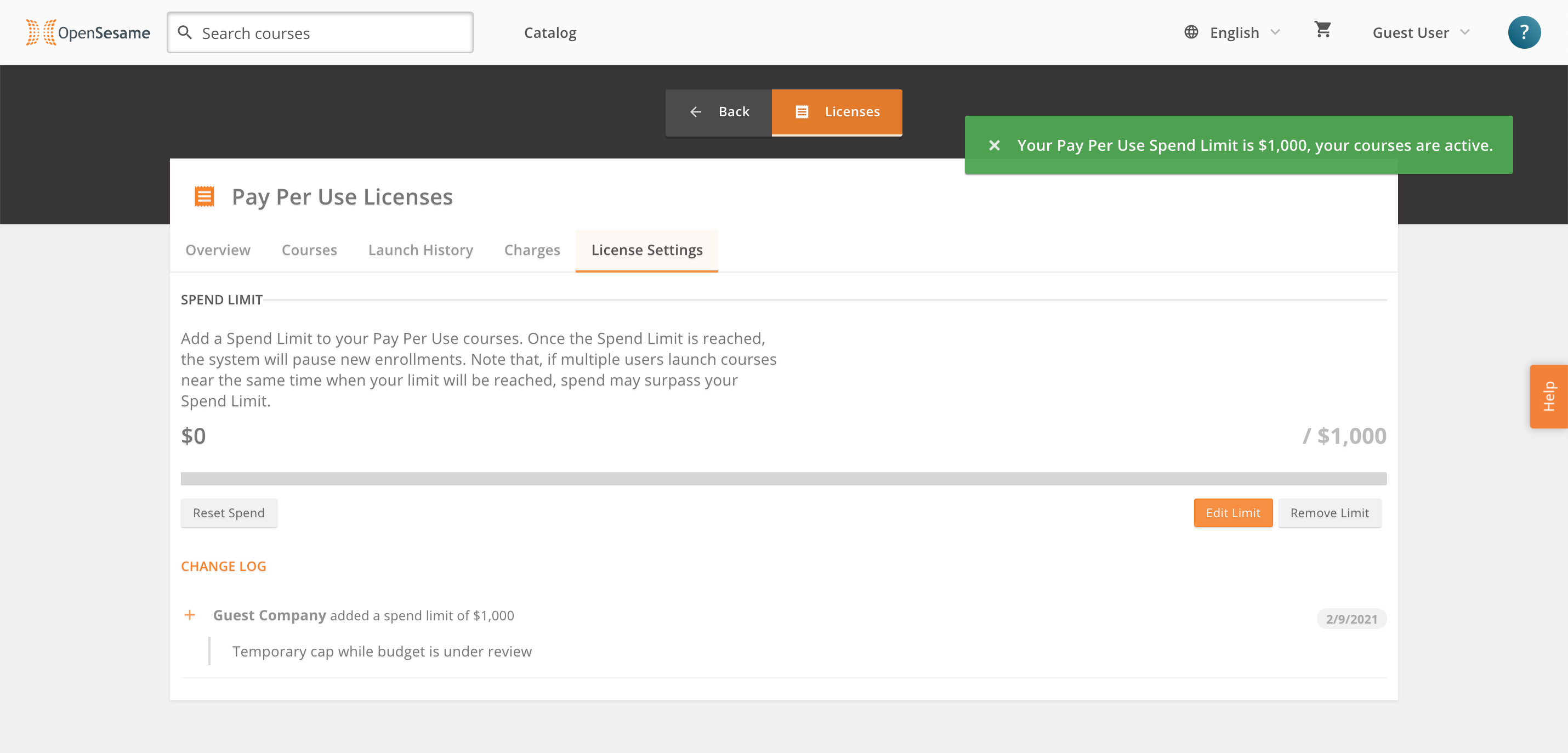 The final course launch that triggers the limit will be allowed.
In the above example, if the total spend reached $995 and a learner launched a new course with a $10 seat price, the learner would be able to access that course and the total would reach $1,005. This would trigger the limit and prevent further learners from launching new courses and incurring charges.
If your budget requires tight control, simply lower the Spend Limit by the highest price in your PPU library. In this example, if the highest seat price was $30, the limit could be adjusted to $970. This would ensure that the final launch could not exceed the $1,000 mark.
Restart the spend tracking by clicking the "Reset Spend" button: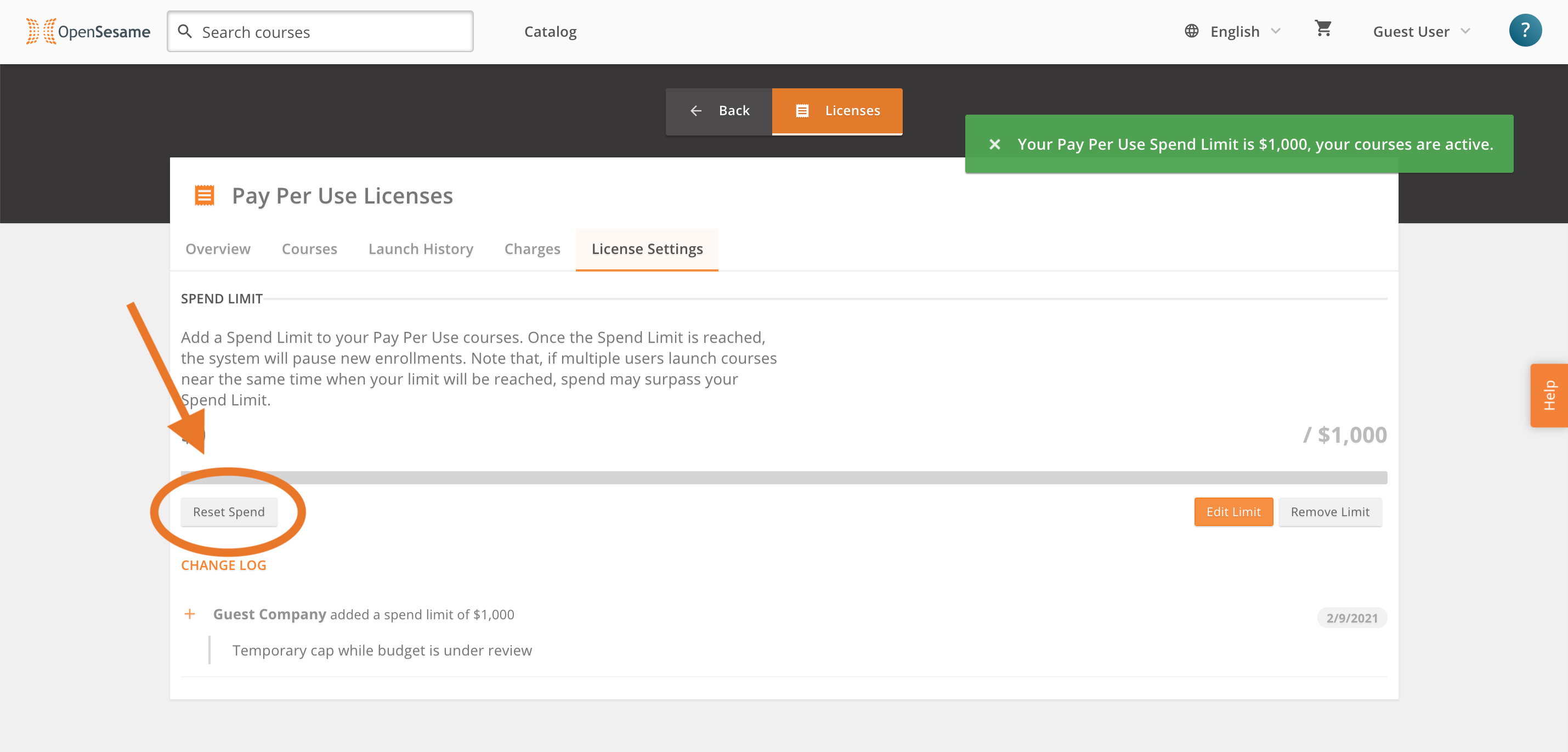 A window will appear with the option to add a note, and saving it will reset the spend tally and update the change log.
To edit or remove a limit, use the buttons at right. Each action offers the option to add a note, and the change log will update accordingly.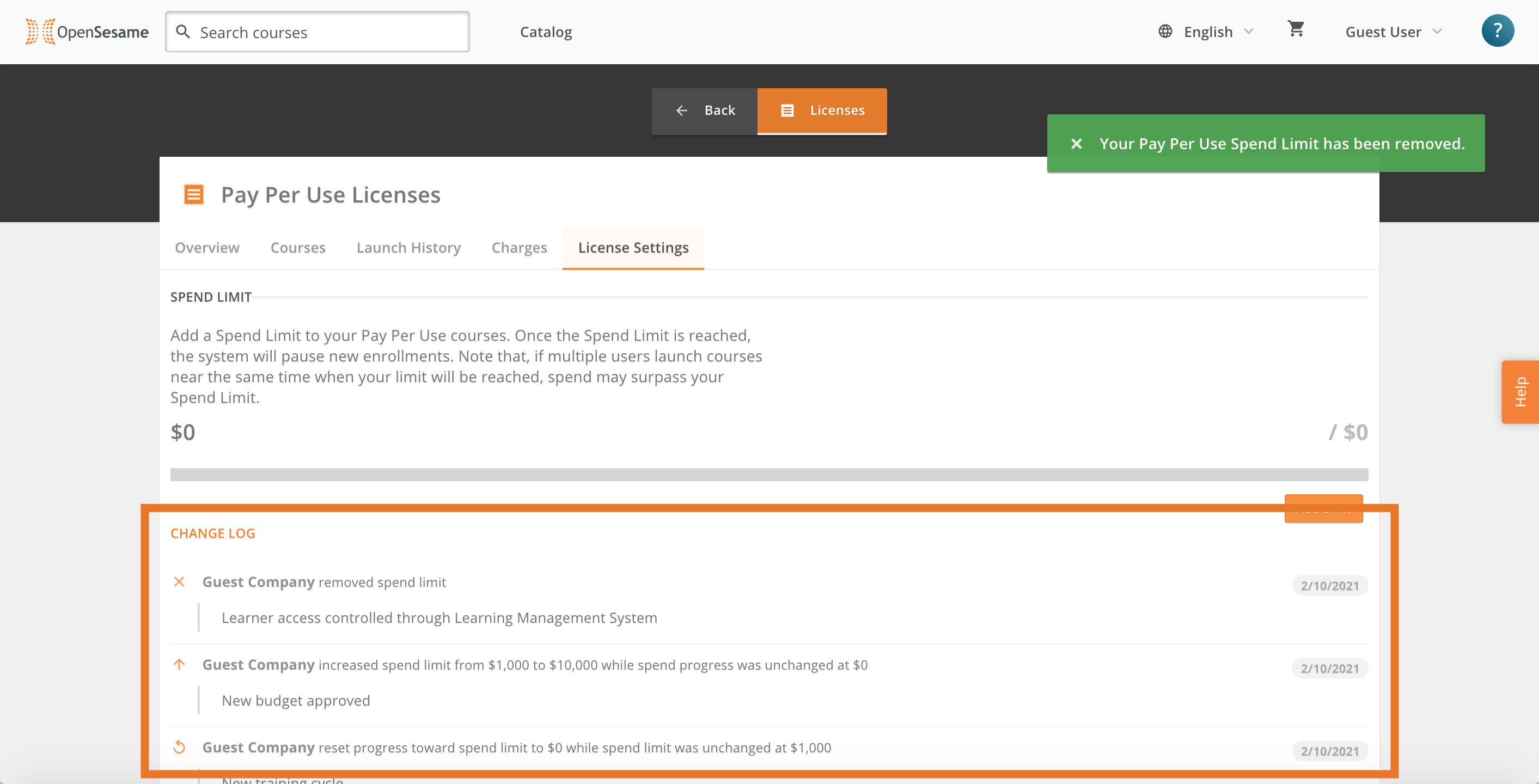 If you have further questions, our Support team is here to help via email at support@opensesame.com or via live chat and phone. Feel free to reach us at (503) 808-1268, ext. 2, or at +44 203 744 5541 in Europe.