The OpenSesame Plus Insights Dashboard was created to make tracking and evaluating your training programs faster and easier. The dashboard will update as your learners take and rate their courses, providing you with quick visual takeaways of key metrics.
Please note that the OpenSesame Plus Insights Dashboard is only available to customers with more than one OpenSesame Plus learner seat. Keep an eye out for additional features in future releases.
To access the Insights dashboard, log in to the account from which you access your company's licenses. This will either be via an embedded catalog integration within your learning management system or via www.opensesame.com. Hover your cursor over your account's name in the upper right corner and choose "My Insights" from the drop-down menu that appears. Your Insights dashboard will automatically open on a tab labeled "OpenSesame Plus."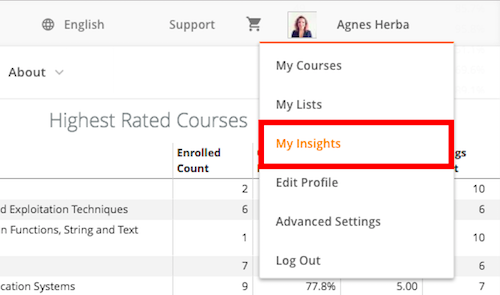 Our Customer Success and Curation teams recommend monitoring the following key areas to gauge your training program's performance:
Seat usage

Enrollment trends

Learner satisfaction
Using the filter that appears in the upper left corner, enter the time span you are interested in and then click the "Run" button at right. This will generate a report underneath, starting with the average number of course enrollments per learner, the percentage of enrollments that are complete, and the overall average of your learners' course ratings. Below those numbers is a bar graph showing the number of enrollments compared to the number of available seats over the selected time period. (An "enrollment" is defined as one launch per learner per course for the selected time period. Be aware that if a learner is invited to take a course via a learning management system, OpenSesame will not create a record for them in that course until they launch it.)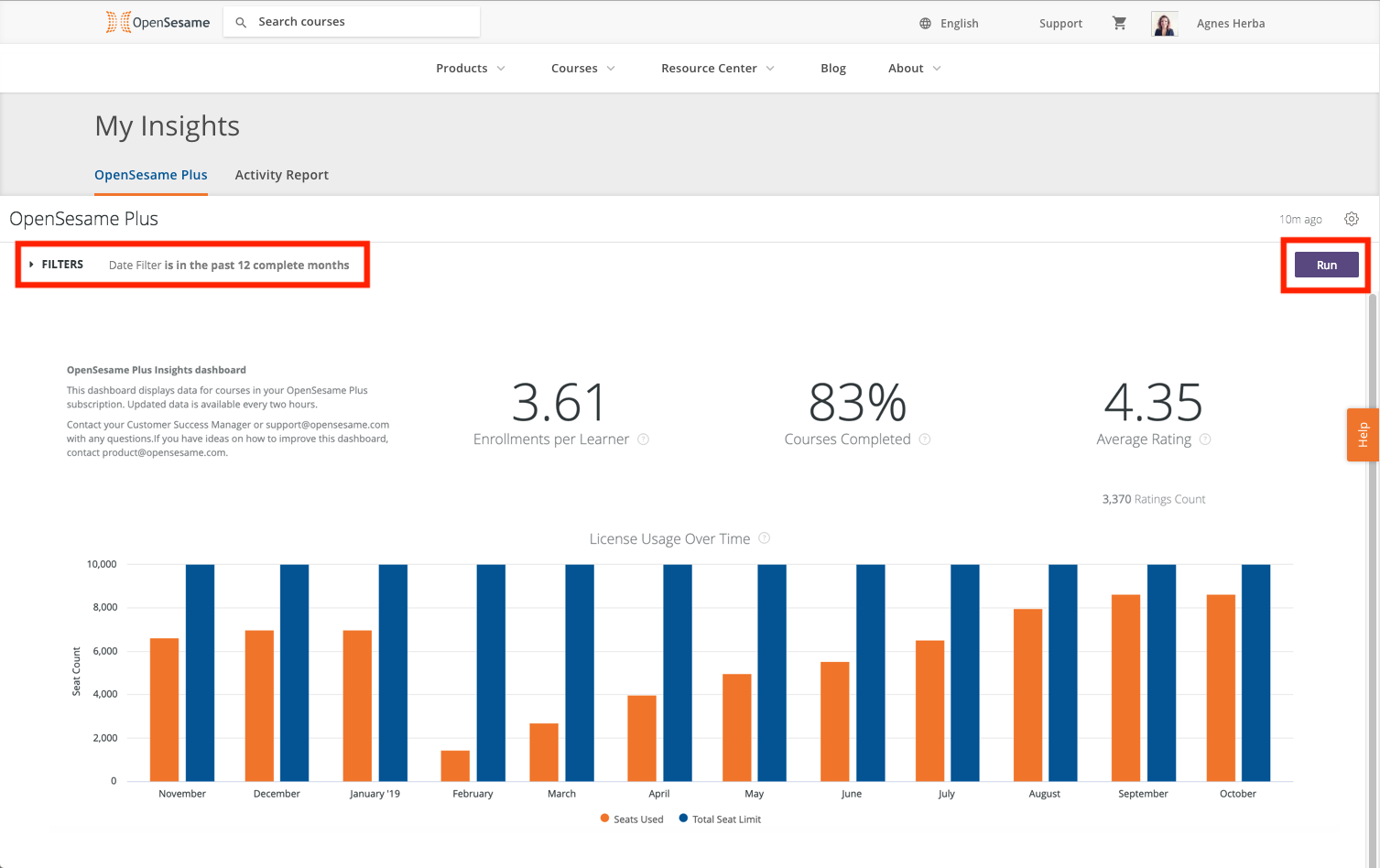 Directly underneath the first bar graph are two more graphs showing enrollments and completions over time and average course ratings over time.
Below these key visuals are five tables, showing Most Used Courses, Highest Rated Courses, Least Used Courses, Lowest Rated Courses, and Most Active Learners. You can sort each of these sections by any of the four column headers at the right, in ascending or descending order: Enrolled Count, Completed Count, Average Rating, or Ratings Count. (A course must receive at least five ratings from your learners before its Ratings details will appear.)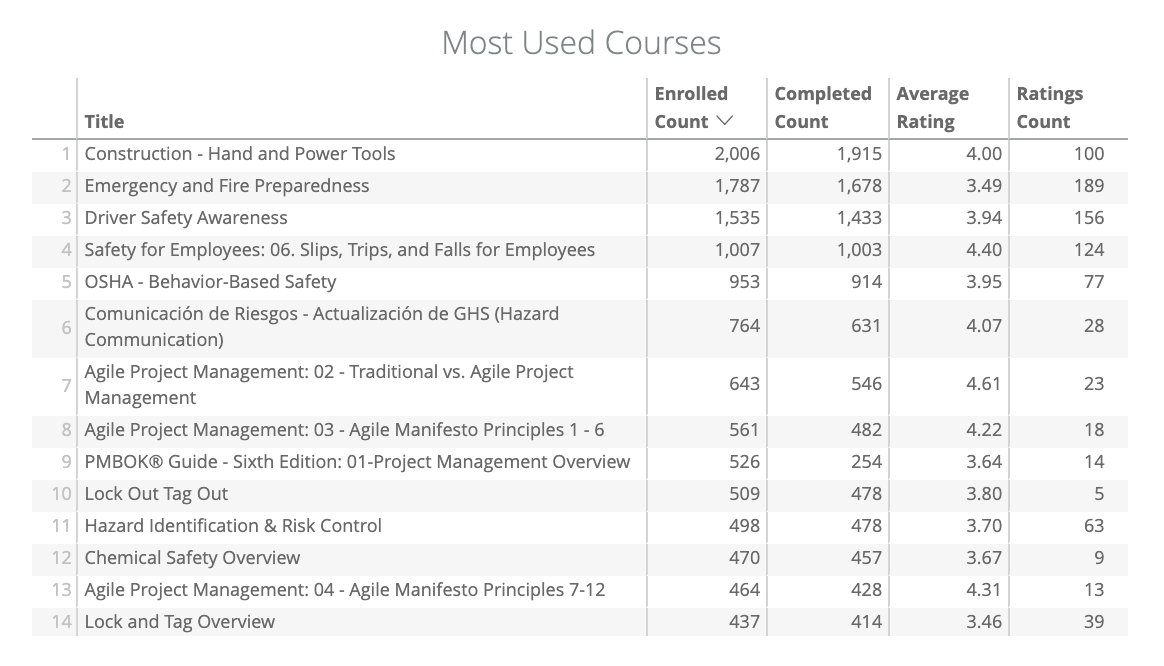 Next to the OpenSesame Plus tab in the Insights dashboard is the Activity Report tab. As with the OpenSesame Plus tab, open the Filters section at the top left and choose the time span you're interested in. You can also narrow your results by course title and/or learner name. Once you've identified the type of information you want, click the Run button on the right and the updated Activity Report will appear below.
Similar to the OpenSesame Plus tab, you can sort these table results by whichever column you prefer. (Depending on the length of time chosen and the number of learners in your account, it may take a moment for the data to refresh.) If you want to download the report, hover your cursor over the top right corner ("Duration Tracked" column header) to see the familiar "..." icon and choose your preferred file type from there.
If you are a veteran dashboard user, you will be familiar with the original Activity Report tab from the main dashboard page ("My Courses"). If you have a large learner population with high course usage, keep in mind that you may notice minor discrepancies between the numbers in your main dashboard and those in the OpenSesame Plus Insights Dashboard. There is a modest delay of approximately 12 hours between when data first registers to your dashboard and when it appears in the OpenSesame Plus Insights Dashboard.
With the OpenSesame Plus Insights Dashboard, you'll be able to easily identify areas of improvement for your training program. Our Curation and Customer Success teams are here to help you curate courses your learners will love. As always, our Support team is also here to assist you via email at support@opensesame.com or via live chat and phone. Feel free to reach us at (503) 808-1268, ext. 2.
If you experience any trouble loading your OpenSesame Plus Insights Dashboard, this article may help you.