Note: Team features are not available to accounts that use a legacy OpenSesame integration.
If you don't use a legacy integration but the Team Settings option is not in your OpenSesame menu, it should appear in the next few weeks.
Large organizations can have an entire team dedicated to their learning and development, ranging from L&D specialists to administrators of learning-management platforms.
The Team dashboard allows you to share administrative access to your organization's OpenSesame account. This enables your L&D teammates to select and deliver OpenSesame courses, view activity reports, and more.
Note: If you have subject-matter experts who need to review course content instead, ask them to create an OpenSesame account, then contact your Customer Success Manager for assistance.
Before you begin, be aware that all Team members:
have the same permissions, including the ability to add further Team members
will receive automated email notifications related to your account
And while it is possible to revoke a pending invitation, you cannot remove a Team member who has accepted an invitation.
To access this dashboard, log in to your OpenSesame account, hover over the account name, and select Team Settings from the menu:

In this article:
Getting started
The Team dashboard will open on an overview of your Team alongside your profile details: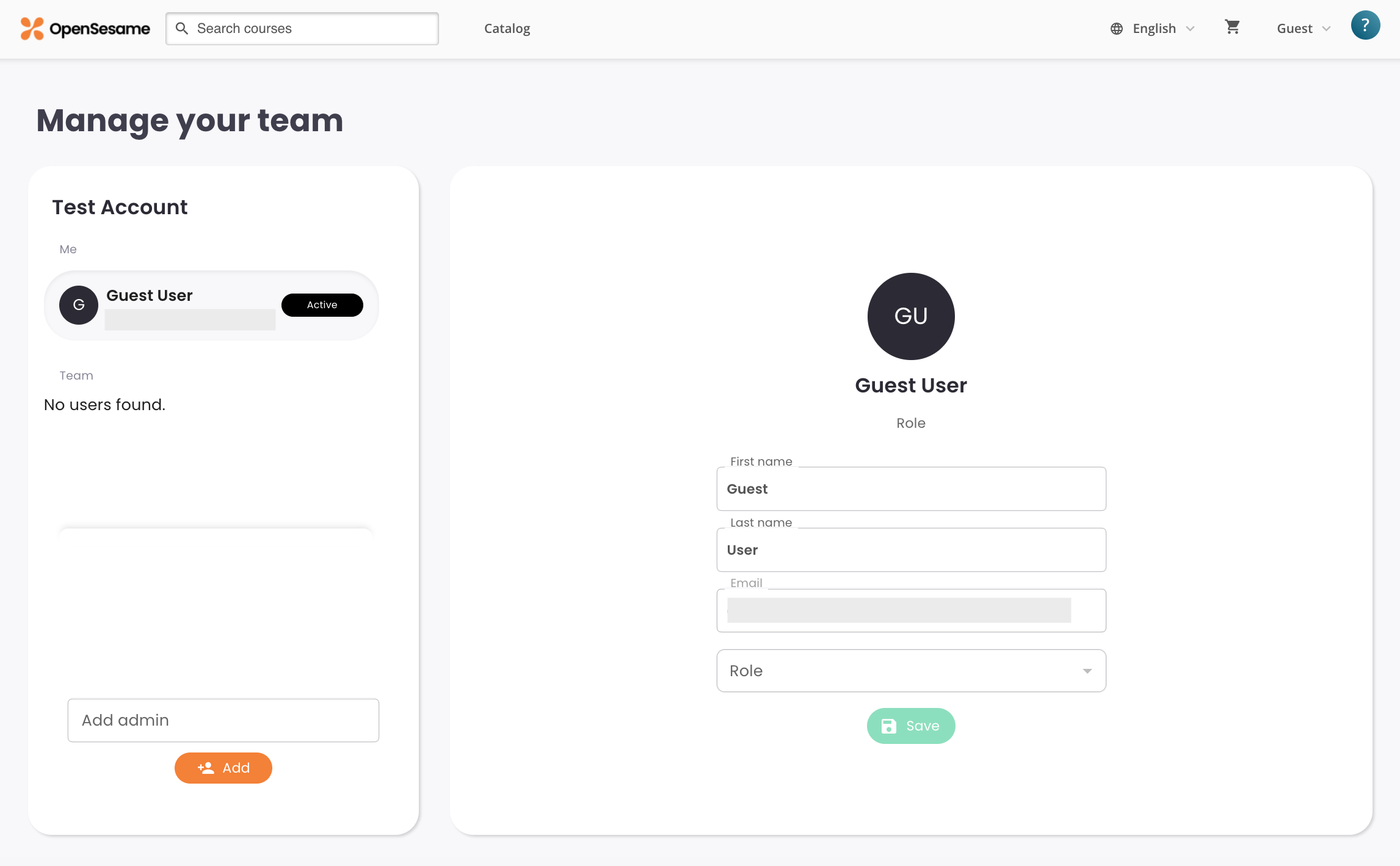 The name of your organization will appear first:

Update your profile information
If you want to change your name, select your profile:

Note: You cannot change someone else's name. Other users can update their own profile.
Click on either the First name or Last name fields to change the text: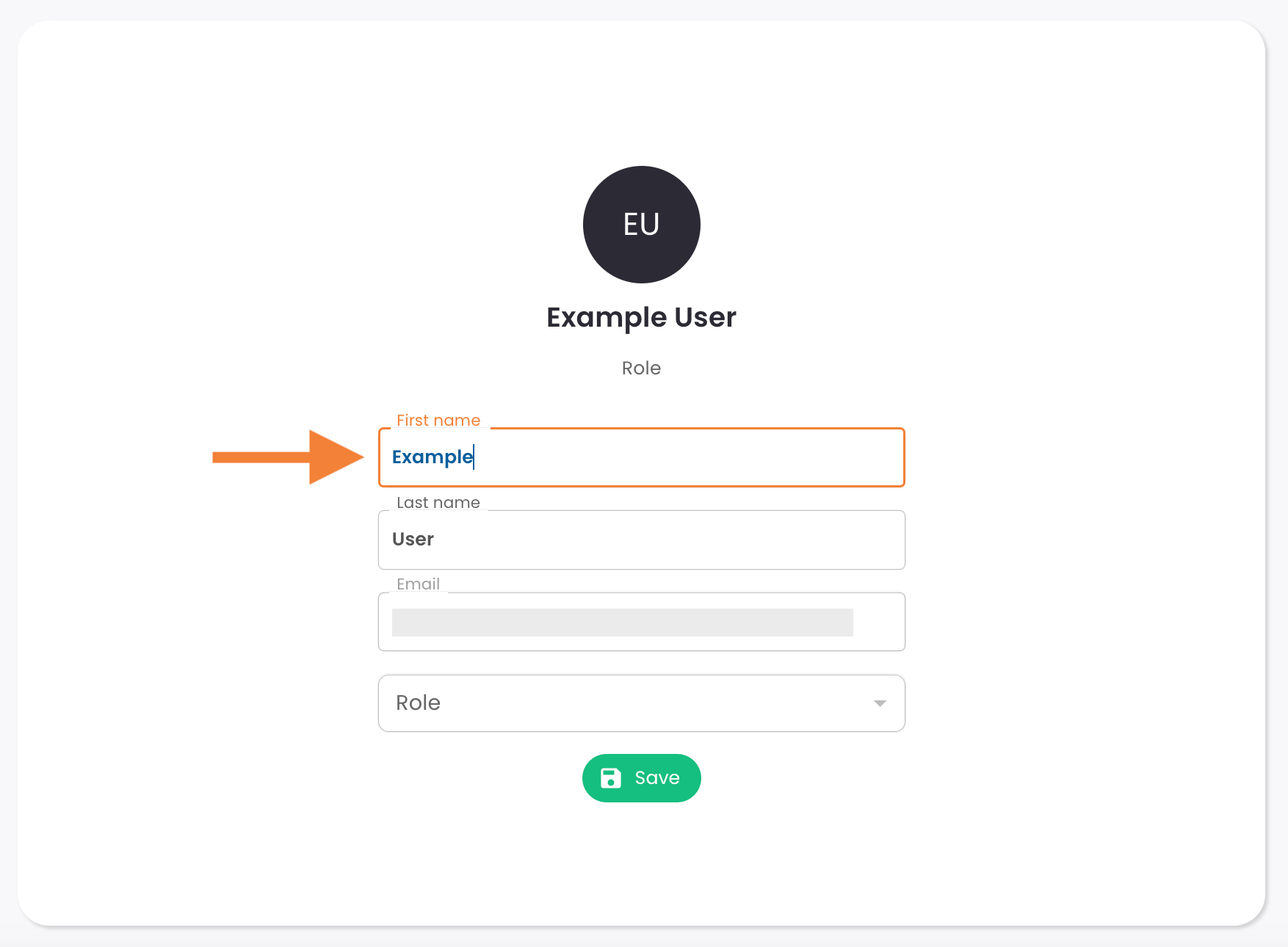 Finally, click the Save button.
Add other administrators
Adding administrators to your organization's OpenSesame account will grant them the same permissions you have, such as:
Adding administrators
Making purchases with a credit card (if they add a credit card to their profile)
Downloading courses or delivering them to an integrated learning platform
Viewing and downloading activity reports
Receiving automated emails related to your account (for example, if a delivered course becomes scheduled to retire)
Administrators in CourseCloud Legacy accounts can also send invitations to learners, and administrators in Pay Per Use accounts can also create PPU licenses.
Adding administrators to your team will not:
Allow them to make purchases with a credit card saved only to your profile
If you add someone who already has an OpenSesame account, their existing Lists will follow them, however any existing licenses, course completion history, or integrations tied to their original account will not.
Before adding administrators for the first time, please double-check that your organization's licenses appear in your account. Open the account menu and select Dashboard:

On your OpenSesame dashboard, any OpenSesame Plus subscription license will appear first:

If your organization purchases courses individually, click the Purchased Courses tab to confirm that the licenses appear there. (Accounts with Pay Per Use licenses will see a PPU tab.)
If no licenses appear, please reach out to your OpenSesame Customer Success Manager or OpenSesame Support before adding administrators to your account.
Otherwise, open the account menu and select Team Settings to return to the Team dashboard.
On the Team dashboard, enter a new administrator's email address in the Add admin box: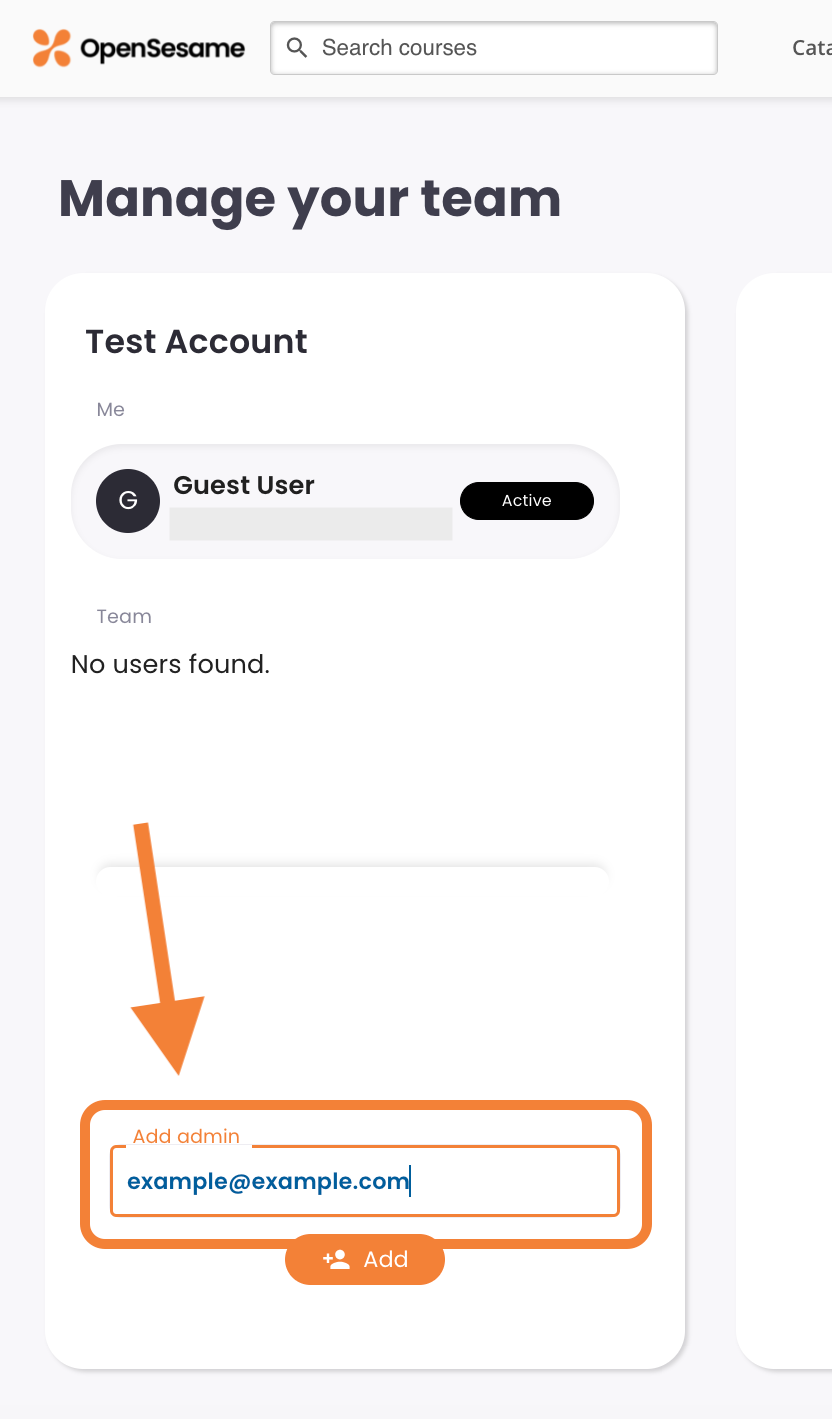 Click the Add button to send them an invitation to join your team:

A confirmation message will appear and the admin will appear as Pending in the Team section: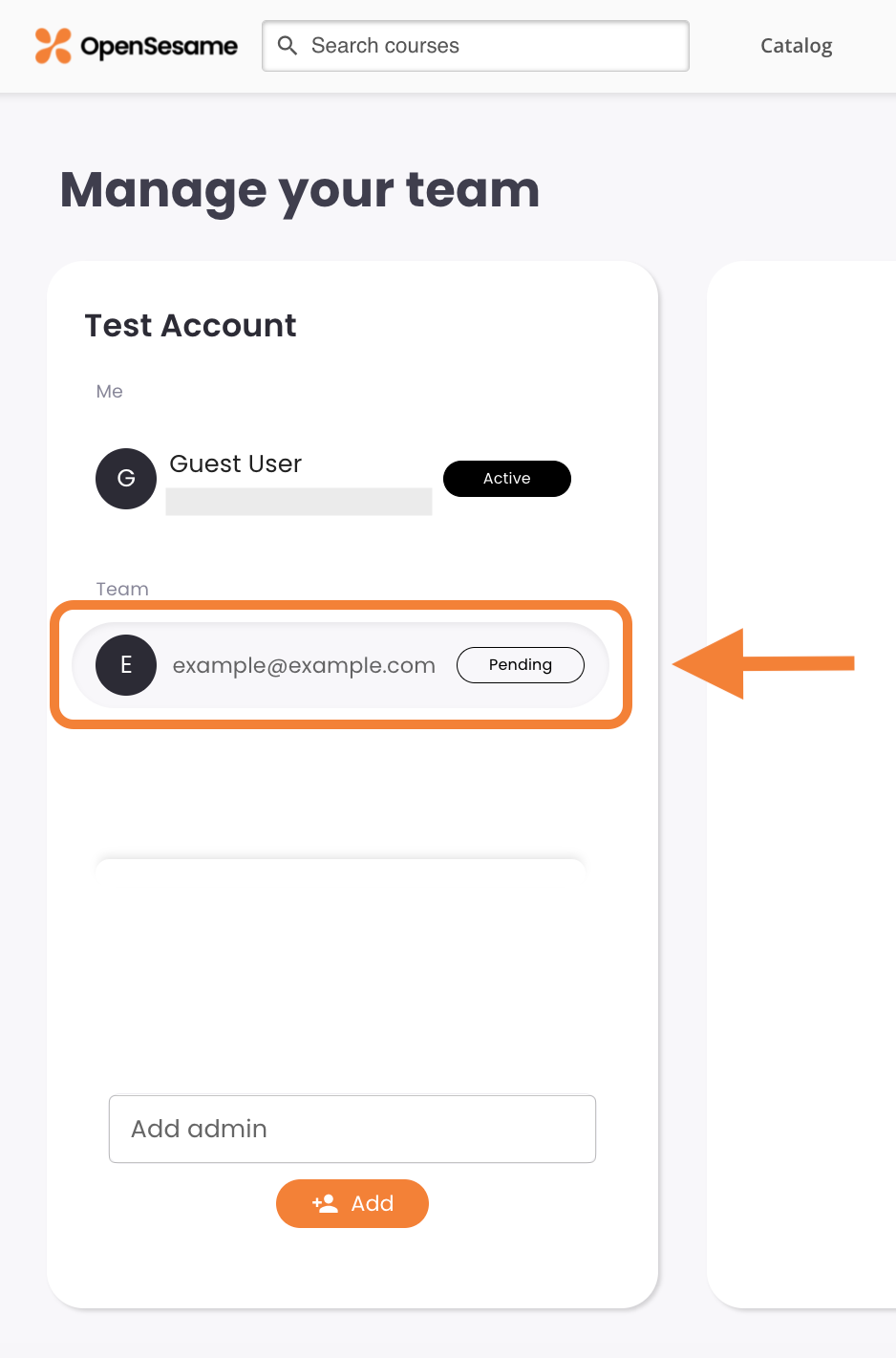 Invited Team members have the Pending status until they accept their invitation, decline it, or it expires.
If they accept their invitation, their status will update to Active
If they decline their invitation, they will be removed from the Team overview
If they do not accept within 10 days, their invitation will expire and they will be removed from the Team overview
Each team member's username and password will be unique to them.
Revoke a pending invitation
If an invited team member still appears in the Team overview and has the Pending status, it is possible to revoke their invitation.
While viewing their profile, click on the Revoke invitation link: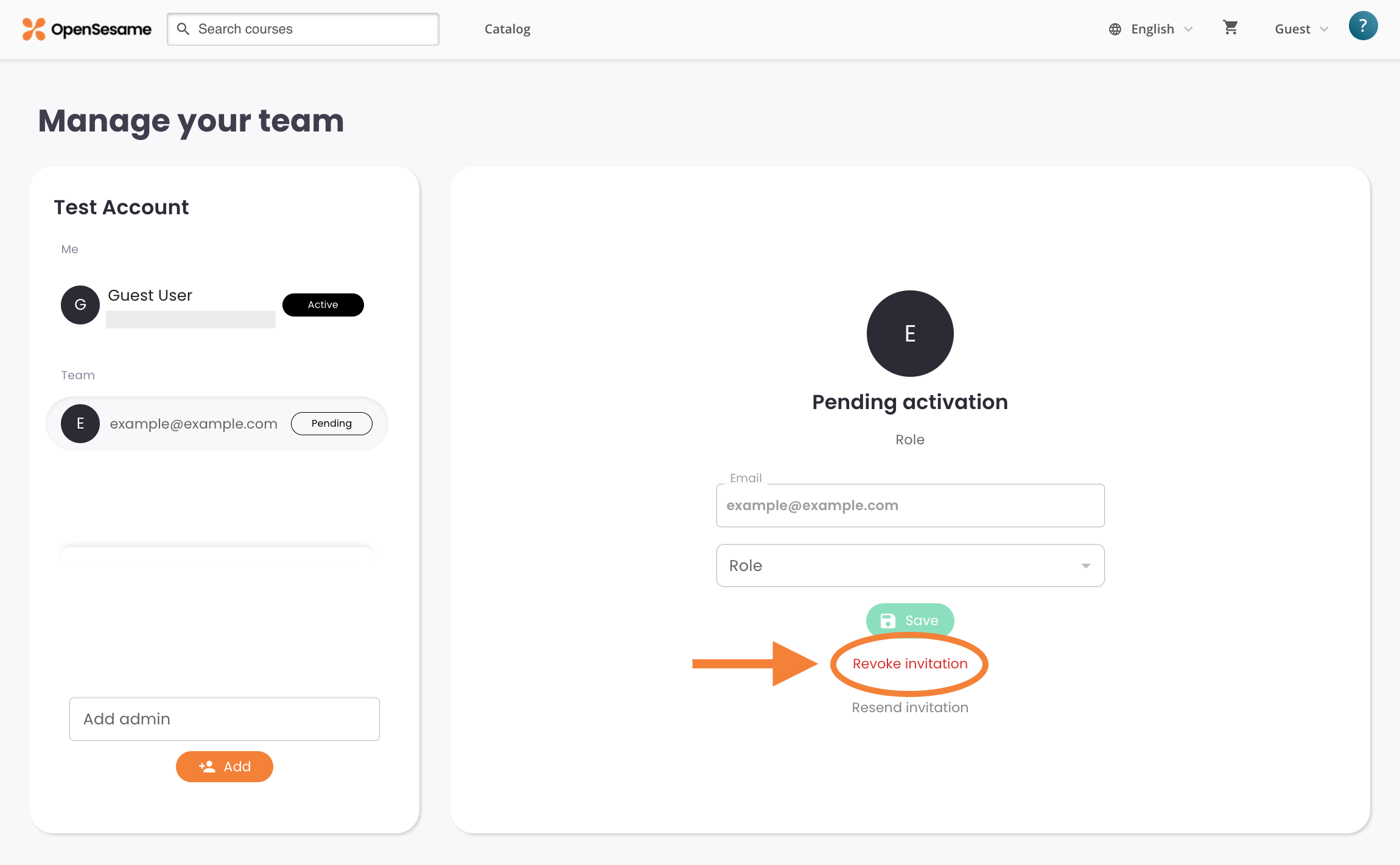 A confirmation message will appear and their Pending entry will disappear from the Team overview.
If the invitee clicks on their emailed invitation link after the invitation is revoked, they will be unable to join the account's administrator team. If you later decide to add them again, that action will send a fresh email with a new link.

If you have further questions, our Support team is here to help via email at support@opensesame.com or via live chat and phone. Feel free to reach us at (503) 808-1268, ext. 2, or at +44 203 744 5541 in Europe.