If you are using a stand-alone Learning Management System (LMS) and downloading course packages from OpenSesame, the course thumbnail images are always available on demand. These steps will walk you you through downloading them.
1. Create a List of your courses
If you do not already have your desired courses in an OpenSesame List, please make one. If you are unfamiliar with creating Lists, you can follow the guide available here.
2. Download a CSV from your List
Once you are satisfied with your List, click on the gear icon at upper right and select "Download as CSV," which will generate a simple spreadsheet file: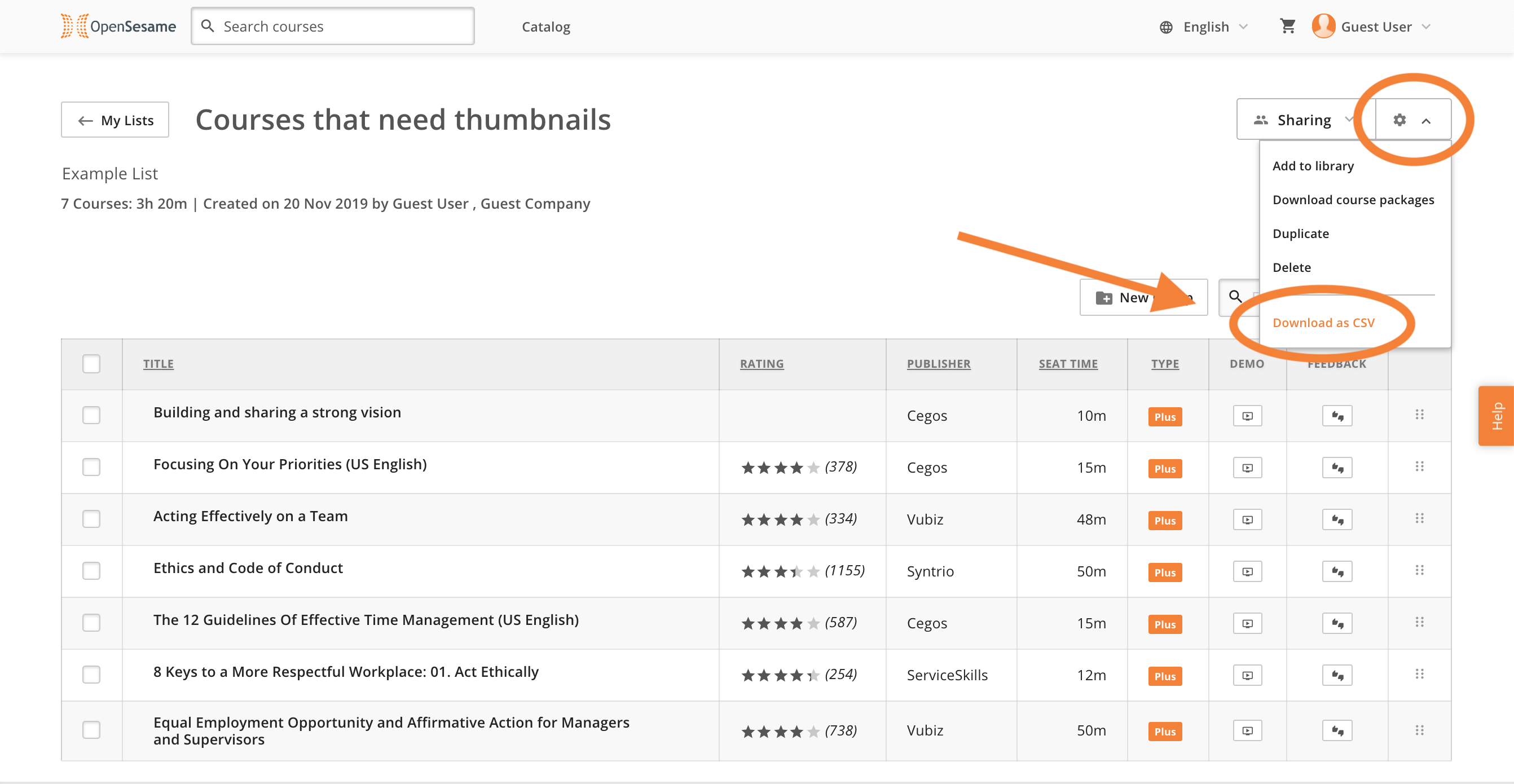 3. Locate and open the CSV
Find the newly downloaded file on your computer and double-click to open it. Here is how this example file appears on a Mac:

4. Find the "Thumbnail image URL" column in the CSV
The CSV will show a variety of details about the courses in your List. The URLs you need will appear in one of the first columns:

Note: Another column included in the CSV, called "WWW URL," will bring you to the course's profile page in our catalog and not to its thumbnail image.
5. Visit the first "Thumbnail image URL" link
Clicking a course's URL should automatically open a new browser window to its thumbnail image. You can also copy the URL and paste it in the address bar, if you prefer. Here is how that looks for the first course in this List: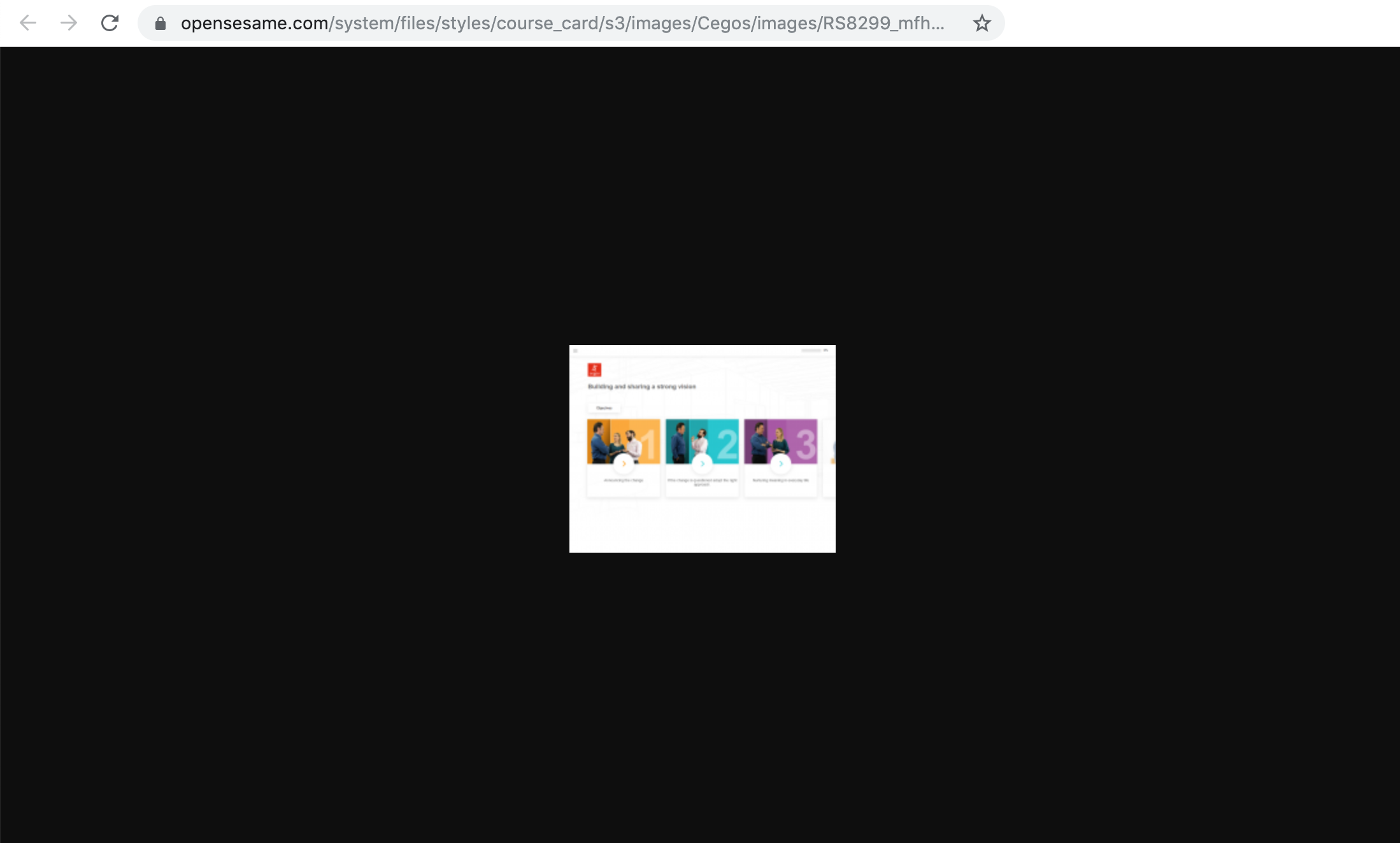 6. Save the image
Right-click on the thumbnail and choose "Save Image As…" then choose where you want to save it on your computer. This is how that option appears on a Mac: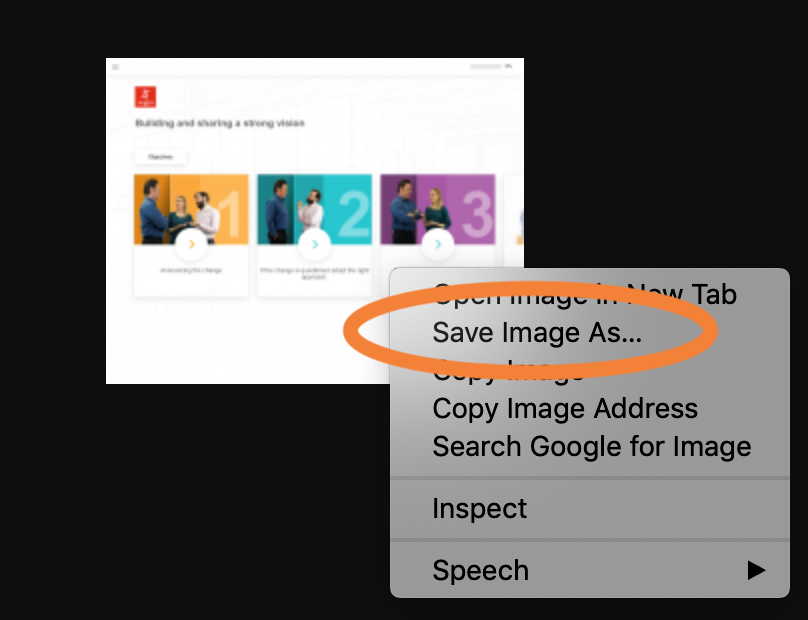 Once the image is saved, return to your CSV for the next URL, and repeat until you have all of the thumbnails you need.
7. Alternative option: check with your IT team about a bulk download
If you have hundreds of thumbnail images to pull and the above process would take too much time, it would be worth checking in with your IT team. Depending on your team, they may be able to take the list of image URLs from your CSV and assist with a bulk download.
If you have further questions, our Support team is here to help via email at support@opensesame.com or via live chat and phone. Feel free to reach us at (503) 808-1268, ext. 2, or at +44 203 744 5541 in Europe.