To access the OpenSesame Plus Insights Dashboard, you must be the account administrator and have at least two active OpenSesame Plus learner seats. If learners have not yet launched any subscription courses, there will be no information to display.
Insights will automatically pull a report for the past twelve months, and that time span can be adjusted with the "Filters" option at left. Depending on how much learner data is in your report, you might see a few gray loading icons appear for a couple minutes as the request processes.
If you see the Insights title and a 401 error stating "You are not authenticated to view this page," though, the reporting service might be blocked in your browser. Here is how that error looks:

Please click the link for your browser below for a guide to allowing Insights. (If you're not sure which browser you're using, visit this page to find out: What's my browser?)
If the steps below don't help, or you see loading icons that never finish loading, our Support team is here to assist: support@opensesame.com.
And as always, whenever adjusting security settings on your system, please do not hesitate to check in with your IT team.
Chrome
When cookies are blocked in Chrome, your OpenSesame Plus Insights Dashboard will have a 401 error and there will be a cookie icon in the address bar. To fix this error, click on the cookie icon and then click the "Manage" button.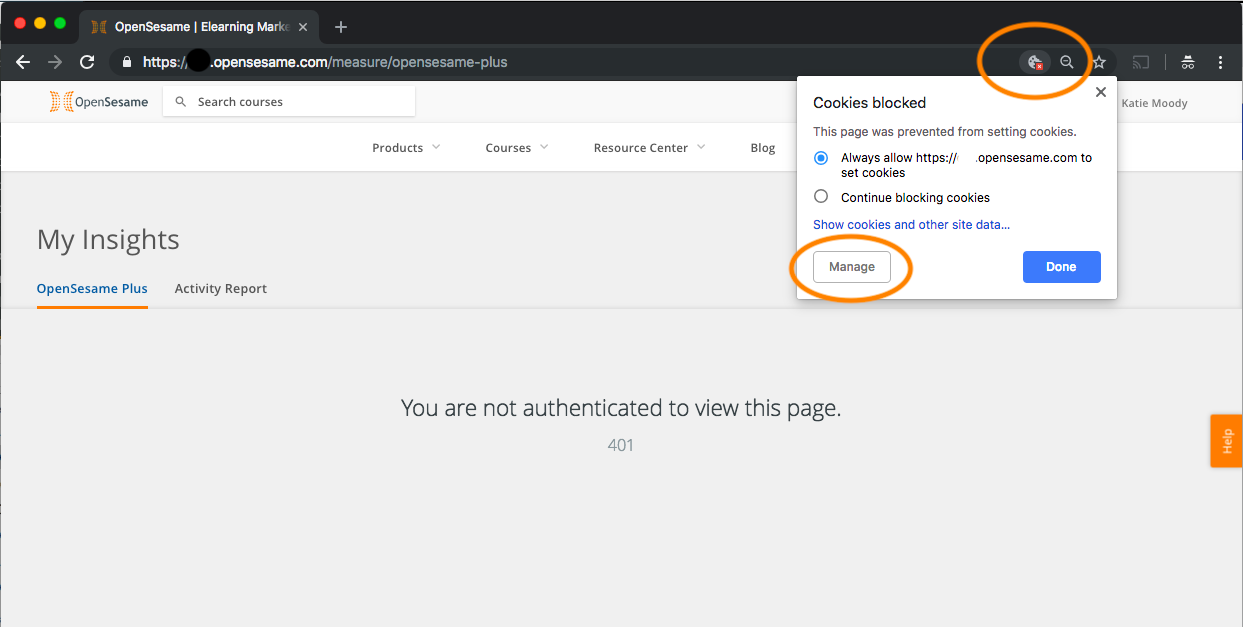 Next, in the Settings screen, you need to change the setting to allow sites to save and read cookie information, and do not block third-party cookies: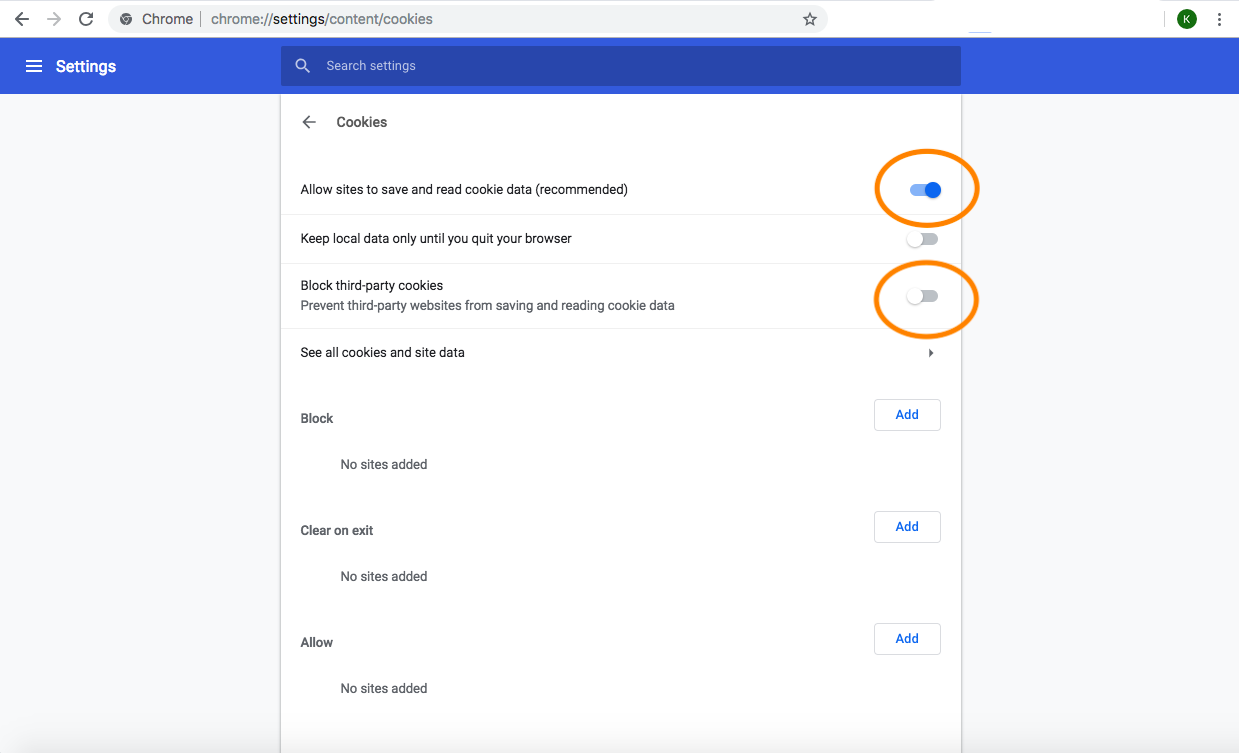 Now return to your Insights Dashboard and reload the page. You should now see a "Filters" option instead of a 401 error, and you can click on that to get started.
Edge
In Edge, click on the "..." menu at upper right and select Settings: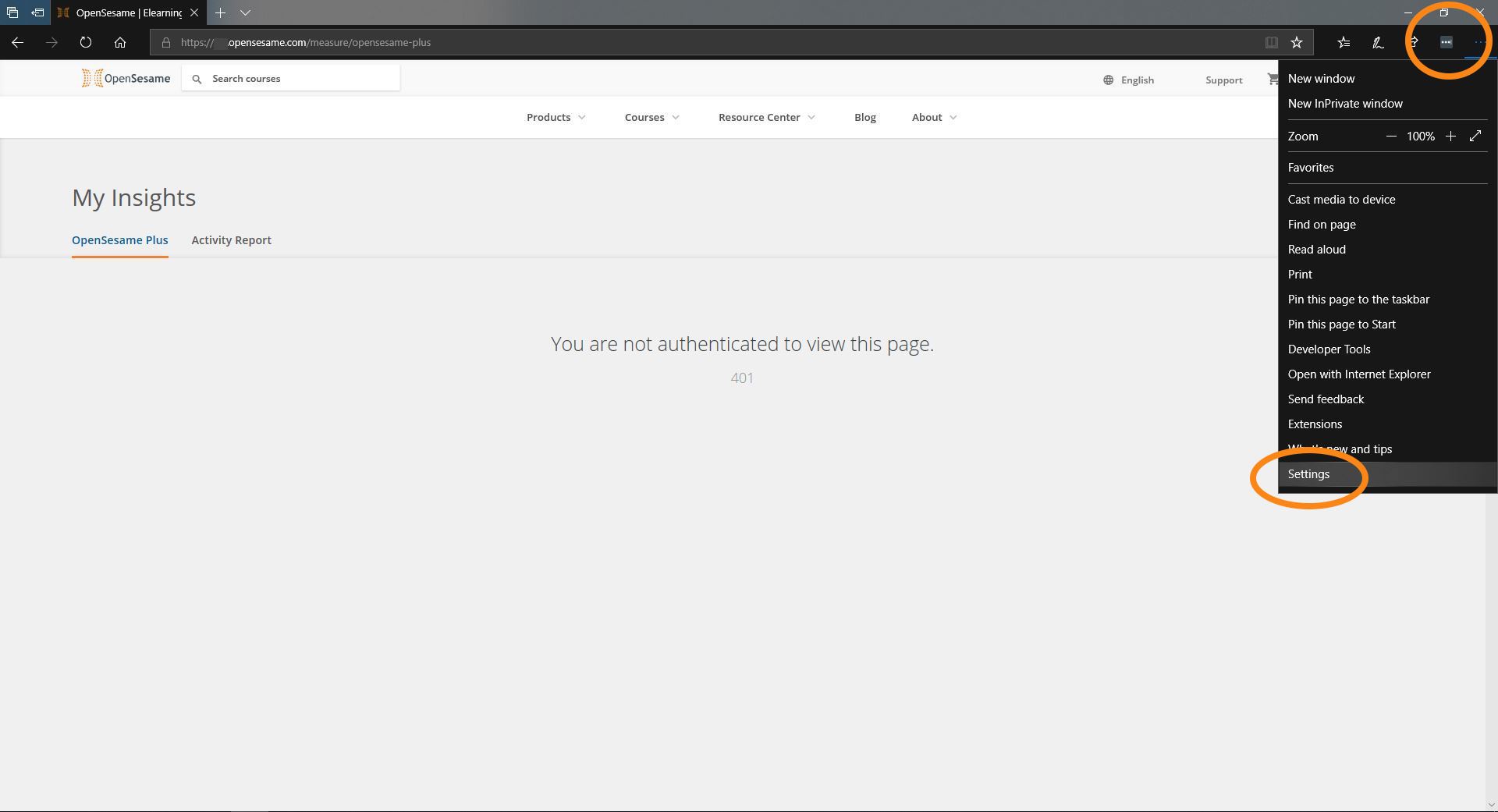 Scroll to the bottom of the menu that appears and select "Advanced settings":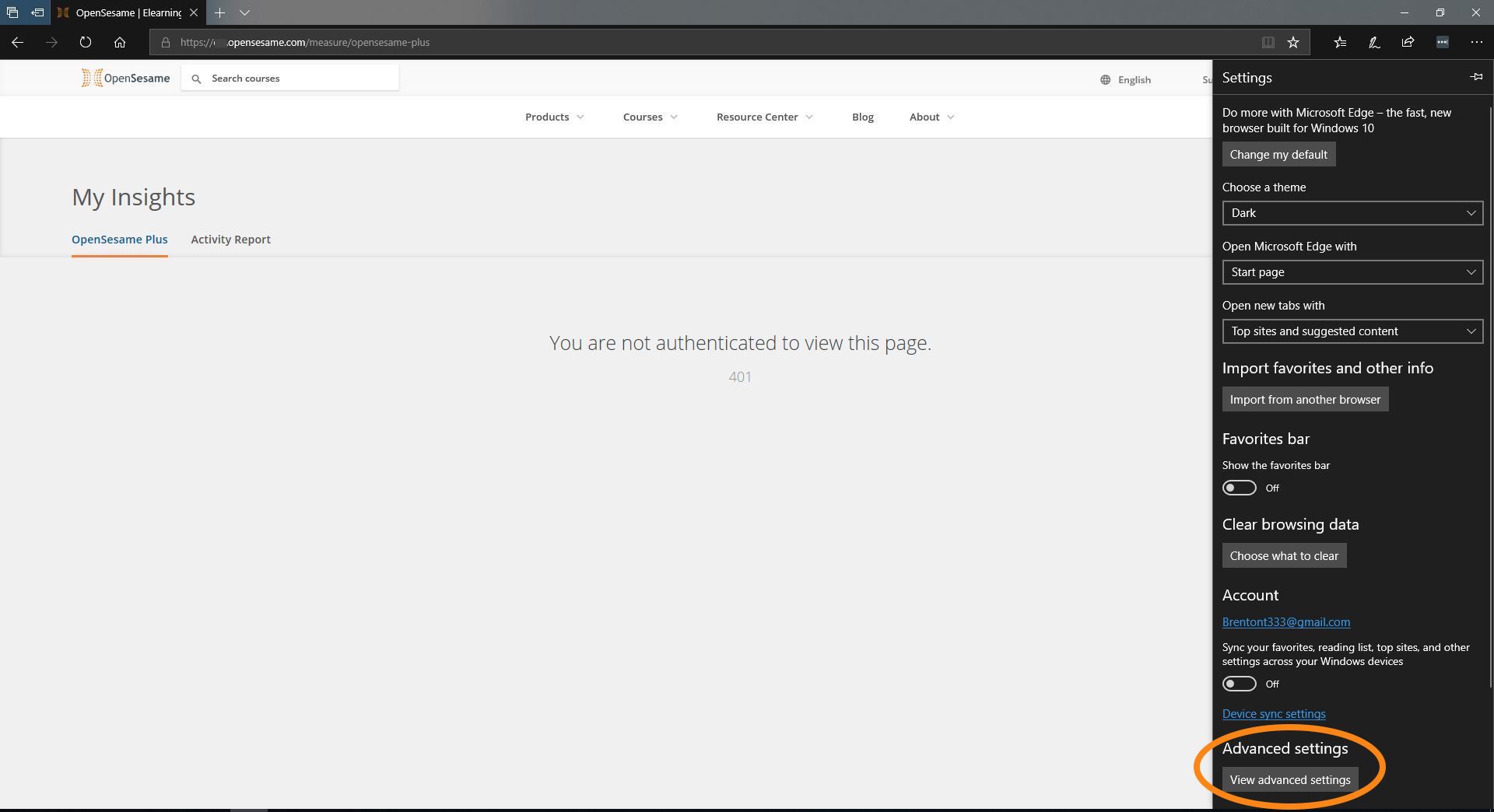 Next, find the Cookies setting and set it to "Don't block cookies":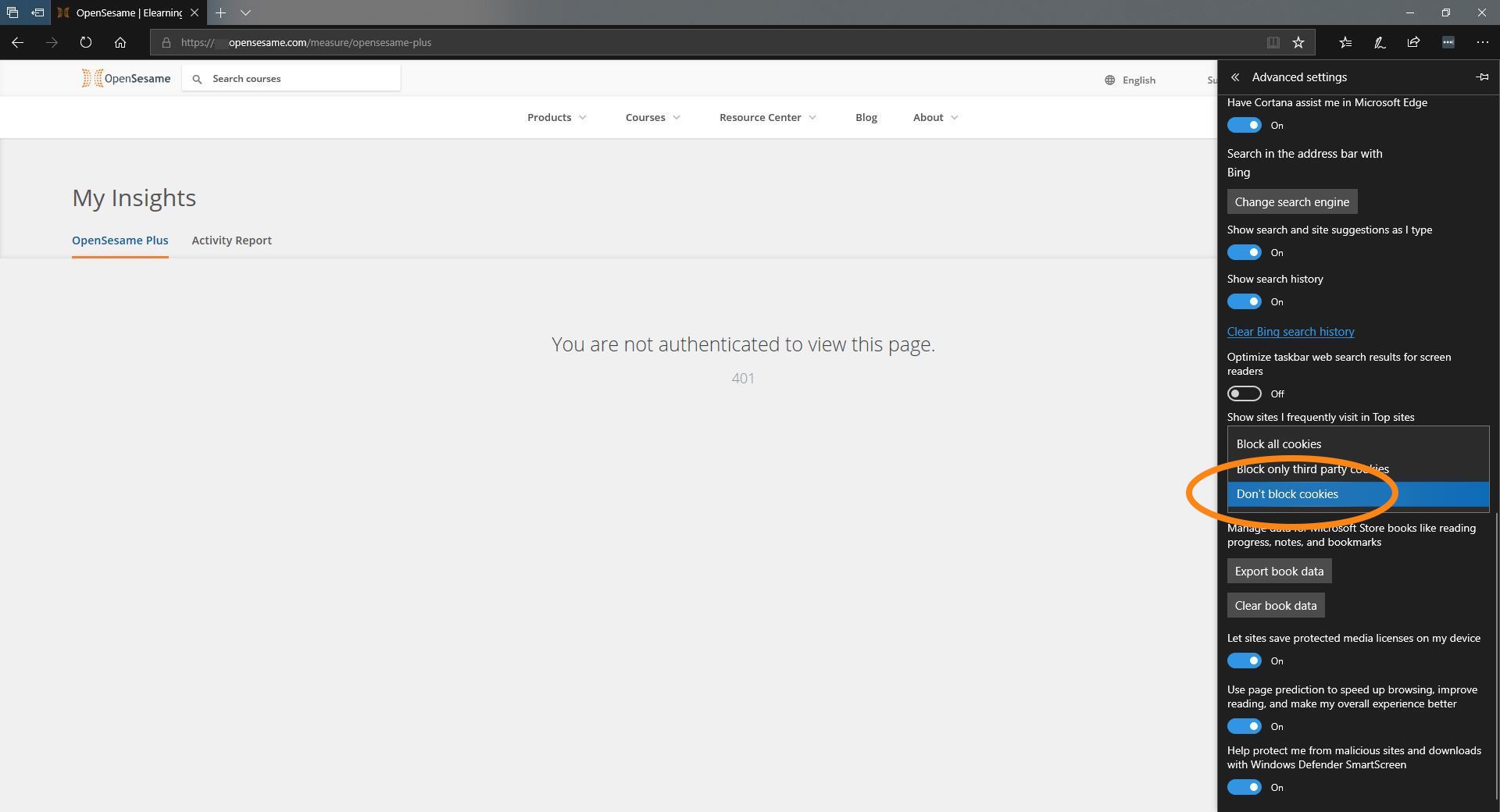 Finally, refresh the page, and the 401 error should be resolved.
Firefox
Images from Firefox version 82.0
A 401 error in Firefox suggests that cookies may be blocked. In the address bar, click on the shield icon then click "Protection Settings," which will open a new tab: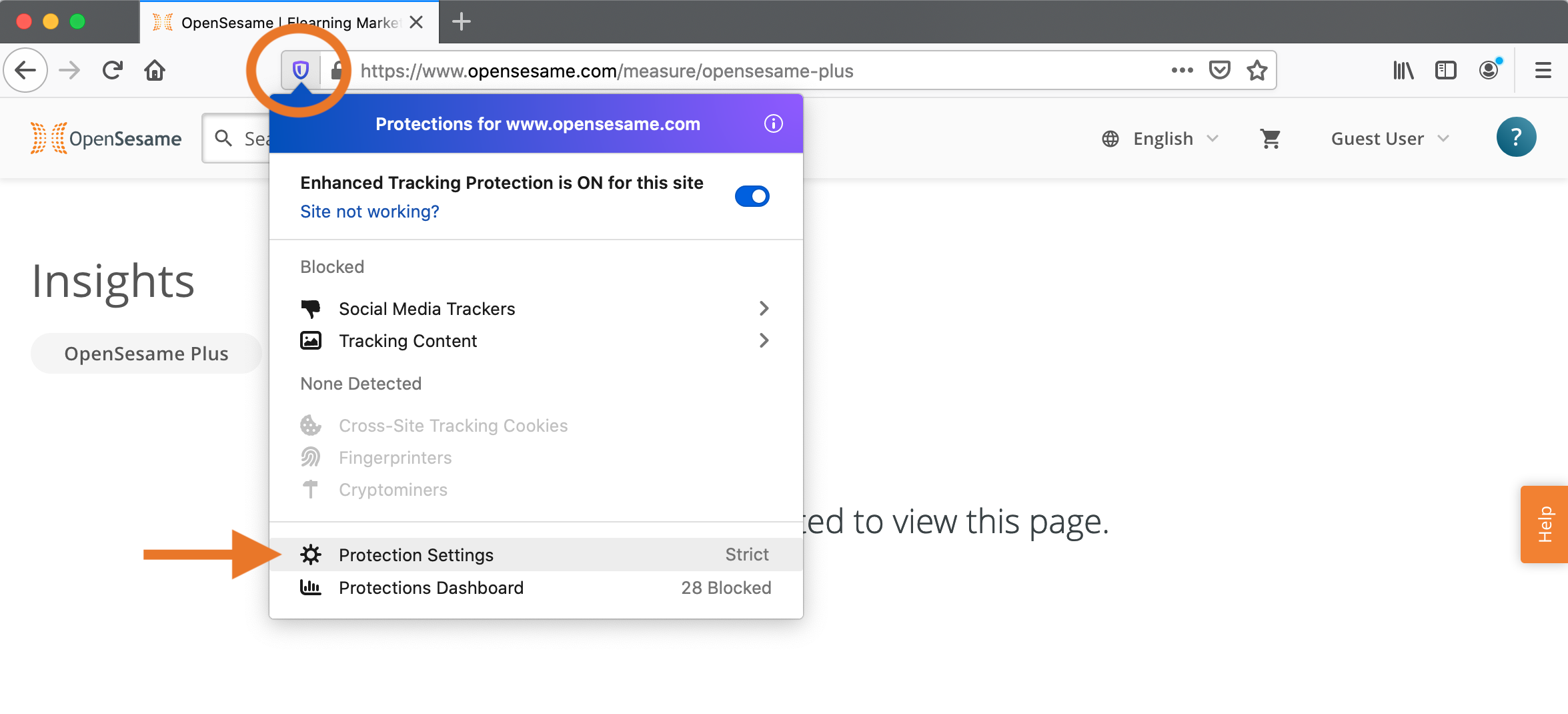 In the settings menu, select "Standard" tracking protection and then click the "Reload All Tabs" button. When you return to the OpenSesame tab, your Insights report should now load.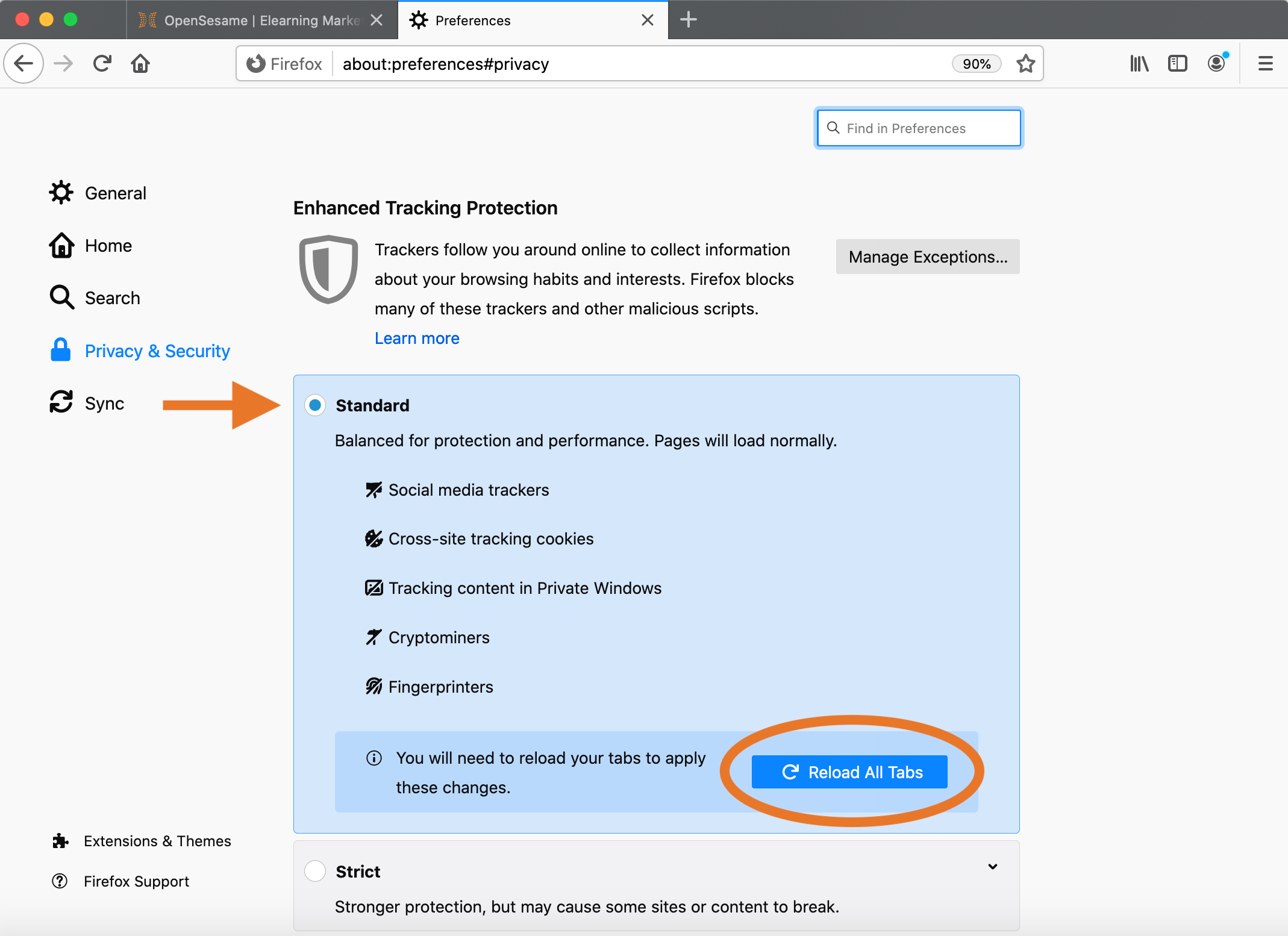 Safari
Images from Safari version 14.0
A 401 error in Safari suggests that cookies and cross-site tracking may be blocked. In fact, if they are blocked, you may find yourself unable to log in to www.opensesame.com using Safari at all.
To allow them, go to the main Safari menu and select Preferences:

From there, under the Privacy tab, uncheck the two boxes that prevent cross-site tracking and that block all cookies:

Close that menu and refresh the page. While you may need to log in to OpenSesame again, the Insights report should now load.
If problems persist or you have further questions, our Support team is here to help via email at support@opensesame.com or via live chat and phone. Feel free to reach us at (503) 808-1268, ext. 2, or at +44 203 744 5541 in Europe.