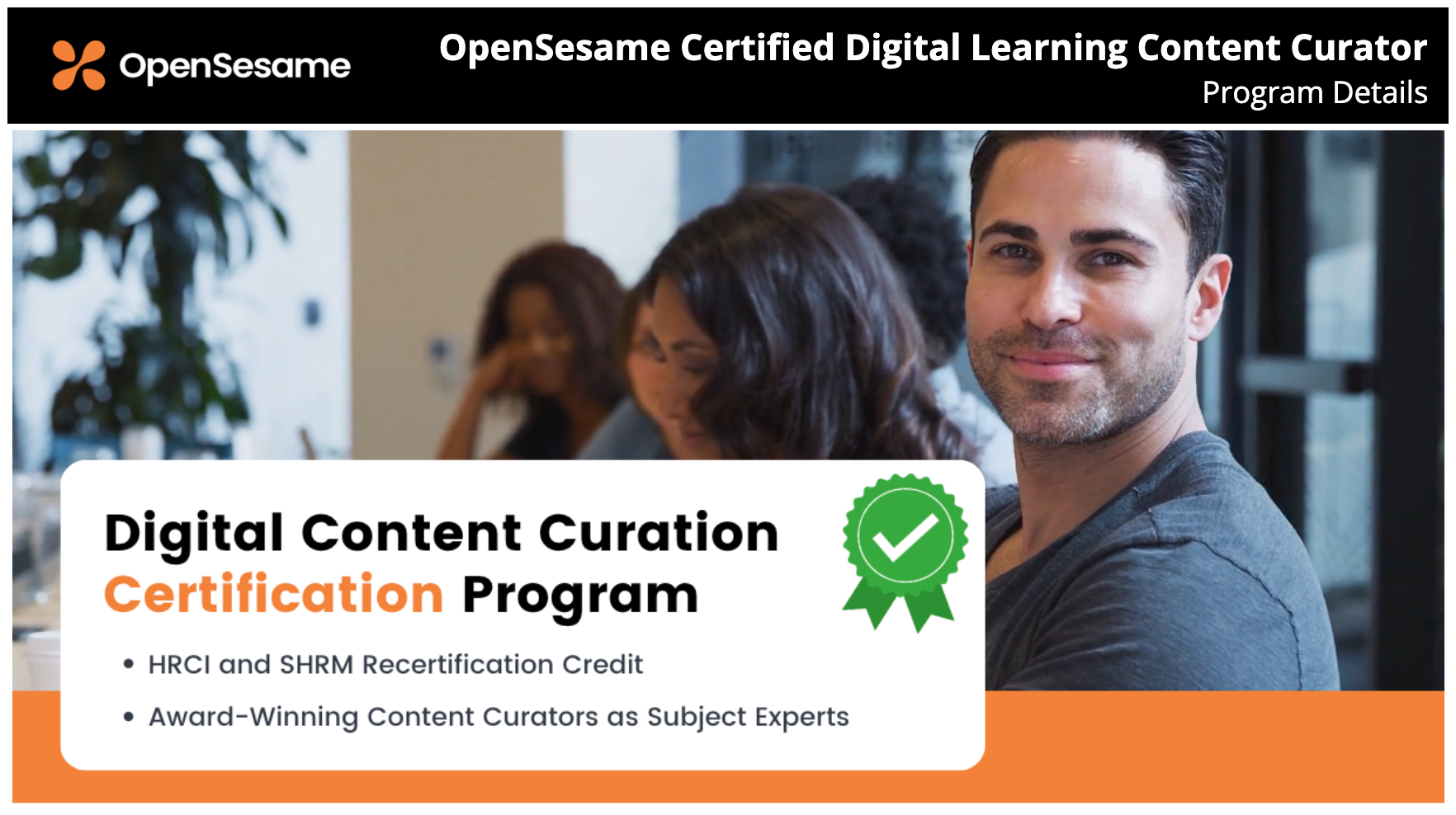 Learn how to curate impactful digital learning experiences
This comprehensive, two-hour program is designed to help learning and development professionals excel in selecting elearning content to advance their organization's goals. Finishing earns an OpenSesame certificate of completion as well as two credit hours for maintaining certification with SHRM or HRCI.
Learning objectives:
Explore the foundations of effective content curation and learn key techniques for successful goal setting, content selection, and learning alignment.
Learn how to efficiently navigate a course catalog and leverage its tools.
Streamline curation requests to enhance your workflow and learner experiences.
Understand the latest trends in impactful content curation.
Program authors:
OpenSesame's Curators are a dedicated team of award-winning learning and development experts who prepare transformative elearning solutions. They tailor learning paths to each organization's strategic plans and goals, handpicking courses to align with specific learner needs. This focus on relevant, in-demand skills training measurably improves learner engagement.
The team shares their collective expertise throughout the six courses in this series, which were developed specifically for this certification program.
Steps to earn the Digital Learning Content Curators Certificate
To become OpenSesame certified as a Digital Learning Content Curator:
Step 1: Finish the required courses in the learning path.
Step 2: Complete a required survey for program feedback and documentation, after which you will receive HRCI and SHRM recertification codes.
Step 3 (Optional): Celebrate your achievement by sharing your certificate online and updating your resume. #DigitalLearningCurator

If you have any questions about this program, please contact curation-certificate@opensesame.com.