The Courses dashboard displays course-administration activities, both historical and scheduled. The number of tabs that appear will depend on whether an integrated Learning Management System (LMS) is being used. Learners cannot see this dashboard.
Access it by hovering over the account name at top right and selecting "Courses" from the menu:

The Course Management tab
OpenSesame works alongside our publishers to maintain a fresh and relevant catalog. On limited occasions, courses may be scheduled to retire—due to outdated content, a series redesign, an unbending technical issue, or even subpar reviews that indicate a break with our rigorous quality standards.
The Course Management tab allows learning administrators to review any scheduled retirements for courses they have delivered. Delivery actions include downloading a course package from the course's profile page or a List, sending a course directly to an integrated LMS, or sending invitations to learners via CourseCloud Legacy: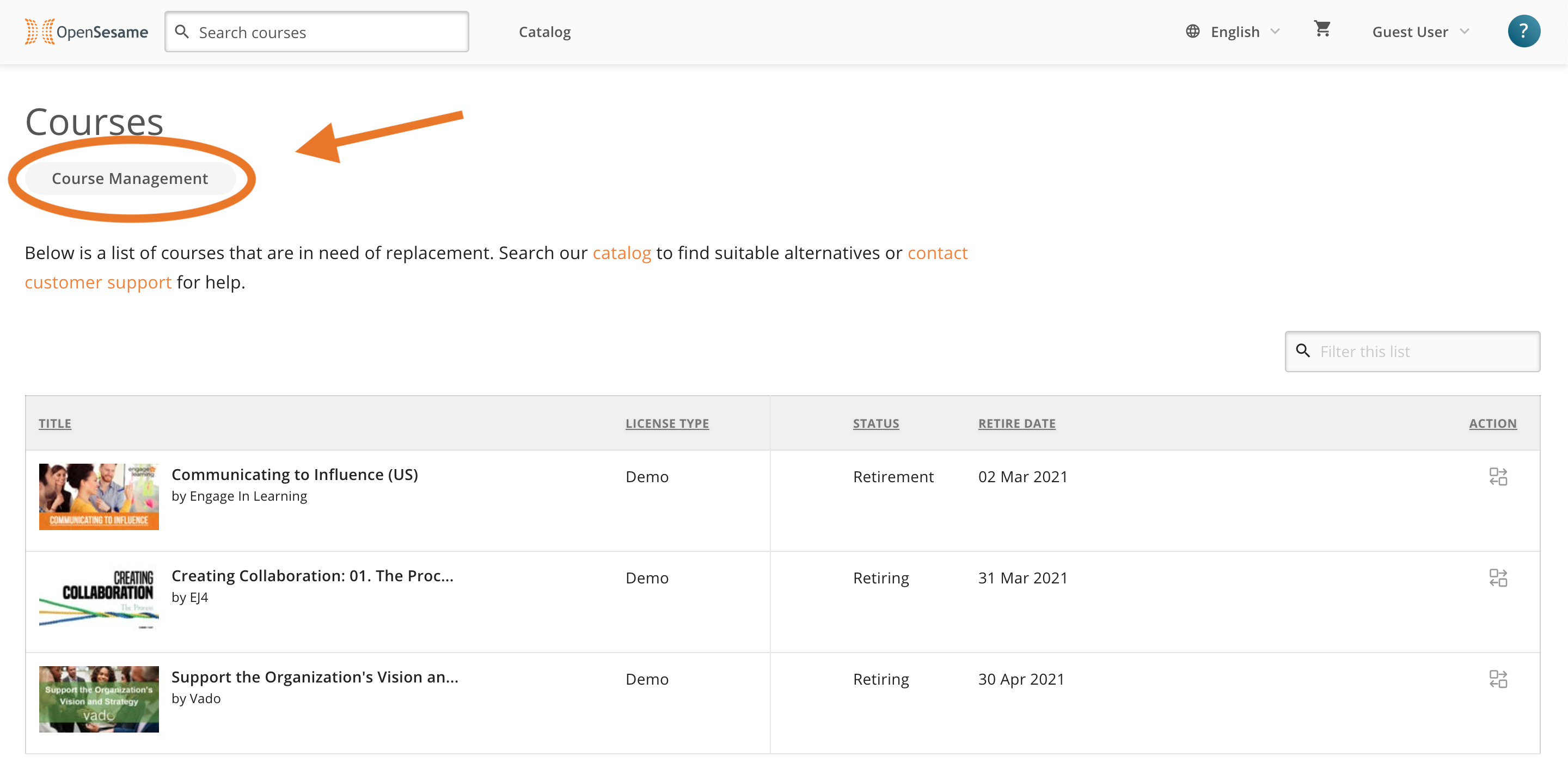 Note: If you have licensed a retiring course and have not yet delivered it, it will not yet appear in this table. (These three courses are examples and are not scheduled to retire.)
The first column of this table displays course titles and publisher names. The second column shows the license type. If your organization uses multiple license types for the same course—such as a Volume ("Standard") license, subscription license (OpenSesame Plus), and/or Pay-Per-Use license—each one will display in a separate row.
The two statuses that can appear in the third column are "retiring"—which displays a date in the future—or "retirement," which displays the date a course was phased out.
Finally, the Action column allows you to view suggested replacement courses, which we'll explore further below.
We recommend promptly replacing retiring courses to ensure your learners have access to the best content available. The steps to replace a course will depend on its license type:
For Volume licenses, which are purchased in advance, we recommend simply purchasing a different course from our catalog when your 12-month license expires. It will not be possible to purchase additional licenses for a course once it retires. If your learners have occupied all active seat licenses and you need more, please select a new course at that time.
For OpenSesame Plus subscription licenses, it is unnecessary to wait or make a separate purchase. Simply choose a replacement course from the OpenSesame Plus subscription catalog at your earliest convenience.
For Pay Per Use (PPU) licenses, which are purchased at the moment of launch, it will not be possible for new learners to launch a course once it has retired. Simply select a different course from our catalog to add to your PPU library.
In all cases, if you are using a Learning Management System, when you add the new course to your LMS please be sure to deactivate the retiring course. (Once a course has been removed from our catalog, any attempts to launch it will display an error.) And if you'd like help with selecting a replacement course, please contact your Customer Success Manager or OpenSesame Support.
Notifications
If a licensed course becomes scheduled to retire, and you have delivered that course by downloading the package, sending it to an integrated LMS, or sending CourseCloud Legacy invitations, you will receive an email notification from info@opensesame.com within 24 hours. Our system will send a maximum of one notification per day and one notification per retiring course. So if multiple courses gain a retirement date on the same day, you will receive a single notification.
These notifications are not retroactive, so multi-year OpenSesame accounts will not receive emails for any older courses that have retired in years past.
Note: If you manage your OpenSesame account with a team and want additional people to receive these notifications, please see this article on how to add them.
Suggested replacements
To view potential replacements for a retiring course, click the icon at right:

This will expand the table to reveal four alternatives from our catalog: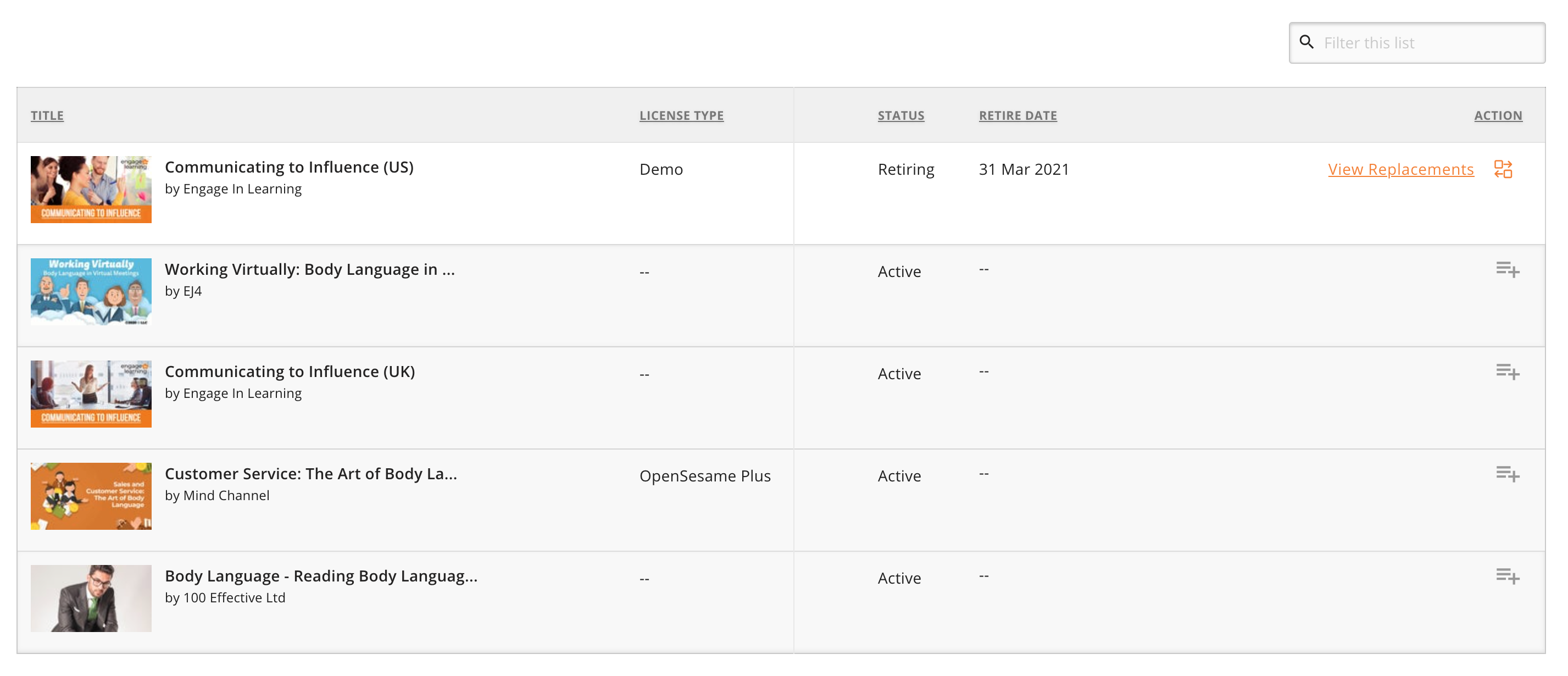 A "Curator's Pick" mark will appear when one of our content experts has hand-selected a suggested replacement:
All other suggestions are generated by our advanced machine-learning algorithm to spotlight relevant content.
Check the License Type column to quickly see if you already have access to a suggested course: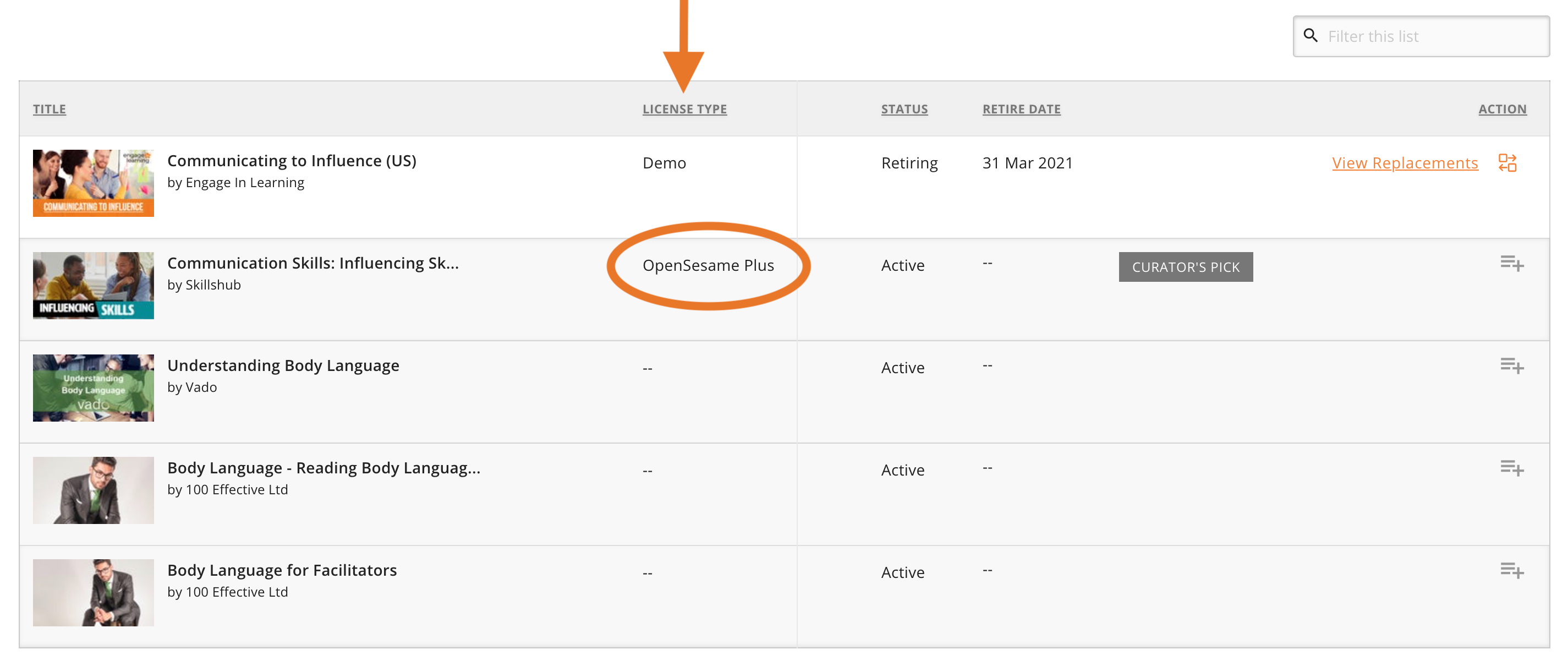 Note: When a subscription course retires, all four suggested replacements will be from the OpenSesame Plus subscription catalog.
Dashes will appear next to courses that have not yet been licensed.
Click on any suggested course's title for a closer look, or click its icon at right to add it to a List: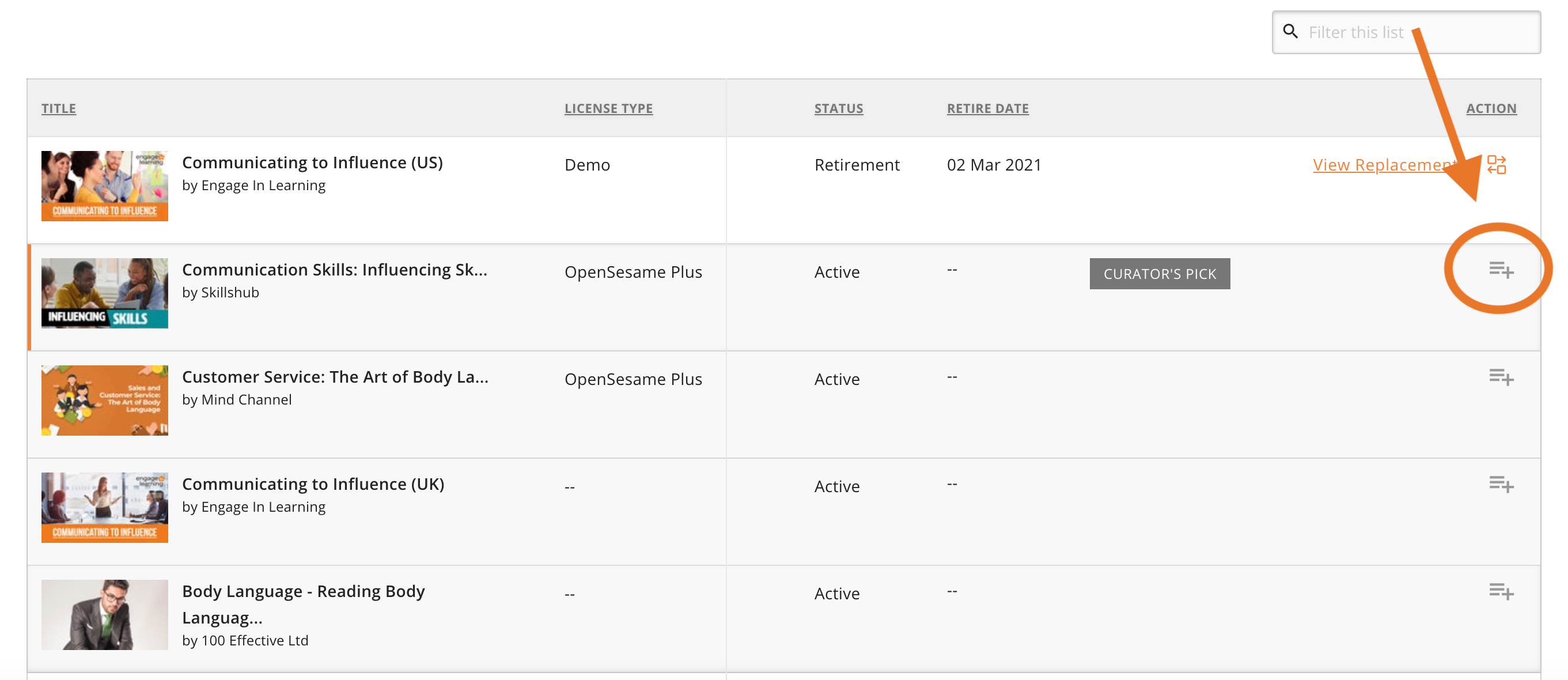 Lists offer a convenient way to gather, organize, and preview courses you want to consider.
If you dislike the suggestions that appear in this table or want to see more, you can generate your own with a Smart List. You can also reach out to your Customer Success Manager, or—if you do not work with a Customer Success Manager—contact OpenSesame Support for assistance.
Integration tabs
For accounts tied to an integrated LMS, three additional tabs will appear in the Courses dashboard: Pending, Failed, and History.

Note: Integrations with Degreed will not see these additional tabs.
These tabs contain details about your account's Send to LMS activity, arranged from the most recent entries to the oldest. If there are hundreds of entries, a tab may take a few moments to load.
The Pending tab shows the courses that have been selected for your LMS and have not yet been sent. Click the Send to LMS button to send the courses on this tab to your LMS. Click the trash can icon to remove a course if you decide not to send it to your LMS.

Note: If you are using SAP SuccessFactors, all courses will retain the "pending" status even once sent to the SuccessFactors OCN, and the trash-can icon will only successfully remove courses that haven't yet been sent to the OCN.
The Failed tab will display courses that have failed to send to your LMS. If you experience a failure, please contact OpenSesame Support so we may investigate.

The History tab will show all courses that have successfully been sent to your LMS.

If you have further questions, our Support team is here to help via email at support@opensesame.com or via live chat and phone. Feel free to reach us at (503) 808-1268, ext. 2, or at +44 203 744 5541 in Europe.