CourseCloud Legacy makes elearning work for companies who don't have a Learning Management System (LMS) and need a quick, instant way to distribute courses to small groups.
While CourseCloud Legacy is not an LMS, it is a lightweight solution that allows you to purchase, take, and distribute courses with just a web browser. Use CourseCloud Legacy to invite your learners to take courses with a simple email. You can also see on your dashboard whether they have started, completed, or passed a course.
OpenSesame's CourseCloud Legacy enables businesses to:
Send simple email invitations to take training on www.opensesame.com
Instantly connect learners to training courses
Deliver and track courses without using a Learning Management System
Note: One limitation is that CourseCloud Legacy is not designed for recertification. If your learners will be taking the exact same course year over year, and you wish to use CourseCloud Legacy, please reach out to support@opensesame.com with the details.
Plan for CourseCloud Legacy
Each of your learners will need their own email address. That address is how learning will be assigned to them and how they'll receive invitations. Learners will also need access to a device with a web browser.
Please note that their email service(s) will need to allow messages from our system (info@opensesame.com). If each of your learners' addresses uses a company domain (example@yourcompany.com), confirm with your IT team that emails from info@opensesame.com and support@opensesame.com will be allowed past any firewalls or spam filters.
Get started
To start using CourseCloud Legacy, log in to www.opensesame.com and go to your dashboard. You can get there by hovering your cursor over the account name in the upper right corner and selecting "Dashboard" from the menu that appears:

If you have any OpenSesame Plus subscription licenses, you will land on the "OpenSesame Plus" tab. If you simply have Volume licenses, you will land on the "Purchased Courses" tab.
Next, select "Delivery Preference" at upper right and set it to "CourseCloud":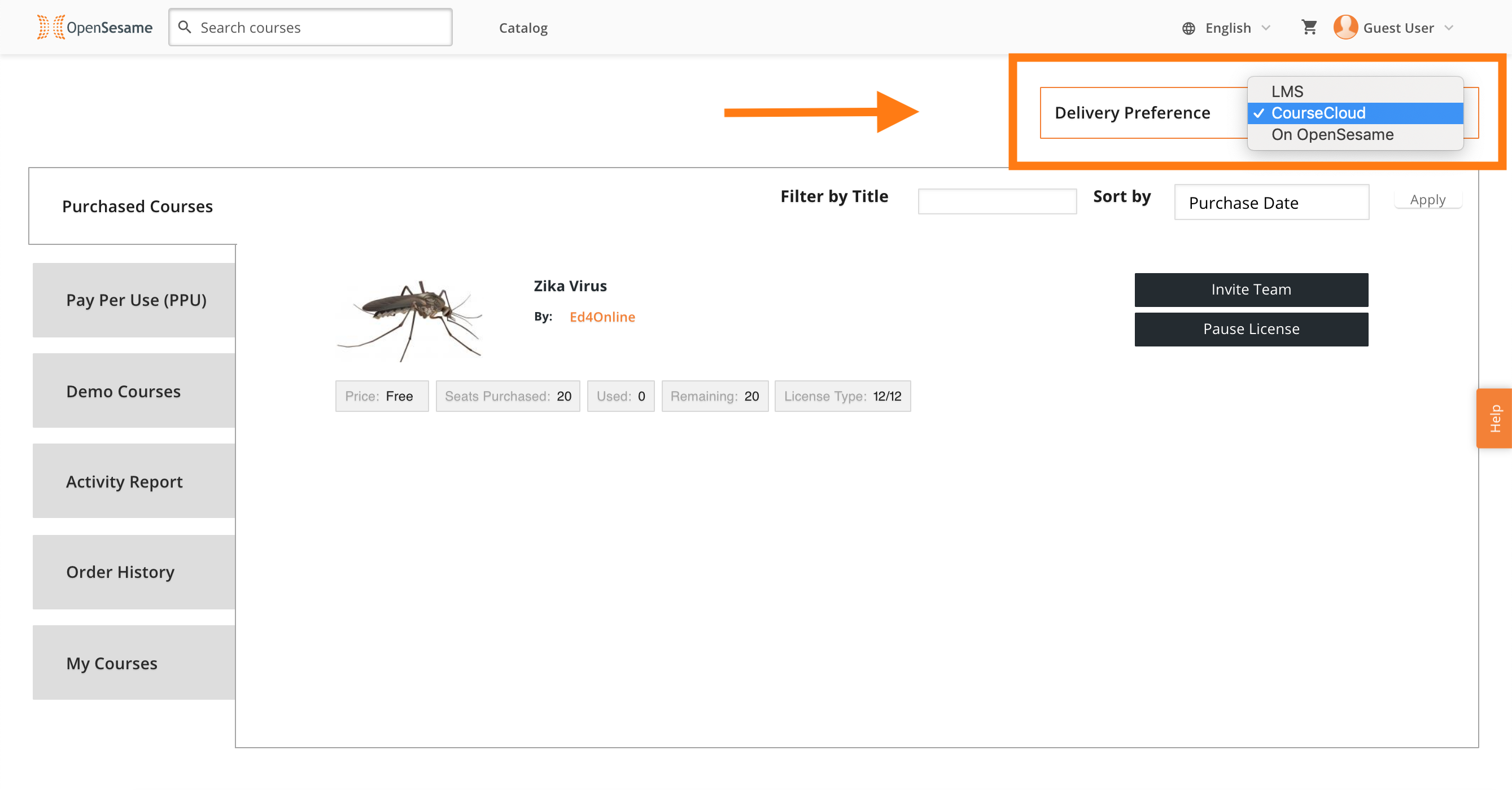 Option one: Invite learners to multiple courses at once
The most efficient way to invite learners to multiple courses is to first add your desired courses to a List. (If you have not created a List before, there is a thorough guide available here.)
Note: If you do not have active licenses for each of the courses you wish to send, you will be unable to invite learners to take them, and will instead see an error message. Each learner will need their own seat license.
Here is an example List: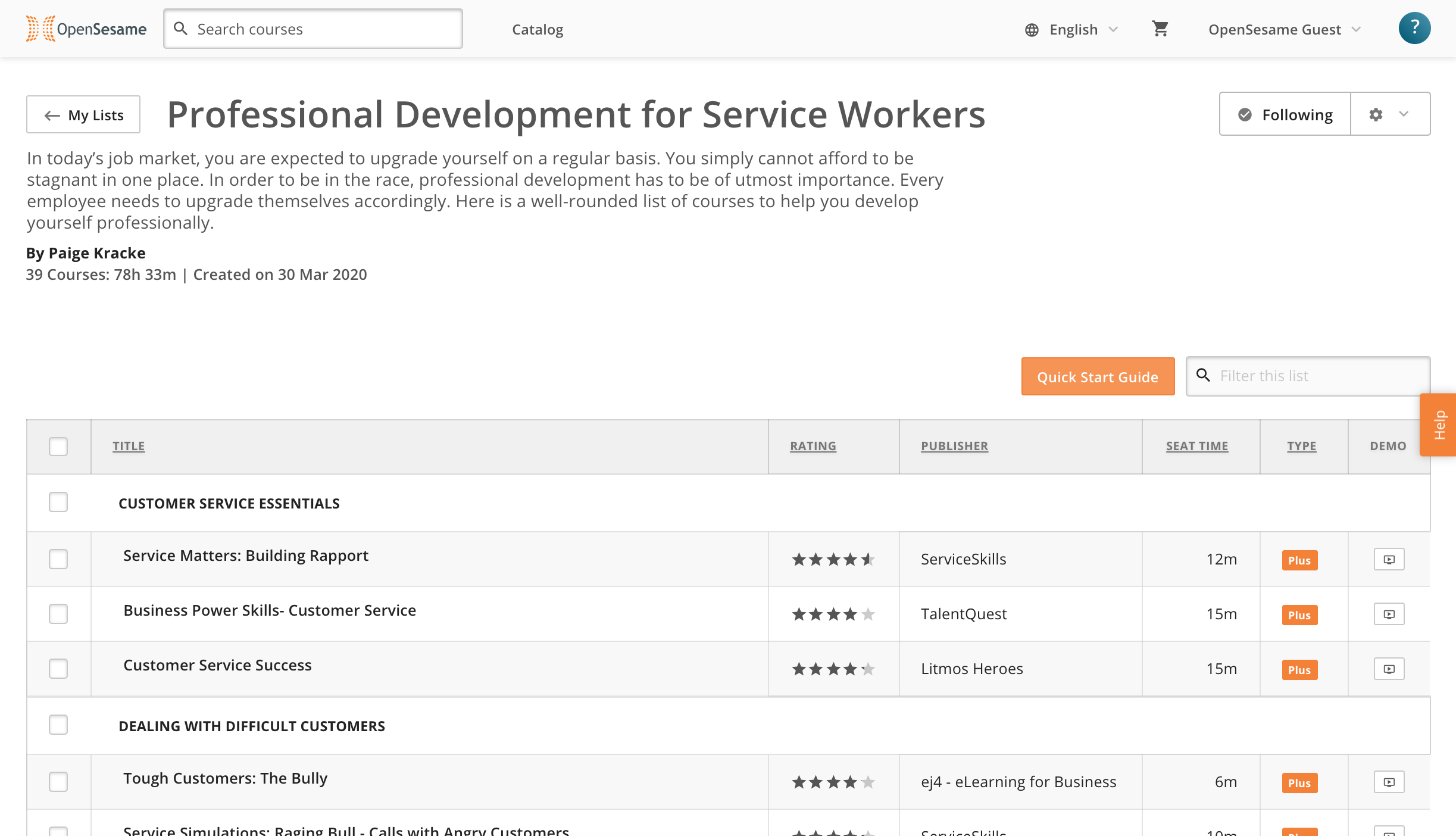 From your List, select the courses you want to send. You can click the top left box if you want to send the entire List. As soon as at least one course is selected, a "Deliver Courses" button will appear:
Click it to reveal delivery options, then select "CourseCloud"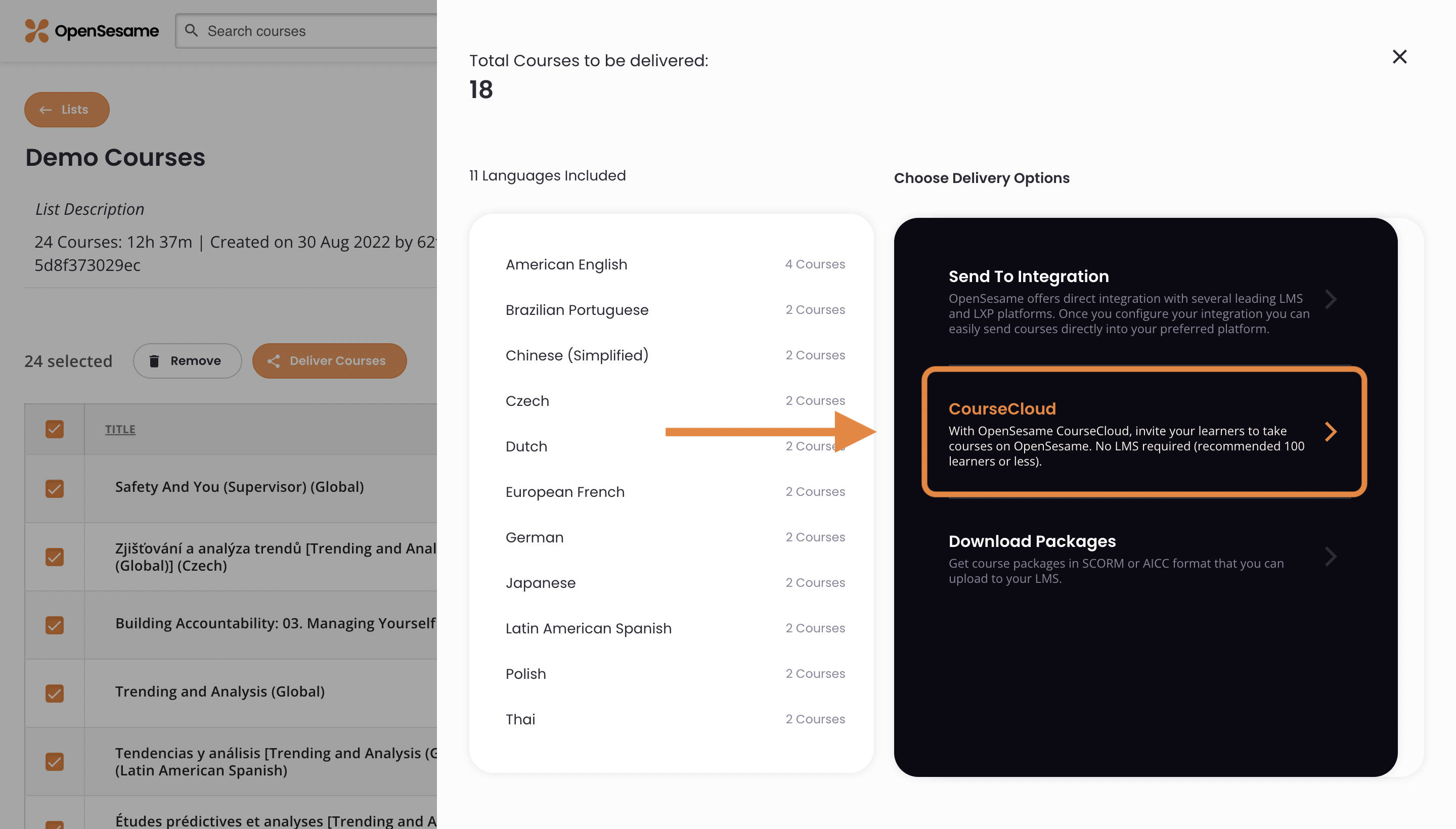 In the next screen, you can enter one email address at a time or multiple at once. When inviting learners in bulk, be sure to separate multiple email addresses with commas. (Commas are required, spaces are optional.)
Once you've entered the learner addresses you want, click "Add Learners":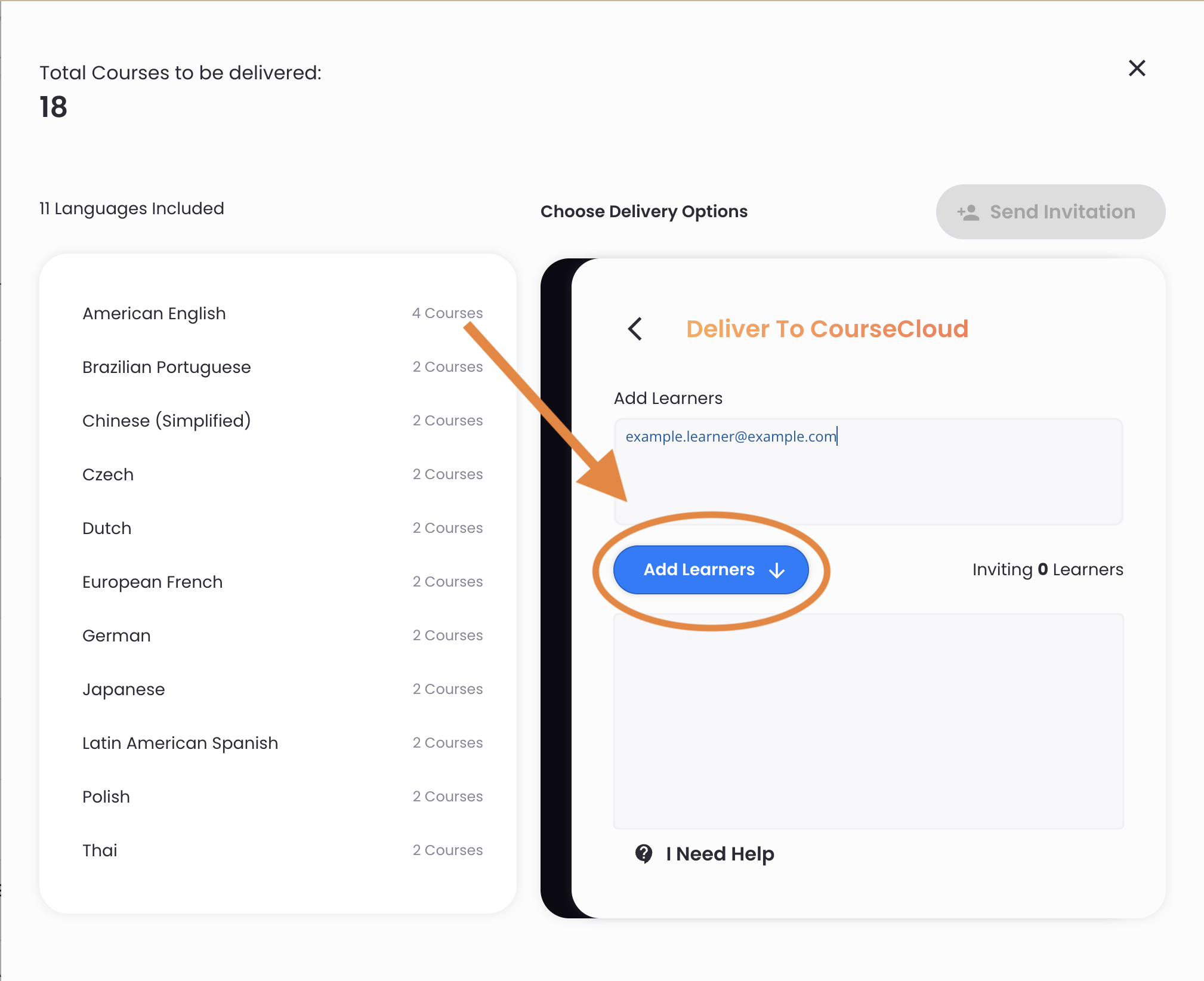 This will queue the addresses below. When you are ready to send out invitations, which will immediately email your learners, click the orange button: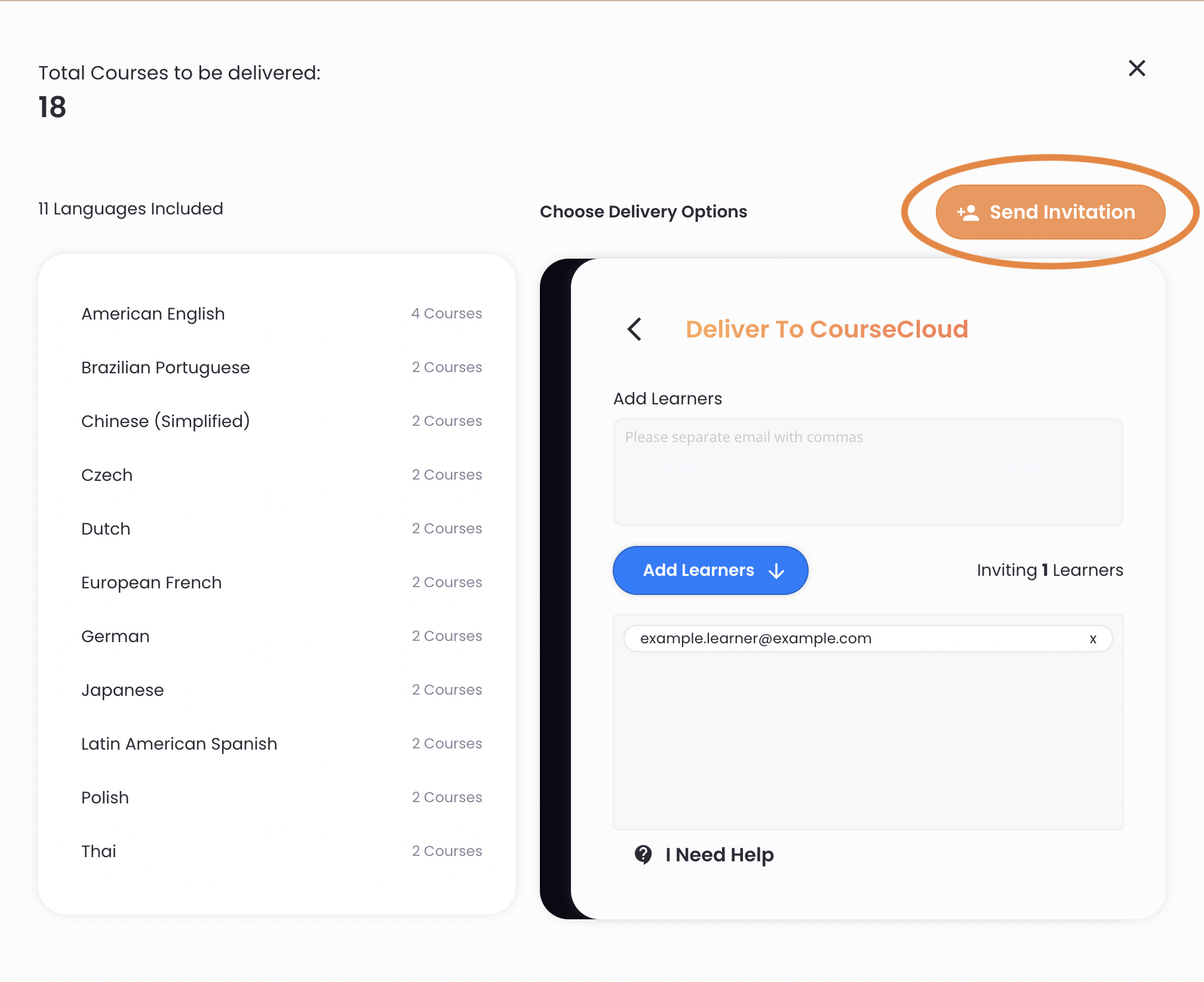 You'll briefly see a progress bar as your request processes: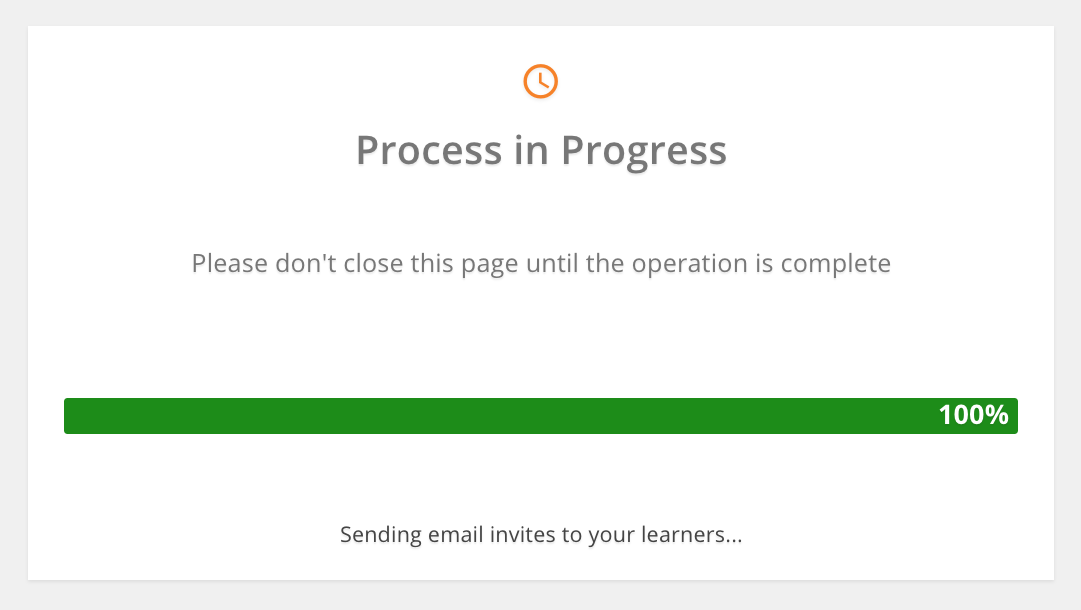 Finally, a green confirmation should appear at upper right:

Again, if you do not have active course licenses for each of the learners you're inviting, you will see an error message.
Option two: Invite learners to one course at a time
From your dashboard, click the "Invite Team" button. Note that the Delivery Preference at top right must be set to "CourseCloud":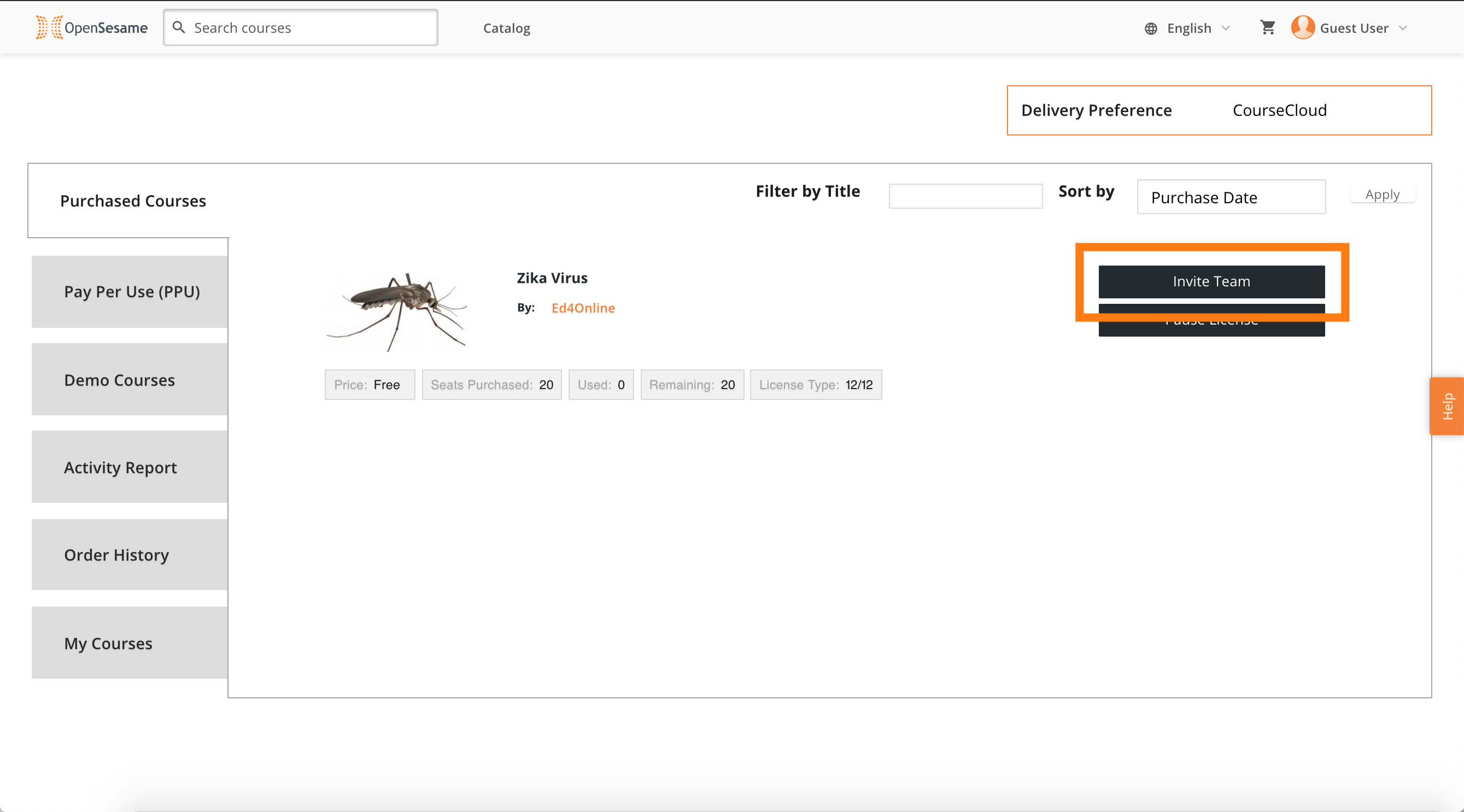 You will be taken to a new screen where you can enter the names and email addresses of the learners who need to take the course. Click "Send Invites" to distribute invitations.
Track progress
Once you send invitations, you can check on your learners' completions—or invite more learners—by clicking the "Manage" button.
For OpenSesame Plus subscriptions, an orange "Manage" button will appear at top center of your main dashboard. For Volume licenses, a black "Manage" button will appear to the right of each course in the "Purchased Courses" tab. If learners have not yet been invited to a Volume course, its button will read "Invite Team" instead.
From the Manage menu you can resend an invitation or disable/remove a learner's access. For the latter, if they have not yet started their course or subscription, removing access will reclaim the seat license. (Note that disabling access will not prevent a learner from seeing the invitation email that had already been sent to them.)
For any type of license, as soon as a learner has launched a course, you can check the "Activity Report" tab for a more detailed report. And if you have at least two OpenSesame Plus subscription seats, you can access the Insights dashboard as well.
For small businesses that don't have a Learning Management System, CourseCloud Legacy provides simple, free course delivery and tracking.
If you have further questions, our Support team is here to help via email at support@opensesame.com or via live chat and phone. Feel free to reach us at (503) 808-1268, ext. 2, or at +44 203 744 5541 in Europe.